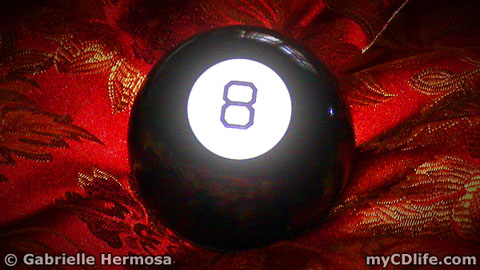 The amazing, mysterious, all-knowing Magic 8 Ball of truth. You know the deal – ask it a yes or no question, give it a shake, then turn it over and peer into its magic blue window of knowledge. Do you believe in the wisdom offered by a plastic 8 ball filled with blue mystery liquid surrounding a plastic icosahedron of answers? I can't say I do, but it's a lot of fun to play with anyway! By the way, I think "icosahedron" is the coolest word since "sargalesis" (look it up).

Do you own a Magic 8 Ball? If not now, I'm sure many of you did in your younger years. I recently bought my first ever Magic 8 Ball. It sure felt good to check that one off my bucket list. My parents never let me have one as a kid. They saw anything that had to do with fortune telling in any way, as the work of the devil. Growing up, I was apparently surrounded by kids who were all in the hands of satan because pretty much everyone I knew had one of these. But I digress.
Why am I writing about my Magic 8 Ball? I wanted to harness the power of this dark, shiny mystifying sphere in an effort to interact with my valued website visitors and readers of my blog in a new and unique way. In other words, I just wanted to try something new, fun and entertaining: personalized video Magic 8 Ball readings.
My wife thinks this idea is pretty lame. Admittedly, I do come up with some silly ideas from time to time. Let's see what the Magic 8 Ball has to say about it: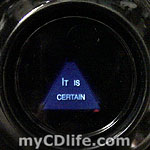 Me: Magic 8 Ball, is the idea of offering online video readings lame?
Magic 8 Ball: Reply hazy try again.
Me: Let me try a different approach. Magic 8 Ball, is the idea of offering online video readings cool and fun?
Magic 8 Ball: It is certain.
Me: Awesome! See? I knew it would agree with me. Molded plastic toys don't lie. ** wipes bead of sweat from forehead **
For the record, that is exactly how it turned out. There was no illegal manipulation of the Magic 8 Ball, nor did I fish for the answer I wanted or just make it up. If it disagreed with me, which it very well might have had I not changed how I asked, I would have posted exactly what it said. That's how it works: all straight up, or it's not any fun. You get what you get.
Here's how the Magic 8 Ball video thing will work. Ask a short, simple yes or no question in a comment to this post. If I like your question (and if I have the time), I'll take video of myself asking the Magic 8 Ball and capture its response.
I'm going to try and record video responses tomorrow afternoon (Saturday June, 27). If your question is submitted before then, there's a good chance you'll get a customized Magic 8 Ball video from yours truly. It may be another week or so before I publish the video(s) depending on a number of factors, so try not to ask anything of an immediate nature.
This should go without saying, but remember – this is strictly for fun and entertainment. :) And what's more fun and entertaining than a crossdresser with a Magic 8 Ball? lol