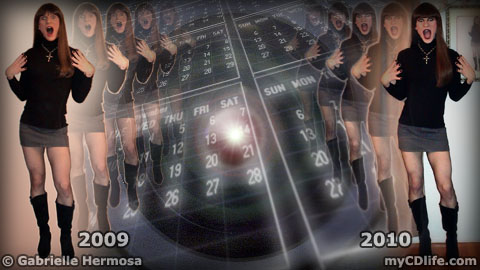 On January 1, 2009, I ventured online as Gabrielle for the first time. In preparation to begin interacting with others, I created a flickr account and uploaded my first femme-photo. Prior, only my wife had seen me this way.
Posting that first photo was a bit strange at the time. I felt exposed to some extent. It's kind of funny to me now – how it seemed like such a big deal to publish my photo as Gabrielle online for the world to see. This is simply who I am and I don't think twice about sharing photos and stories about my life now. That first step out of complete privacy and into the public eye felt like a big one at the time, but I quickly became comfortable with it and posted another photo just days later.

To celebrate the anniversary, I thought it would be fun to recreate my first publicly shared photo, one year later. Although (originally) posted on January 1, 2009, the photo was taken in December of 2008. The new one was taken exactly one year and one day later.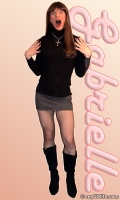 Pretending to be surprised (Dec. 2008)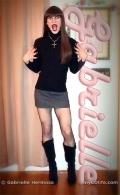 This photo was taken in late December 2009, exactly 1 year and 1 day after my original "Gabrielle #4" photo was taken. Gabrielle #4 was my first (ever) photo as Gabrielle published online.On the left you see my first published photo and on the right is the one-year anniversary recreation, taken a couple of weeks ago (click to enlarge either). The background was removed in the photo on the left because the bathroom I was standing in at the time didn't make for a very attractive composition.
There you have it – the same outfit, same pose, thicker eye-liner, darker lipstick, and weighing in 10 pounds lighter. One year later, and I'm just as "surprised" as ever.
The original "surprised" pose was not inteded as such, but it almost seems to illustrate the emotion associated with taking that first photographic step online: excitement and surprise to finally be sharing this aspect of my life with others.
A question to my trans-sisters
Have you posted photos of yourself (en femme) online? How did you feel about it that first time? If you have chosen not to share your femme-appearance or removed photos, what were the deciding factors?
If you have an online album of your femme photos to share, feel free to post a link to it in your comment or include the URL in the "website" field if you like. If you do so, please be sure to leave a comment and not just a link. Please DO NOT include a link to photos that expose too much, are sexually explicit or otherwise inappropriate. They will not be published.