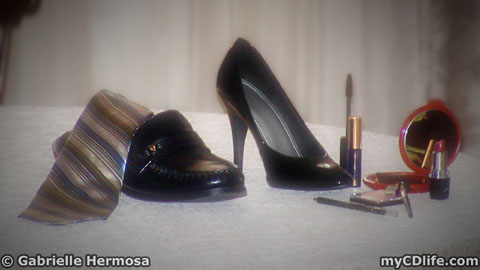 You're a closet crossdresser ready to tell your wife about your feminine side. This may seem like a daunting task, but with some preparation and a good game plan, you can do it. This is my personal opinion and advice on the subject:

Keeping secrets is bad
Lies, secrets, and deception are potent ingredients in the recipe for a failed marriage. Although telling your significant other the truth before taking your vows is always the best course of action, it is often not done for a variety of reasons. Like I was, many are still in a state of confusion or self-denial about their crossdressering when they got married.
In some instances, it may be best to remain in the closet – at least for the time being. If you enjoy a happy family life, have things truly under control, and have reason to believe that coming out may have terrible consequences for your family, perhaps it is best to leave well enough alone. If it ain't broke, don't fix it.
Ultimately, it is up to each individual to decide what is best for them. My personal opinion is that a woman has the right to know about the man she married, just as the man has the right to be himself without having to hide who he is. Of course, she also has the right to tell him good bye if she feels that his secret is too much for her to take. I'll address that scenario in more depth later in this article.
Understand who you are
Before initiating this conversation with your wife, you'd better be certain you understand it yourself. If you still have confusion about who or what you are, hold off on the talk. Your wife will probably sense your confusion and may conclude that your crossdressering is a disorder or mental illness – something you need help to overcome like alcoholism or an obsessive compulsion. If you're still struggling to understand it yourself, I strongly advise seeking therapy with a trained professional before talking to your wife. Most therapists are used to this discussion topic and will be able to help you work through your confusion. You might even consider finding one that specializes in gender identity counseling.
Test the water
If you are concerned about how your wife might react to the news, test the water first. Figure out a way to broach the subject without letting on that it is really about you.
If you think your storytelling skills are up to par, consider just making up a story about a co-worker or someone you know (and your wife does not). Explain that your friend Susan just found out about her husband being a crossdresser. You can either put a positive or negative spin to gauge your wife's reaction. For instance, Susan found out and was very intrigued and excited by the news, or perhaps she was very upset and was thinking about leaving her husband.
The idea is to get your wife to offer her opinion on the matter without noticeably prompting her to. Understanding where she sits on things before having the talk will offer some insight as to how she will react when you tell her the news.
Don't play the surprise game
Deciding to come out to your wife by surprising her completely en femme is probably not a good idea. You may want to have a picture or two handy when you talk to her, but do not just spring this on your wife while all dressed up. It may be very shocking and upsetting to her. Even though this is an integral part of your life, you also need to be sensitive to how she may feel and react. Talk first. Introduce your feminine side later.
Timing is everything
It is a good idea to have a specific time set aside to have this important conversation. You may or may not specifically make your wife aware of it ahead of time, so long as you know she'll be available. Be certain that there will be ample free time in which to let the conversation play out without interruption. This could be a long talk, so plan accordingly.
Hold off on having the conversation if there are currently other matters that weigh heavily on your wife's mind. For instance, if your wife is working through some kind of personal troubles or your pet dog just died, it's not a good time. Wait for a time when everything is relatively uneventful.
It's a gift, not a disease
Regardless of how the general public views crossdressering, it's not a disorder, mental illness, disease, addiction, or the work of the devil. Psychiatric professionals will explain that crossdressing is perfectly normal, and that it is society that has the problem, not the crossdresser. Do not present this part of your life like some kind of terrible condition or affliction you suffer from. It is a difference, plain and simple. Everyone has differences. It is a part of who you are. You have a beautiful gift to share with your wife. Treat it as such.
It is understandable to feel nervous about this discussion. Even so, remember that how you present this part of your life will influence how well it is received by your wife.
Prepare yourself for the questions
Your wife is probably going to have a plethora of questions and you'd better be prepared to answer each of them and remain cool while doing so. Although you won't be able to anticipate every question she'll have, it is a good idea to prepare in-depth answers to some of the more common ones:
"Are you gay?" "Do you want a sex change?" "Are you going to start dressing like this all the time?" "Why didn't you tell me this before we got married?", etc.
Put the proper thought into your answers and be completely honest with your wife with each of them. Do not withhold information as it defeats the purpose of this important conversation.
If you are asked questions that you honestly do not immediately have an answer for – defer them until later. You'll be better off getting back to her with those answers after putting proper thought into them, than if you just blurt out something that may not be entirely accurate as to how you feel. This is an important issue, so take the extra time and do it right. Even though you're having "the big talk", in reality coming out it is a process. One cannot expect to cover everything in a single conversation. It will probably be a series conversations over a period of time.
How much to explain in one conversation should be gauged by your wife's reaction to what you have to say. If she is immediately upset and argumentative, it may be best to stop and let things settle in for a day or two before continuing with this topic of discussion.
Be prepared for potential fallout
Once you've delivered the news, there may be some difficult times ahead if your wife doesn't immediately warm up to the idea. She might require some time to get used to the idea of your feminine side. She might not be entirely happy with it, but still choose to love and accept you as you are.
You have the right to be yourself and express yourself however you choose. You have the right live your life without someone else dictating how you can and cannot dress or present yourself. And your wife has the right to reject you if it is too upsetting or undesirable to her.
Some women will never accept or be happy with a crossdressing partner/husband, period. The thought of their husband in a feminine light might be upsetting and/or turn them off, and there's not much that can be done to change how they feel. You may be faced with the dreaded ultimatum: "Either give up your crossdressering or I'm leaving you and you'll never see your children again." Whether or not she can really deliver on the "never see your children again" part, you may soon find yourself on the road to divorce.
How to deal with an ultimatum is up to you. If you believe you can truly be happy living life as half a person and give up your feminine side/things forever, you might be able to save the marriage. Keep in mind that changing who you are when there is nothing wrong with you, in order to save a relationship, is never a healthy move. A well-trained, licensed therapist will tell you the same. If you have to suppress and deny yourself who you are in order to be accepted and loved, then you are not truly being loved in the first place. You deserve to be loved and accepted for who you are, not just who someone else wants you to be. In addition, your wife deserves to be with someone who does not need to lie or repress natural human instincts in order to please her.
Divorce is not the end of the world however. Weigh a lifetime of self-denial and personal turmoil against the idea of temporary heartbreak and hardship with the prospect of finding true happiness on the other side of the pain. After all is said and done, you will have the opportunity to find someone who will love all of you rather than just a part of you (your man-side). There are plenty of women who would enjoy the chance to fall in love with a crossdresser, and even prefer to be with one.
Although not crossdressing related, my parents went through a divorce and it was hard on the whole family. In the end, they both found people more compatible to each. I can honestly say I've never seen either of them happier than they are now.
Crossdressering is only one of thousands of things that could result in divorce. The bottom line is that marriages tend to fail when people are not compatible enough, period. Neither one can force their ways on the other and expect real happiness to come of it. Both parties need to be compatible, happy and content with themselves and each other in order for the relationship to work.
I am not advising remaining with or breaking up with a woman who does not accept your crossdressing. My point is to think seriously about the realities and consider your options wisely.
Good luck
Hopefully, your marriage will not come to an end when you explain your feminine side to your wife. Some marriages are greatly enhanced when a man can offer the best of both worlds to his wife. That is how things turned out for my wife and I. After coming out to her, we became even closer we ever have been before. There's an extensive additional territory to explore and have fun with together. I took a somewhat different approach to telling my wife, but my circumstances were unique to begin with. You can read about how I came out to my wife by clicking the link.
Hopefully this has shed light on some important things that need to be taken into consideration when it is time to have that necessary talk with your wife. Whatever you decide is right for you, I hope the final outcome brings happiness, joy, a sense of wholeness and freedom to your life.