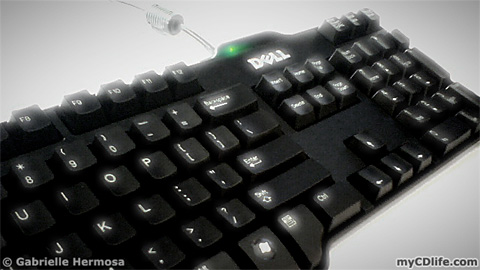 The IT department recently distributed and set up new computers for us at work. My old computer really wasn't all that bad, but the new computer is more powerful and allows me to multi-task a little better. It's not uncommon for me to have several windows open on my work computer at any given time, so the extra processing power really helps.
The keyboard it came with is pretty nice, too. It's comfortable to type on, the keys are quiet, and I almost always hit the right key when I'm typing. Almost.

Some keyboard designing genius decided that the company logo should go where print screen, scroll lock and pause/break buttons usually sit. To accommodate, these keys have been relocated just above the numeric keypad, about 3.5 inches (8.5 cm) further to the right. Because I use these keys often, I tend to fumble for a moment when trying to hit them without looking. Why couldn't the Dell logo just go in the right corner and leave these keys where they've always been?
I'll probably get used to it in time, but that may cause other problems. I use multiple computers at work but not all of them have this odd key configuration. Once I get used to reaching further for the desired keys, I'll probably start to fumble on the keyboards that have them in the correct location. They did this for the placement of a stupid logo. Does anyone really care about the logo? Ok, Dell probably does, but how does shifting the keys over benefit the consumer? Every time I reach for the keys without looking, they're not there!
I'm not sure if Dell had these keyboards specially made for them, or if they're just keyboards made by company X for any computer companies with their respective logos to be located there. Regardless, it's a stupid move. Overall, the keyboard is great, but this one annoyance is pretty irritating. It's a keyboard, people. It's used to help me get work done for my employer. Functionality OVER logo placement, please. That is the key to a good product. Thank you.