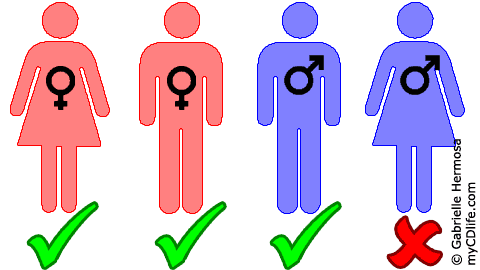 This an old argument among male to female crossdressers. Why can women dress in clothes that are considered feminine or masculine, whereas men can only dress in clothes deemed masculine? There are no laws about this kind of thing, but the socially acceptable factor has a lot of weight on how we can live our lives in the public arena.
Extending well beyond just clothes, it encompasses total physical appearance, behavior and mannerisms. I've put together a very basic chart to illustrate the socially accepted gender expression norms: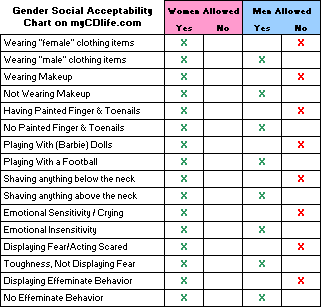 This chart is very general and some points may be argued, but you get the idea. We all know the clothing side of things. Women used to be restricted to wearing clothing purchased in the women's department. Of course, over the years and it became increasingly socially acceptable for women to wear pretty much any clothing items they chose, regardless which department it was sold in or which gender it was intended for. Men however, have been stuck in the men's department in wardrobe choices, with no signs of society letting up any time soon.
Some men might ask the question, "Why would a man want to dress like a woman?" Well, how about because some of us have a strong feminine side and have the courage to live our lives wholly rather than being restricted to all that is masculine.
The chart reflects today's general reality. It's socially acceptable for women to fully explore all criteria listed. Men are restricted to half of them. There was a time when there would have been a pretty clear split in choices between men and women, without much crossover.
Times have changed. Society has let up on women's freedom of choice, but strictly enforces the man-code of masculinity, only for all humans with male genitalia. I don't understand why choices always gravitate toward the masculine and not the feminine, but that is how things have worked out. Is there something wrong with the feminine side of things? Will feminine choices fade away completely in time, leaving only that which one might consider (today) to be masculine? That is quite an unpleasant thought to someone like me.
What's wrong with our society in terms of accepted gender roles and appearances? How come in this day and age it is still frowned upon and even potentially dangerous for a man to express his feminine side in public?
Sadly, as some of us choose to express our feminine side, some of the more masculine men are saying, "Men dressing like women? What's wrong with our society?" We really do have an up-hill battle ahead.
I think women are generally more open to seeing men express their feminine side in public than other men are. I've never heard of a crossdresser being attacked by an angry group of women. Macho men seem to have trouble with it though. Somehow the sight of a crossdressing, feminine, girly-man makes some men feel threatened. Perhaps, they may find a crossdresser/t-girl attractive and that offends their macho, homophobic ego.
Not all crossdressers will be considered attractive in their feminine form. Many simply look like a man in a dress, sometimes an ugly man in a dress. That sight may be disturbing to some people and add to the struggle of crossdressing becoming socially acceptable. I would argue that there are plenty of men and women that dress "gender-appropriate" and are just as disturbing to look at. Aside from occasional rude comments, no one seems to have a problem with "ugly people" so long as they're "properly" dressed according to gender. I find that very interesting.
I'm not sure what it's going to take for crossdressers and transgender people to gain social acceptance, but I believe it is achievable. In the future, ridicule and poor treatment of crossdressers will be seen as absurd as racial segregation was years ago. I just hope that future isn't too far off. I'm not getting any younger.