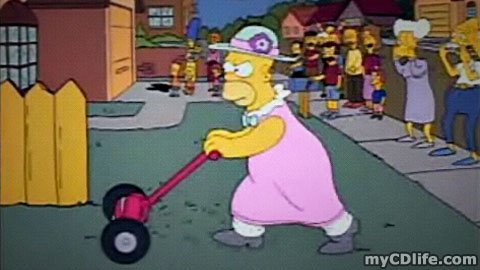 While examining my face closely in the mirror last night, I took a good look at all my new scars. They weren't there a year ago, but now I have several of them scattered about. Some are more noticeable than others but they all stand out like a sore thumb to me. What caused these battle scars and why the picture of Homer Simpson mowing his lawn in Marge's Sunday dress?

My battle scars are the result of shaving with a bladed razor. I've always used an electric razor because I have sensitive skin, but when I started wearing makeup late last year, the electric razor just didn't cut it anymore (pun intended). My facial hair grows in pretty thick so unless I want to look like Homer Simpson in a dress (with his trademark 5 O'clock shadow), I have to use a bladed razor. It takes several passes in multiple directions to get the closest shave possible. The process is painful and small chunks of skin are sometimes removed with the stubble.
Even the more expensive multi-bladed razors do a number on me, but I am trying for a closer shave than normal. Several layers of concealer and foundation need to be applied in order to hide the remaining hint of 5 O'clock shadow. Of course, this can't be started until after the bleeding has stopped. A month ago or so my upper lip was cut so deep that it took almost an hour for the bleeding to stop. When I removed my makeup later that night, the bleeding started right back up. That left a pretty noticeable scar.
I am getting better at it now. Last time, I only ended up with a few slight micro-nicks. The trade off is that the shave was not as close, so I had to compensate by caking on more foundation. It worked, but up close it didn't look very natural.
I'm not very happy about the relatively new permanent markings on my face. It's hard enough to transform Gabe's rugged man-face into Gabrielle's soft, attractive, feminine face without these additional scars working against me. At least I'm getting a little better at it now. I hope to get a face lift some day soon. Maybe that will also help minimize the appearance of the scars… when I can actually afford a face lift. Donations for an aging t-girl, anyone? :)