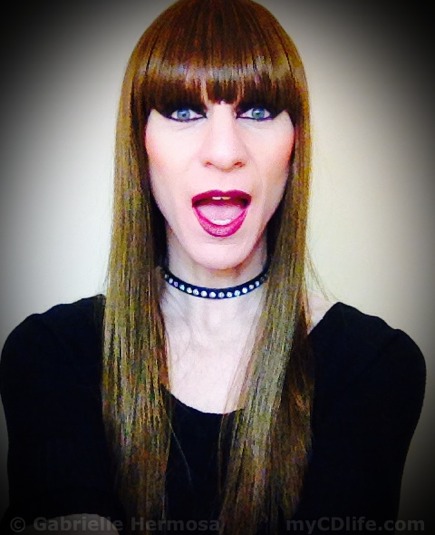 2013 was a year filled with beautiful new experiences, new friends, personal growth and important life lessons. In 2014 I plan to continue working toward my goal of living life (full-time) as a trans woman and fostering much needed, positive trans awareness in society. Among other things, it includes taking every opportunity to attend to public aspects of life in my female form; as my true self (Gabrielle, not my man-facade).
The photo (upper-left) was taken just before heading out to make a few purchases from a local grocery store, and meet up with a friend at a local coffee shop. I ended up wearing a faux leather hat, which my wife, the Fabulous Mrs. H., recommended just before leaving the house. You can see the hat here in my Flickr photo.
Continued positive public experiences
I've gone grocery shopping several times over the last few months (in my female form) without a hitch. I'm happy to say it's almost become routine and boring. Almost. I still experience some fear in doing so, but I know that the fear is a lie, and I choose not to listen to it. With an "I don't care what people think of me" attitude, I just go about my business, and things tend to go very smoothly. No one has laughed at me in public in quite some time.
More often than not, the grocery store cashiers seem to be a little shy around me, or perhaps slightly uncomfortable. It's an understandable reaction in dealing with a trans woman, which is something they probably don't encounter in day to day life, and so may be filled with the usual misconceptions. Even though they're a little quieter when dealing with me, and often make as little eye contact as possible, they've been nothing but polite and professional, and I'm pleased with that.
I'm a person, NOT a thing
As I approached the grocery store this past Saturday, a group of four teenage boys were making their exit. They stopped talking immediately upon noticing me, and made no effort to disguise their stares. Just as we had passed by each other and they were now behind me, I clearly heard one of them comment, "What the hell was that?!", referring to me as the "that".
Continue reading "What the Hell Was That?", He Asked His Friends, Referring to Me →