Dear Gabi,
I have just approached a therapist about some sessions as I feel my crossdressing is starting to effect my relationship. My girlfriend is understanding in a way but is still not overly keen.
It is just me who will be attending, as we both feel there are issues I need to address which could all be linked. Short temper for no apparent reason like I get really mad about the most silly things. My girlfriend thinks it's always before I need to dress. She does not want to see me dressed though. I think I need to get a good understanding of why I need to dress other than "I love that dress!!". I feel I'm rambling on a bit so apologies for that. I don't wish for it to go any further than our home but I don't want to always be alone when dressed but not sure she will ever want to get involved.
I just wondered what is the main objective of this type of therapy. I am nervous and not sure what to expect.
Best regards,
Tina

 
---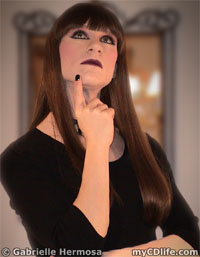 Dear Tina,
Going to see a counselor or therapist for the first time can be a little intimidating. That's the bad news. The good news is, most counselors and therapists are very easy to talk to and do a fine job of putting clients at ease within minutes of the first session.
Unfortunately, not all therapists have your best interests in mind. Some can be condescending, belligerent, pushy, and tell you how you should live your life rather than allow you to reveal how you'd like to live your life. If you are not comfortable with your therapist after the first session or two, discontinue seeing them and seek out another. It is also important to be sure you're seeing a therapist who is well experienced in transgender issues.
Make sure you've done your homework in choosing a therapist. There are still those who subscribe to the archaic notion that transgenderism (in all its forms) as some kind of "condition" or defect in need of a "cure" rather than a personal trait. I would equate that approach to trying to "cure" someone of being left-handed or having artistic tendencies. The former was actually still employed by grade school teachers not too many decades ago. Sounds silly now, but being left-handed was once thought of as some kind of "evil sign" or "abnormality" that should be overcome.
What to expect
In terms of the "main objective" for therapy, that is up to you. Discuss with your therapist whatever you feel needs attention or isn't going well in you life. Be completely open and honest about your life and feelings. The therapist will listen to you and ask questions based on what you share. Their job is to bring out thoughts and feelings that you may not be looking at on a conscious level, hone in on problem areas, and help you figure out how to improve on things that need attention.
When you're in session, treat it like a conversation and not a confessional. You're not there to "confess" anything, but rather discuss your life and issues. Everything is confidential so you can talk openly and freely without fear of ridicule or any negative judgment.
You may find that some of your "issues" are not truly problems that need fixing, but rather just things you are self conscious about. Your therapist will help you explore these things.
Although I'm offering my personal insight on some of your concerns, these things should all be brought up and discussed in depth with your therapist.
Short temper set off by seemingly little things
I understand very well the feeling of restriction and anxiety brought on by periods of not being able to crossdress. It is a sentiment commonly shared and discussed in online crossdressing communities.
Perhaps it might help to break it down on a simpler level. Dealing with restrictions and lack of personal freedom in one's life is often a heavy contributor of stress. Remove crossdressing from the equation, and it's still pretty much the same. When people experience the feeling of constant restriction and lack of personal choice/freedom, it takes an emotional toll. It can cause a variety of negative reactions including, but not limited to, increased anxiety and irritability – two potent ingredients in a quick temper that is easily triggered by seemingly little things.
To reference the idiom the straw that broke the camel's back, consider yourself a camel who's back is already loaded up with emotional baggage (stress) because of your limitations in personal freedoms. In this case, crossdressing, or the inability to do so as often as you would like, may be a significant contributor to stress. Over time it builds up, until a point is reached in which that load of stress is a bit much to bear. Any additional "straw" tossed onto the already heavy load can cause the "back to break", or inability to control one's temper.
One of my personal theories on why crossdressing so relaxing and has stress relieving qualities is because it allows one to break free of the socially imposed restrictions of how a man must behave and/or appear. Increased personal freedom often holds the key to reducing one's stress level. Most people take personal expression for granted because in most cases, it does not cross the social acceptance threshold.
A girlfriend that doesn't want to see the feminine side of you
It sounds like your girlfriend is tolerant of your crossdressing to some extent, but may never completely warm up to it or choose to participate. If she prefers a man who is 100% masculine or lacking in any signs of "femininity", there isn't much that can be done about that. She's allowed her personal preferences, just as we all are. At least she knows about this part of you, which is very important in any long term relationship that might someday lead to something more.
It is in your best interest (both of you) to discuss how this may affect your continued relationship over time. Do so when the time is right; in other words, when you understand this aspect of your life better. At the same time, you should probably not wait too long before getting into this with your girlfriend.
You should try to find out if she can ever be truly happy with a man who has a strong feminine side. If she needs her romantic male interest to be 100% masculine, then it's not fair to her to remain in the relationship. You should allow her the opportunity to enter a relationship with a man who is more compatible with her personal interests/preferences on that level.
It is also not fair for you to have to settle for a woman who cannot love you fully and completely for who you truly are; in other words, a woman who will love you completely, and not just your man-side.
How would you feel about your girlfriend potentially never fully accepting this? How would you react if she were to some day proclaim that you have stop crossdressing or she's leaving? How about the possibility that she may try to use this aspect of your life against you – in an attempt to embarrass you in the eyes of others, perhaps in order to gain compliance with her wishes? These are each real life examples of what regularly takes place in long-term relationships (often marriages) in which the woman is not accepting of her man's feminine side. I strongly urge you to put serious thought into your future, and discuss with your girlfriend. Again, it's not only unfair to you if she were to try and change you, but it is also unfair to her if she needs something in her man that you cannot adequately provide by design.
There are plenty of women out there who are, in fact, openly accepting of crossdressing men. Many also encourage and enjoy it. They're not as easy to find, but it is something to think about. You may reach a point when you'd like to expand on this aspect of your life. I once believed it would be something I never shared with a soul, let alone do in public. Now my wife knows, is an active participant (and in many ways makes possible) this aspect of my life. I simply want to be able to be myself regardless of in-home privacy or out in public. There are several people I've come out to thus far.
I do not imply that the relationship with your current love interest is doomed to fail. There are plenty of happily married couples in which the woman is not an active participant in her husband's crossdressing activities. So long as there is a mutual understanding and respect, things can work out well. Open, honest discussions with your girlfriend about things is what I recommend.
Why you "love that dress"
Being drawn to and/or exhibiting traits that are generally considered to be masculine or feminine is not dependent on one's sexual organs. That is how it's been treated in society for centuries, but that is not how it works in reality.
There has been change in the way society views displays of masculinity and femininity over the years. Women have won many freedoms in "masculine expression". Having short hair, wearing pants, the right to an education and voting are some of the advances made by women. It is generally not even considered a sign of masculinity anymore for a woman to have short hair, wear pants, or even wear (only) men's clothing (purchased from the men's department in a retail outlet).
Although women have advanced, men have not. Any show of femininity, or non-masculinity, by men is generally regarded as a weakness and/or undesirable trait. This perception does not reflect the reality (as in, it is certainly not a weakness or flaw), but rather the current state of socially accepted "norms".
Much of society still has a significant problem in accepting certain differences in people. Simply put, the divide between those who prefer more feminine looks and styles and those who do not, is not based on one's genitalia, but rather one one's being. Society (people) collectively decided how men and women should look and/or carry themselves, as in what is deemed "proper". Nature made up how men and women truly are and feel inside. It's a LOT more complex than that, but I'm trying to express a point in short, simple terms, without writing terabytes of data on the subject.
In short, you "love that dress" simply because you love that dress. It's not too different than why a genetic woman loves that dress or those pants on sale, or shoes, or prefers short hair over long. It's called personal preference and style… and it's not based on, or limited to one side of the genetic gender divide, or the other, regardless of where the majority fall.
 
Related content: