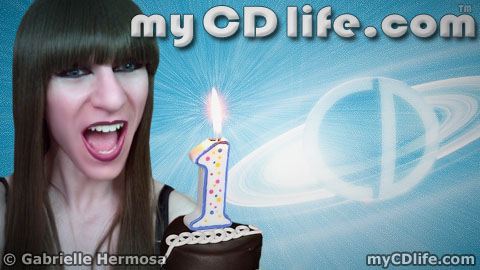 It's been one year since the opening first post was made here on myCDlife.com. This "one year" post happens to be the 111th published to date, which fits in nicely with the "one" theme.
If curiosity piques interest enough to look back at some of the early posts, you will notice that many of them were not crossdressing related. One of my initial ideas was to simply share with visitors, the life of a crossdresser (me), specifically to illustrate the fact that, for the most part, trans-life isn't very different than the "norm".

Being a crossdresser doesn't mean that life is all about lipstick, fashion, heels, stockings and wearing dresses. I think there is a perception to many (non-trans folk) that this all crossdressers ever think and talk about. Although that may be the case for some, it is certainly not how it works in my life or the lives of several others I've gotten to know, including many who regularly blog about crossdressing. The trans-related posts drew more interest than the non, so I settled into a routine of concentrating more on that end of things over time.
Many of my original plans for this site were never realized, mainly due to lack of time and resources. Even so, I'm happy to have accomplishd at least some of my goals: educate visitors about the realities of crossdressing, make a positive difference in the lives of people who struggle with this aspect of their lives, share some of my own related struggles/stories, and have some fun along the way.
Having this online presence has allowed me the opportunity to interact and share ideas with some unique and interesting transgender people, from crossdressers to transsexuals. The diversity within the vast transgender spectrum is extensive and I've enjoyed learning about the wide array of differences while celebrating what we have in common. Although not as great in numbers, I've also had the pleasure of interacting with non-trans folk, too – mainly family and loved ones there of.
I don't know what year two will hold for myCDlife.com. Even though I have trouble keeping up with things due to lack of personal time, I'd like to see it continue, if only on a limited basis (in terms of new content updates). There are more crossdressing myths to bust and countless other aspects & ideas to explore.
I'd like to thank everyone for visiting this site over the past year and hope you'll continue to do so in the future. It's been my pleasure and an honor to be your humble myCDlife.com hostess. Thank you so much for your time, attention, feedback, and sharing a little about yourself in return.
If you wouldn't mind sharing, what have you enjoyed most about my offerings here? How did you discover myCDlife.com? Is there anything in particular you'd like to see more of? What would you change, if anything? Please take a moment or two to share.