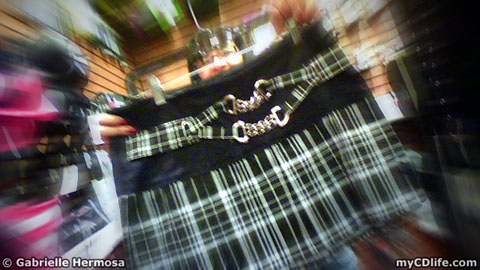 I offer you another humorous moment in the crossdressing life of yours truly. This was probably more embarrassing than humorous, at least for me. Life is full of moments like this. It's just a lot more interesting when crossdressing is involved… or maybe just that much more humorous. I'm cool with it though. I hope this humorous (and embarrassing) moment in my life offers you a good laugh or two.

My wife and I were out shopping at a local mall. I was in guy-mode – just another plain looking guy, not much to look at. While browsing a store called "Hot Topic", my wife spotted a pretty cool skirt. With much excitement she turned toward me, held the skirt up to me, and blurted out in a not so subtle voice, "Honey, you'd look so good in this skirt!" That might have been rather embarrassing if we were out in a public place filled with people and I was in guy-mode. Wait a minute… we were out in a public place filled with people and I was in guy-mode! :o
When we're out shopping for my female clothing, there are certain protocols to follow. We both refer to Gabrielle as if she's a friend of my wife's. She was supposed to say "Don't you think Gabrielle would look good in this?", however that is not how it came out at all.
So there I was, out in public in guy-mode. My wife was holding a skirt up to me after letting everyone in a 20 foot radius know how good I'd look in it. I'm not sure exactly what shade of red I turned, but there was nothing I could do other than laugh. As soon as she realized what she just did, Mrs. H. began laughing as well. Embarrassing or not, it was rather funny. Even though I'm sure that people in close proximity heard exactly what she said, it's the kind of store where the employees and regular customers tend to be a little more open-minded and don't frown upon personal differences so much. No real damage done.
They didn't have the skirt in my size, but we picked up a cool black mesh top and some fishnet stockings. I do love my fishnets. I wish they weren't considered part of a "cheap" or "slutty" look by so many people, but that is an entirely different hot topic for another day.
As much as I hate how society treats crossdressers and transgendered people, you have to admit – it does make for some rather humorous moments at times. :)
 
Related content: More Humorous Moments in Crossdressing