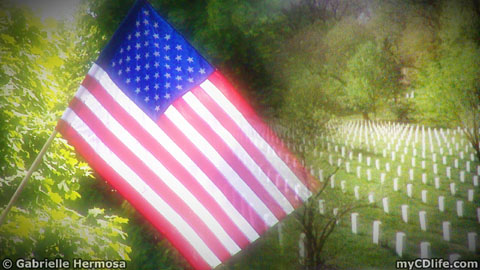 Today is Memorial Day here in the United States of America. It is a day of remembrance for those who have died in our nation's service. I'm always grateful for those who are brave enough to serve, and for those who have paid the ultimate price while doing so. All politics aside, without all the brave men and women who have served over the years, it is unlikely we would be enjoying the quality of life and freedoms so many take for granted today.

Many Americans have the day off from work and will take advantage of the opportunity to gather with friends and family. The local parks will be filled with people and the aroma of outdoor grilled cooking.
Where I live, today is considered the unofficial first day of summer. The harsh, cold winder is over, spring has sprung, and warm weather will be here for a few months.
I hope everyone has a safe and happy Memorial Day. Please drive responsibly and be courteous to the other travelers.
To non-American visitors of this site, happy Monday, May 25th to you. :) It may not be any official holiday where you live, but that's no reason you can't still enjoy the company of friends and family anyway – even if only after work.
About the photo in this posting: As you may or may not know, almost all of the imagery on this website is taken care of by yours truly (barring the "babes", TV shows and other obvious commercial imagery). The flag is one of several adorning the street I live on and I took its photo yesterday afternoon. On the right side is Arlington National Cemetery in Washington, D.C. My father took that photo in the spring of 1980 while we were there on a family vacation.