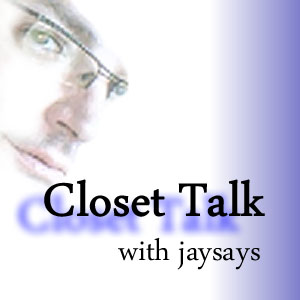 Tonight I'll be the guest on the talk show Closet Talk, hosted by Jay of jaysays.com. How I came out (of the closet) to my wife, popular crossdressing myths, and the psychology involved in being a crossdresser will be among the discussion topics covered. The show's air time and link are listed further down.
The show
Closet Talk is a show that interviews LGBT people and their families to discuss life before and after the closet, the effects of coming out (for better or worse) and what those considering "coming out" can expect. Everyone's story is different. Interviewees provide insight into their lives and the struggles with sexuality, religion and family. It airs every Wednesday.

About the host
Founder, activist and dreamer, Jay Morris, began jaysays.com as a small personal project to stay in touch with family and friends. Over time, his site developed into what you see today with a focus on LGBT issues and current events. Jay has been in a committed, loving relationship with Team Member, Christopher, for nearly 12 years and looks forward to many more years together.
The t-girl without a voice
When Jay asked me to be a guest on the show, the first thing that came to mind was the fact that it's a talk show, meaning I would need to talk to be on it. Many crossdressers simply talk in their regular guy-voice when they're en femme. Some of us dress up our voice along with the rest of our body. Unfortunately, at this point in time, my femme-voice is less than convincing (to put it lightly). I prefer not to mix and match my femme-side with my man-side, and that includes the sound of my voice. The psychological process that comes into play with this aspect of my life is actually pretty interesting, even to me. I'll be discussing this to some extent on the show tonight and may elaborate on it in a future article.
I'm a work-in-progress and my feminine voice will get better, but it's a lengthy training process that takes some time to master. I only hope that the (current) sound of my femme-voice is not distracting from the more serious subject matter of the show.
Showtime
The show is 30 minutes and airs live at 9:00 PM tonight (Eastern Time). Here's a link to the show page: Gabrielle Hermosa on Closet Talk. You can leave comments and ask questions while the show is in progress via the chat room on the show page. You'll need to first create an account at Blog Talk Radio (it's free) in order to sign into the chat session. If you cannot listen live tonight or missed the show, it will be available for replay via the streaming link.
I hope you'll join us tonight, or check it out later if you're reading this after it aired. Please chime in and let me know what you thought about the the discussion.
Update, July 24:
Just a quick follow-up to the show: I've listened to to the show twice and as expected, my femme-voice was terrible, but it shouldn't be too distracting for listeners after a few minutes of getting used to.
During the show, I brought up the term "femulation", which is essentially the art of emulating a female. This term (as far as I know) was coined by Staci Lana of femulate.org. Check out Staci's blog some time if you have not already. It's loaded with great stories, humor, and beauty tips.
Unfortunately, I rambled on with unnecessary details several times and failed to hit several important points: mainly explaining more about the great diversity within the crossdressing and transgendered community. I apologize to my fellow sisters about that. It was the first time I ever tried to talk live about such things and a good learning experience. I shall do a better job of focusing in the future.
I would like to extend my thanks to Jay for asking me to be on the show and allowing me the opportunity to talk about some of the aspects in the life of a crossdresser. Although my femme-voice was weak and I rambled on a bit much, I rather enjoyed the experience and appreciated the opportunity to be on the show. Thanks Jay! :)