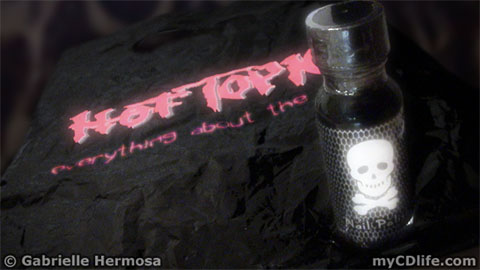 My favorite color is black and I love black nail polish. When it looking feminine (or trying to), I think my color choices differ from many. I generally do not wear bright, colorful clothing. I prefer dark, neutral colors. Dressing all in black is my favorite, and that of course includes black nail polish (check the photo below).
At the risk of sounding like an advertisement for the "Hot Topic" chain, I do like many of the things they carry. Some of the hardcore gothic-types make fun of the chain for various reasons, but I don't really care. I like what I like regardless of what others have to say about it. I'm not exactly goth, but love many of the female gothic styles and plan on exploring them more in the future… in my own way, of course. Many gothic men wear black nail polish, by the way, which has nothing to do with crossdressing (as in, they're not crossdressing by wearing it).

To me, black is a very feminine color, or more accurately, how I use black is feminine. At least it is to me. I do not follow the latest (women's) trends or styles, but rather prefer to explore the looks and styles that I enjoy on a personal level. I really don't care if they're "in" or not.
The photo up top is that of the very first item I purchased en femme. I spoke about it briefly here. In addition to the fact that I love black as a color, I also love the fact that this particular nail polish came in a bottle decorated with a skull and cross bones. It almost looks like a bottle of poison. Some people may not think that is very feminine or girlie, but it is to me. More accurately put, it's just plain cool.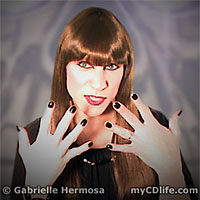 It always irritates me to hear people say "Why not try a pretty color?" A pretty color? Black isn't a "pretty" color? Come on! Black is beautiful to me. Beautiful, pretty, cool, sexy, attractive – whatever you want to call it. Black just rocks!
Truth be told, I have a thing for skulls, skeletons, the darker side, and the whole b-horror slasher movie genre. The skull and crossbones bottle is perfect to me. I'd rather have a "bottle of poison" than some "pretty" bottle of something bright. That's my style and preference. At the same time, I have no nothing against those who prefer the lighter colors and styles. To each, her own.
The fabulous Mrs. H. recently painted her nails black, using my new "poison" nail polish. That's one of many perks to having a crossdressing husband, by the way – we can swap and share things. ;) Her nails are usually painted variations of red and other bright colors. The black nail polish worked really well on her, going great with her pitch black hair. She thought they looked nice, too. For my wife however, it's just a Halloween theme. She'll soon return to her brighter colors, and that's fine by me. Whatever color she wears, her nails always look beautiful.
I planned on taking a photo of her running her nails through her long, black hair and share it with you here. Unfortunately, she had a mishap on Sunday morning, broke a couple of nails, and trimmed the rest to match. In short, she's not happy with her nails right now and refused my request for a photo. Bummer.
Although many t-girls and genetic women may be breaking out the black nail polish for the upcoming Halloween holiday, it's a year-round thing for me. When it comes to nail polish, black is always my color… with the occasional near-black alternate color (usually at my wife's request).
Is black not your thing? That's cool. You won't hear me say "Why not try a prettier color?" I'm glad everyone has their own style preferences. The point is self expression, as in be yourself, and not what someone else would have you be.
I think a lot of crossdressers go with that which is expected of them (generally by other crossdressers) and try to conform to socially accepted female styles. I'm already breaking social acceptance rules in choosing to be myself and express my feminine side. In terms of personal style, I may as well go with what I like, from black nail polish, to my beloved thick, black eyeliner. It's not what many genetic women wear (aside from gothic women), but it's a look that I really love, regardless of it's lack of fashion popularity.
What's your color of choice? Do go with your own distinct personal sense of style, or do you follow the ever changing fashions and style trends? Tell me about it.