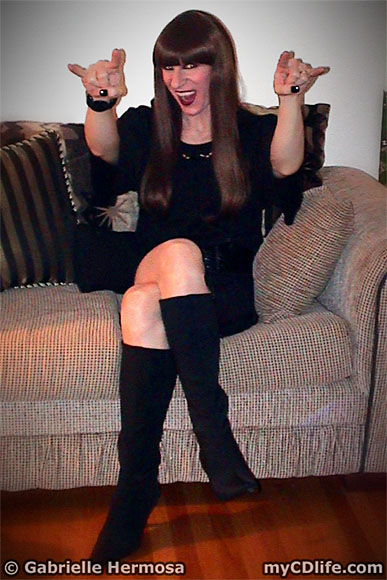 My reasons for being in therapy are not directly centered around being a crossdresser, although is often brought up as it ties into to many aspects of my life. If being a part time t-girl is not the main reason for being in therapy, then why go to my therapist en femme? The short answer is why not? I've been making a point to stretch my legs and get out in public as Gabrielle, and this seemed like another great opportunity to do so.
I've shown my therapist photos of Gabrielle a few times. In recent sessions, it's felt like things may be winding down. I wanted him to meet Gabrielle in person before we parted ways. Without being asked to or making it known ahead of time, I decided to just show up as Gabrielle. This particular session took place a few weeks ago – I'm a little behind in my writing. Coincidentally, I have another session with him today, although I'll be going as plain old Gabe and not Gabrielle.
Here we go again
So what happens in the reception area before even having a seat in the waiting room? I get laughed at… again. To date, my record is perfect – every time I've ventured out into public and interacted with people as Gabrielle, I've gotten laughed at. As it's been mentioned before, I do not pass in person.

About the photo
The "metal hands" photo of me above was taken shortly after arriving home from my session. The top and boots are the same, however I changed from my lovely but movement-restricting pencil skirt into another skirt that was easier to walk in. I don't yet have any photos of me in the pencil skirt. I thought the photo was fitting for this write-up as my trip to the therapist en femme was a generally positive experience, and that rocked. :)
Some trouble walking
The walk from my parked car to the building and into the office was uneventful. A woman exiting the building held the door for me as I entered, and I thanked her with a smile. There was one or two other people I passed in the building's lobby area. No one looked at me funny, at least not from what I could tell. I had some trouble with the actual walking though. In an effort to stand out less in public, I attempted to tone down my (sexy) look by wearing a past-knee length pencil skirt. My outfit looked very nice but walking in a movement-limiting form-fitting pencil skirt for the first time was rather tricky. I'm not used to it and need more practice.
Enter the office
The receptionist was very kind to me. Polite, and smiling with genuine intent, she took care of business professionally. Of course, I'm not the first t-girl she's seen. I should probably mention that my therapist is actually a full psychiatrist and shares an office with a few other psychiatrists. She's been exposed to plenty and didn't treat me any different than when I'm in guy-mode… except she did seem just a tad warmer to me somehow.
It felt odd having to identify myself as my man-side while I was en femme. After all, Gabe had the appointment, not Gabrielle. I used my feminine voice in dealing with her. Though it needs work, that is how I talk as Gabrielle.
Getting laughed at
As I dealt with the receptionist, another woman entered the office and stood in line behind me. When I turned to take a seat in the waiting room, her obvious smile was easily visible. With her hand over her mouth, she laughed quietly as she turned her attention from me to the receptionist. Being in a psychiatry office didn't help much. I believe I understand her laughter. It probably wasn't because she thought I looked terrible or funny (like a clown), but rather because she read me as a man dressed and made up like a woman. Being in a psychiatry office, her mind likely connected the "crazy" dots and formulated that I was a person with some serious identity (and gender) confusion issues, hence why I was there. Us "crazy" folk need proper looking after. ;)
Being laughed at is something I'm slowly getting used to. I've known since my first brief interaction with a fast food drive-thru attendant months ago, that this is how people usually react to people like me around here. I don't like it, but so long as there is no accompanying ridicule or threat, it doesn't bother me too much.
Over here, doc
When my therapist looked out into the waiting room to call in "Gabe", it took him a moment to realize that I was Gabrielle. With only two people in the waiting room, the other being a genetic woman (not the one who laughed), it wasn't too hard to figure out. As we entered his office, he mentioned that I dressed very nicely as Gabrielle. The compliment was much appreciated. Dressing casual en femme is not my thing, although it might be considered more "normal" to do so when venturing out into public (at least for day-to-day activities).
A very Gabi session
Having showed up en femme, this session concentrated entirely on this aspect of my life. We discussed a variety of things including: attending my high school class reunion en femme, my marriage, getting laughed at, time required for full transformation, and my behavioral differences.
As expected, he noticed the obvious personality differences from Gabe to Gabrielle, sighting that I even "talked differently" (using my femme-voice). We had previously discussed exactly where I fall (categorically) in the vast expanse of the transgender spectrum, but this was the first time he was able to see Gabrielle in action. As my wife has, he also commented that Gabrielle smiles a lot more than Gabe.
At the end of the session, my therapist asked if I wanted to exit via his private side-door, so that I would not have to go out back through the office and lobby of the building. I told him that I'd prefer to go out the same way I came in. I didn't mind passing by people along the way… although walking in that pencil skirt wearing heels was still rather tricky.
A successful public outing as Gabrielle
It wasn't much, but going to my therapist as Gabrielle was gratifying and gave me the opportunity to examine how I feel, move, and behave when interacting with others as such. It may seem odd to some – that I have to pay such close attention to my own behavior as Gabrielle, but that's how I learn what's working and what needs improving upon. As Gabrielle, I am not simply Gabe in drag, but rather existing in and exploring my feminine side. Because most of my life was spent trying to suppress it, it's going to take some time to get worked out.
Not ready to call it a day
After arriving home and talking to my wife about my day thus far, I felt an overwhelming urge to get back out of the house. Where to go and what to do? My wife suggested that I head to a nearby mall – the same one that I've driven to a few times before (en femme), but never left the car out of the fear of being harmed. There are a number of closed-minded, tough-guy macho-types in my town and they don't take kindly to people like me. It was early afternoon though. These guys should still be at work or in school. It should be relatively safe.
Deciding to head back out and visit a local mall, my day out in public as Gabrielle was not over, but this write-up is. Thanks for joining me for a while. I'll fill you in on my first stroll through a mall en femme next time. It was a rather sobering experience…
Related content: crossdressing in public