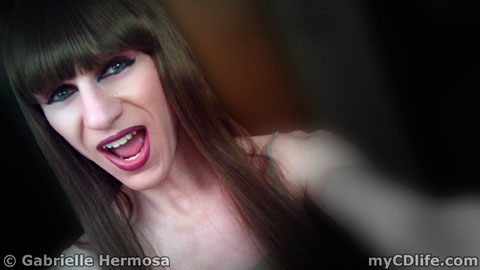 I've been crossdressing since the age of 3 or 4, but it wasn't until December of 2008 that Gabrielle finally got her face. The picture above was taken a couple of weeks ago, on the one year anniversary of my first time in full makeup. It's not my best head shot, but certainly displays a vast improvement from a year prior in terms of looking more feminine up close.
After a lifetime of keeping this aspect of my life a carefully guarded secret, it was around this time last year (add a couple of weeks) that I was finally (fully) out to my wife. It was that same time, after months of planning, that my first ever feminine makeup transformation took place. The fabulous Mrs. H. agreed to take care of business for me. With years of experience doing her own makeup, and very well, I was sure to look gorgeous when all was complete… or so I initially thought.

I remember sitting in the bathroom while my wife carefully applied the makeup. She had me positioned so that I could not watch the process in the mirror – wanting it to be a surprise until finished. For decades I had waited for this moment and it was finally happening. This kind of anticipation is something that only another crossdresser (who also happened to wait far too long) can truly understand.
Mrs. H. smiled and giggled at times while applying my makeup. The process was pretty amusing to her, and she rather enjoyed it. Foundation, eye shadow, eye liner, blush, lipstick… and the wait was over. After a lifetime of self-denial, it was time to face my feminine side in the mirror – the woman within that had been unfairly locked away all my life.
It is hard to find the proper words to describe how I felt after coming face to face with "Gabrielle" for the first time in the mirror. To quote the fictional, but wise character of Spock, "…having is not so pleasing a thing, after all, as wanting. It is not logical, but it is often true." The context in which I use this quote differs from how it was used in the Star Trek episode "Amok Time", but seems fitting in light of the great disappointment experienced that moment.
Although it felt good to finally be in full makeup as Gabrielle, I clearly looked like a man wearing makeup and not at all like the beautiful, feminine face that I mentally envisioned for so long. Most of the photos taken that day looked awful. My desire was to look as female as possible and not like a man wearing makeup. It was quite a let-down. I couldn't help but wonder how much better I might have looked had this moment arrived many years sooner on a much younger face.

The following day, we gave it another try. Some lessons were learned and a slightly different approach was taken this time. It fell short of what I hoped for, but was a welcome improvement. My face looked more feminine and less rugged. Click the thumbnail to the right to see the first-ever photo as Gabrielle I shared online (originally published on January 1, 2009).
Unfortunately, I'll never know how beautiful I might have looked as Gabrielle in my teens or twenties. Being genetically male, my face is aging as such. Thought it does not look terribly old by any means, it does look fairly rugged and quite male. If you're a young crossdresser, closeted or not, I suggest you begin experimenting with makeup if you haven't already. Younger faces have the potential to look more feminine, and of course that much more attractive.
The silver lining is that I've gotten better at doing my makeup over the past year. Like many before me, I discovered that sticking with it and refining technique can greatly improve the end result. My preferred style isn't exactly a modern, trendy approach. I love thick, black eyeliner, darker eye shadows (applied in an 80's-ish fashion), bold lipstick, and sometimes a little too much blush (thought it is unintentional with the occasional excess blush).
Coming up
In my next post, I'll be revisiting my first-ever published photos as Gabrielle. It was just over one year ago that I first ventured online as my feminine-self. A couple of then and now comparison photos were taken to celebrate. I hope you'll join me while I reminisce and look back at my first baby steps into the world as Gabrielle… if only via the internet in the beginning.
Share your experience
At what age did you first start wearing makeup? How did it turn out your first time? Did you have any help (from a friend, girlfriend, or wife) getting started? Do you follow the latest makeup trends or do your own thing? If you're the mother, sister, wife or signicant other of a crossdresser, have you helped someone get started or perhaps still do their makeup for them? Please take a moment and share.