Dear Gabi,
I did not nor do I now understand crossdressing. I was raised very religiously and naive as to what the world's about. When I met my husband, 30 years younger than me, his mom would say that once we got together his bisexuality and crossdressing would not be there, but to my horror it was an every day thing and that he wanted to be a girl.
I've tried for all these years to deal with it give him some of my clothes, watch porn, deal with him chatting with his gay and crossdressing friends that don't understand where I'm coming from. I'm severely depressed and this has only driven me farther and farther into it. I had problems before but this has escalated it.

After his mom's death he wanted to start it up again and I said no. For the first time in our marriage he's talked about it, now wants to go on with his life as were separated, and moving in with another bisexual and soon there will be a relationship there. He led me to believe that we could work things out sometime in the future but hit me with separation (same as a divorce) and he's moving on and being what he is. This has torn me up and anxiety depression and feeling inadequate and the scum of the earth.
I've asked the docs and therapists for help it's not enough. All I do is cry and feel like a complete failure. Even though I should just not talk to him and cut the ties, I can't do it. My love is so deep and yet it's obvious he only used me for money and getting what he wants. I'm not trying to step on any toes here, I just don't understand and it's messed me up so bad I can't function. I have serious health issues and yet I can't get disability and I'm on Lexapro and Clonazepam, but they're not working. They won't let me see another doctor or counselor and tell me to deal with it.
The same as my husband tells me about his crossdressing and bisexuality, the only support I have is my family and friends who think he should've been honest before we got married when he only wanted to talk when he was in my clothes! That's not the time to talk to me about it. This is a lot of info and I'm sorry. I'm trying whatever I can to get help to get understand and I'm tired of hearing it's not me. I feel after this being the 3rd marriage and other relationships have gone bad and left me with feeling very inadequate, I'm a failure and shouldn't have been born.
Thank you for at least listening.
Chris

---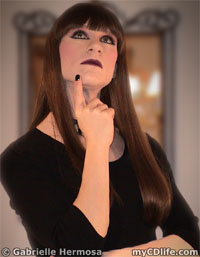 Dear Chris,
I am so sorry to hear about your failed marriage and painful emotional struggles. There is nothing I can say or do that will heal your broken heart, but I may be able to at least shed light on some things that don't make sense to you.
Crossdressing is different from one person to the next, therefore I cannot adequately spell it out in simple, logical terms. In general, it's a man's need to express his feminine side. Like being left-handed or naturally athletic, it's a personal trait and not something that goes away or can be "cured" any more than one can "cure" being left-handed.
Bisexuality is a person's attraction to and romantic interest in both sexes. It is not linked or directly related to crossdressing. Most crossdressers are, in fact, heterosexual men with no romantic interest in other men whatsoever. Most gay and bisexual men are also not crossdressers. Sometimes crossdressers happen to be gay or bi, and sometimes gay or bi men happen to be crossdressers.
May-December romance is tricky at best, depending on the age discrepancy. Romantic relationships between couples, in which the age difference is significant, tend to have less of a survival rate than couples who's age does not differ greatly. The 30 year gap between you and your separated husband is pretty significant. Although age difference alone does not necessarily mean a relationship is doomed to fail, it certainly plays a considerable role.
I understand that you knew little to nothing about crossdressing or the significance of one's sexual orientation before getting married. It was ignorance on the part of your husband's mother to suggest it would go away once the two of you got married. Marriage does not change one's sexual orientation/preference or their need for feminine self-expression.
It was admirable of you to try and be open to your husband's crossdressing and sexual interests. Unfortunately, his desires (and perhaps needs) went well beyond just crossdressing and porn. You should not see this as a failure on your part because it has nothing to do with who you are as a person, and everything to do with what your husband wants and needs in his life. In other words, do not blame yourself for your husband's behavior.
I can't help but wonder if your husband may be more of a transsexual than a crossdresser based on your saying "he wanted to be a girl." If that is the case, it is likely he has felt this way for a long time. Crossdressing and transsexualism are two very different things. Although both may involve the act of crossdressing (as in someone who is genetically male dressing as a female), the motive for doing so differs. Both are also very complex subjects and explaining the differences is better suited for a series of lengthy books.
You are absolutely correct in that your husband should have been more honest with you about his long-term interests and desires. Life is a discovery process however, and it's possible that he may not have understood these aspects of his own life when the two of you were engaged to be married. Regardless, he was not as open and forthcoming with you as he should have been. This is, unfortunately, somewhat common among transgendered people. The fear of rejection compiled with the desire to live a "normal" life often keeps people from being completely honest about these things prior to marriage. It doesn't make it right, but it does explain why it happens.
Marriages do not fail because of crossdressing or sexual orientation. They fail because of compatibility issues, lack of respect, and poor communication. In your story, I see some significant compatibility issues, and lack of communication. The respect factor is debatable and unclear in your letter, but the other two shortcomings are more than enough to cause a break up. For a marriage to work, both parties need to be equally committed and devoted to making it work. Both have to want it to work.
Although you have expressed difficulty in letting go of your husband, it is probably in your best interest to do so. You cannot hold on to a man who does not feel for you, as you do for him. It's not healthy and nothing good will come of it. The sooner you let go, the sooner you can begin to heal and move on with your own life. You deserve a man who loves you completely and can commit himself to you in a monogamous relationship. Do not settle for less.
Before attempting another relationship, I suggest you work on your severe depression and low-self esteem. Depression, low-self esteem, and insecurities will cause serious trouble in any relationship. Failure to get these issues under control prior to entering another relationship will only result in another heart break.
There is no easy fix for depression, but it can be managed if you choose to work at it. Your solution will not be found in a pill or therapy alone. Medication and counseling can help, but the rest is up to you. Understanding this important point may be your first step to true recovery.
You've been through some difficult times and I hope that you'll not think poorly of all crossdressers because a single man, and/or his friends. I am a heterosexual crossdresser in a monogamous and committed relationship with my wife. She knows all about my crossdressing and enjoys this aspect of my life with me. Of course, not all women will enjoy being with crossdresser. If the idea of crossdressing in and of itself is not a desirable quality in your eyes, that's fine. Lucky for you, most men are not crossdressers. Everyone is allowed their opinion, but you should not sum up all crossdressers poorly because one caused you pain and suffering. Every group has its bad examples. Most of us are good, devoted husbands and fathers who are completely committed to our wives and families.
You've got some rough times ahead, Chris. I hope you will choose to overcome your troubles and move on with your life. The pain you feel will not be there forever. You're old enough to understand that. This is a temporary state and you will come out of it stronger and wiser for the experience. You're a good person and deserve to be happy. Do not place your self-worth on the success or failure of a relationship, but rather on your own good qualities. I believe in you, Chris. It is time to believe in yourself.
 
Related content: Dear Gabi Advice Column
Write to Gabrielle: Dear Gabi submission page