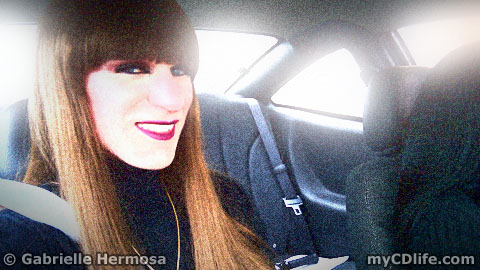 It's been a while since I've had an opportunity to get out in public as Gabrielle. My wife, the fabulous Mrs. H., recently took me shopping at one of the local malls. It marked the first time we ventured out in public together, while I was en femme (not including drives we've taken in which I did not exit the car).
My public outings have had mixed results in the past. To increase the potential for a more successful outing, I took some drastic measures this time, or at least drastic for me.

In order to draw less attention and increase my odds of blending in with the crowd, I did something rather undesirable. I wore pants. I hate pants. It may be crossdressing cliche, but I really do hate pants. Women have been wearing them for several decades, but I just don't feel very feminine in pants, even women's pants, or skin-tight jeans in this case. At least I looked good in them, according to my wife. I do admit, my legs still have a nice, feminine shape in jeans (thanks to my daily treks on the treadmill of doom), but it's not my style and I wasn't happy about it.
The activity was shopping, but this outing was mainly an experiment in blending in – something I've failed to do in past public outings. I like to dress nice. What I consider "dressing nice" and "looking good" falls under the category of dressing "sexy" in the eyes of many people. We'll spare my gripe with how society tends to frown upon "sexy" these days, but that is my preferred style and how I feel best.
What I wore
My outfit consisted of tight bluejeans, black knee-high boots (flat, not high-heeled), a black turtleneck sweater, and an outer black button-down sweater (that fell just below my hips) over it. My only accessories were a gold crucifix necklace, and basic black purse. I toned my eye makeup down dramatically and was careful not to over-do it on my blush. Mrs. H. and I had similar looks going on, each wearing black tops, tight bluejeans, flat (non-heeled) black knee-high boots, and black purses.
I snapped a few quick photos on the way to the mall while my wife drove, one of which you see at the top of this post. You can see her long, black hair draped over her right shoulder at the right edge of the photo. Sorry about the lack of a bull-body photo of how I looked in what I refer to as "fem-drab". I didn't feel compelled to capture my image in this less than desirable style. Update: Scroll down and click on the thumbnail image at the end of this post to see how I looked in the pants I wore.
As much as it pained me to dress down, it did help in terms of not drawing attention. As I've stated before – I do not pass in person. Don't let my pictures fool you. In two dimensional photos where I have more control over things such as lighting and the angle in which I'm viewed, it's a lot easier to appear passable. In person, angle, depth perception, and less than ideal lighting conditions easily reveal my feminine shortcomings.
Just friends, not lovers
When in girl-mode, my wife prefers I behave like a friend, rather than romantic love interest. It's understandable, as it should draw less attention in public that way. Even so, my arm kept finding its way around her shoulder somehow. Muscle memory, old habit, or subconscious need, it was quite difficult to keep from showing romantic affection for her while we were out. I never realized how automatic (and frequent) my spousal public shows of affection are, nor did I expect it to be so difficult to refrain.
Mrs. H. did a good job of helping me feel more comfortable out in public. She coached me on "feminine shopping behavior", mannerisms, posture, and appropriate facial expressions. Yes, facial expression is an important point to her, and I agree. As a not so youthful genetic male, my face doesn't look very feminine on its own – even when coated with gobs of makeup, carefully applied so as not to appear like "gobs of makeup". I have to try to keep a "perky" look on my face, which includes a hint of smile, that does not appear to be a full-out smile. Walking around with a constant smile on my face would just be weird. It was tricky, but I did my best to pull it off.
One thing that was no different from any other shopping experience with my wife was that I ended up carrying all the clothing items picked out as we browsed. As a loving spouse, in guy-mode or en femme, I am always happy to do so.
Blending in… more or less
My attention was a bit divided. My wife kept trying to get me to behave and act "naturally" (which included browsing through clothes), but I couldn't help but try to look at each and every face around me for signs of being "read". Most people seemed to be completely unaware, which is exactly what I wanted. That was the point in dressing in "fem-drab". So long as people don't look directly at me, and there was little reason for them to, I would remain just another body in the crowd.
I did not go completely unnoticed, however. As my eyes scanned about, I did notice a handful of people who appeared to have read me. There were at least a few occasions in which people reacted directly to my presence.
Deer in the headlights
Shortly after entering the mall, in one of the main hallways, two teen boys (maybe early 20-somethings) walked in our direction while conversing with each other. Our eyes met briefly. A few yards away, their conversation stopped abruptly and I got a rather obvious look of surprise. Just after passing by them, I couldn't help but laugh out loud. Their eyes open wide, almost popping out of their heads, and jaws hanging open in surprise, was rather humorous.
Nice boots
In the clothing store that we spent most of our time browsing (it had clothing styles we both enjoyed), I was approached twice. A young male sales associate came up to me and commented on how he liked my boots as he showed me his own boots… women's boots. Footwear was his only "female" attire as far as I could tell. He read me, and we read him as well, though not as a transgender in his case. He was an effeminate, stylish, gay man. With only one or two exceptions, I've always clicked well socially with gay men and women. They're pretty open-minded and cool, or at least those I've had the pleasure of knowing over the years.
I did not actually talk to the sales associate because Mrs. H. jumped in and began chatting with him, believing he was commenting on her boots and not mine. I stood by and smiled while they talked for a minute or two. There was some hesitancy on my part to chat with strangers on this day, which I'll explain later. Even though I didn't participate in the brief conversation, it was still a cool experience. He knew I was trans and was genuinely welcoming to me – perhaps more so because of it. How I wish that could be the case with everyone, or at least the majority.
Excuse me, 'miss'…
After our shopping in this store was concluded, Mrs. H. and I quietly conversed with each other while waiting in the rather long, slow moving check out line that extended back some distance. After some time, another shopper approached me and asked me for some assistance. She was in her late 50's, I'd guess.
"Could you tell me what the price on this is? I forgot my glasses and can't read the tag." "Seriously? That's her approach?", I thought to myself. I almost busted out laughing… again. It was a rather obvious attempt to get me to speak so she could confirm whether or not I was a "real" woman. The moment seemed like it was ripped right out of a Seinfeld episode. Smiling larger than life and trying not to laugh, I leaned over to look at the price tag. Just then, Mrs. H. intervened and "helped" the woman read the price tag. My wife's intent was to "come to my rescue" and prevent a potentially uncomfortable moment. I love her so much for that. Had she not been there, I would have "played along" and probably gotten "probed" a bit further by this curious woman. Her polite, if obvious, approach to "reading" (or confirming) me was amusing and probably well intentioned but I knew it was best to not converse with people on this day. It might have been a great opportunity to engage in a potentially educational conversation, but I was filled with a mix of nervous energy and adrenaline and very much off my game.
An alarming reaction
Shopping bags in hand, Mrs. H. and I slowly made our way through the mall's large hallways. As we walked and chatted, my eyes continued scanning about looking for signs of being read. Most people seemed not to notice, and that was very pleasing.
At one point, my eyes met the eyes of an oncoming man who was walking in our direction with his young daughter. He was about 5′ 6″ (noticeably shorter than I), very thin, and probably in his mid 30's. I looked away to be polite. A moment later, I looked back to find him still starring directly at me with a rather odd look on his face. He pulled his young daughter close to him, pressing her against his body, as if to protect her from imminent danger, and quickly altered direction into the nearest store entrance. Our eyes remained locked for several seconds during his "escape". The "odd look" on his face appeared to be that of fear, perhaps anger. I've gotten nasty looks from people before, but never the look of fear, if that was what he experienced.
I asked my wife if she caught his reaction, but she was looking in another direction. I explained what I saw – a worried man attempting to "protect" his young daughter from… well, me. Mrs. H. tried to convince me that I misinterpreted things because I was nervous. Well aware of my own nerves, I disagreed.
It took some time, but I think I figured out what really took place. The over-protective father probably did experience a genuine sense of fear. The fear was not of me however, but rather of his own daughter. More accurately, he likely feared having to explain what I am (as a transgender) to his daughter had she gotten a look at me.
I understand his discomfort in context with where much of society currently sits with things. Even so, his reaction was cowardly and unnecessary. Children look up to their parents for guidance. If they sense discomfort in their parents about something, they will in turn learn to become uncomfortable about it themselves. My own parents were very uncomfortable answering certain questions when I was a child. Consequently, I "learned" that these things were just "wrong" – even to simply inquire about. Looking back, there was nothing wrong with most of the things that made my parents uncomfortable. I've made it a point to remind and embarrass them about it in recent years, mainly in jest.
It is sad that certain realities, perfectly natural and quite harmless, are still taught to be immoral or flat-out "wrong" in the eyes of impressionable children. This is a topic best suited for another concentrated discussion… or many discussions, however.
An interesting learning experience
Our mall shopping concluded, Mrs. H. picked up a few tops and a dress. A single new miniskirt was in my bag – not exactly much of a wardrobe expansion, but finding things in my size (mainly tops), AND in styles/colors that I like, is no easy task. In addition, I was quite distracted with my "people watching".
For the record, I quickly changed into my new miniskirt upon arriving home. I couldn't get out of those pants fast enough. It felt so good to feel "normal" again. I am literally laughing as I share this, but it's true. The skirt looked very nice on me, too. Again, my apologies for not having photos.
Although it was a good learning experience, I'm not pleased with many aspects of the outing – mainly how it felt (or how I felt during it). My attempt at blending in by dressing exactly how I do not like to dress did work to some extent. The cost of blending in was that I didn't feel very feminine, even under all that makeup and completely in "women's" clothing. I didn't feel like myself. It almost felt like I was "playing dress-up" ("dress-down", in this case) or wearing a costume. Have you ever felt really awkward or "not right" because you dislike what you're wearing, regardless of gender expressed?
Feminine vocalization issues
According to Mrs. H., I was unable to produce my feminine voice properly, which she noted as we quietly talked to each other while shopping. That was, to some extent, why I was hesitant to engage in conversation with anyone. I practiced my feminine vocal exercises for about 10 minutes in the car on the way there. My wife got a big kick out of that, and even I am laughing as I reflect. Maybe the vocal exercises were not long enough, or perhaps I was simply not feeling enough like myself to properly feminize my voice. Many crossdressers do not try to hide their male voice, however as Gabrielle, I do not aim to be a "crossdresser", but rather a trans-woman, if only part time. I'd rather not get into the "labels" and "terminology" debate right now, though. This write-up is already triple its intended target length.
Analysis, Mr. Spock
I've got a ways to go yet, in terms of blending, acting "naturally" and feeling comfortable out in the "wild". A controlled environment, such as a planned gathering where I know people or have a specific purpose, is a lot easier for me right now. Life is a growth process and this part of my growth has been stunted for a long time. I'm playing catch-up, though it's moving at a very slow pace – mainly due to lack of time and opportunity to get out and grow. My own feelings and emotions are under constant psychological self-analysis. This trip out gave me a lot of good data to sift through, odd as that may sound. It's something we all do, although I sometimes speak about it in direct analytical terms.
What's your story?
For those of you who are more advanced than I when it comes to public self-expression, what have you discovered in terms of successfully blending in? Those of you who have yet to venture out in public, what keeps you from doing so? Please take a moment to share experiences, thoughts and ideas.
Update:


Click the thumbnail to see how I look in pants. The outfit in this photo is different than when I went out shopping with my wife, but from the waste down, including the boots, that is what I wore. I'm not a fan of wearing pants, but I don't look too bad in them. Honestly, I look a lot better in these kind of pants than a lot of genetic women half my age who squeeze into them… but of course, I have to exercise my fit little butt off to achieve it.