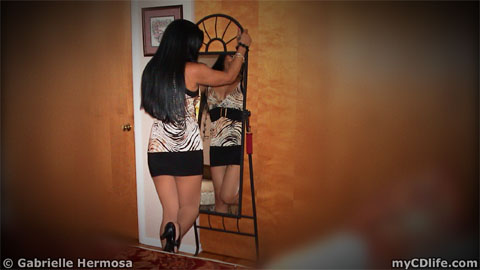 The photo you see above is of my wife, the fabulous Mrs. H. If you're new to this site, she's a genetic woman, not a crossdresser (like me). Although she agreed to pose for the photograph, it is not uncommon to find her admiring the beauty she sees in her own reflection in the mirror. This is especially true when she's wearing something sexy.
What does this have to do with anything? When it comes to the misconceptions about crossdressers by mainstream society, a lot, really. Please note that sex and masturbation will be brought up in this article to some extent – not in a gratuitous way, but rather informational and as a matter of fact. You may want to stop reading now if informational sexual content is offensive to you. In saying that, I can't help but wonder if people also skipped out on sex education in school because that also dealt with matters of sex and (gasp) masturbation.

I would like to first mention that my wife has given her permission to publish the intimate content within this article and is fully aware of what it encompasses. She understands my intentions and agrees with the message I would like to convey.
She likes to dress sexy
Mrs. H. is an attractive woman. Short miniskirts and revealing tops are often the norm when leaving the house. This was more the case years ago than now, but dressing sexy was, and to some extent still is, her preferred choice in personal appearance. Her revealing attire is not intended to attract the attention of horny guys, even though that is often the result. She's a cute little thing, but also tough as nails. Guys who misinterpret her sexy appearance as an invitation to hit on her are always greeted with a cold, abrasive earful from my outspoken wife. She can really handle herself and then some, trust me. The point is that Mrs. H. likes to dress sexy because she enjoys looking good, period.
Society has a problem with sex
Expression of sex and sexuality is oddly frowned upon in today's society. Of western cultures, America is probably the most sexually repressed. It's not quite as bad as it was 40 years ago, but this is still a highly sexually repressed society. Case in point: (in America) it's acceptable to show someone literally getting their head blown off by a shotgun in movies and video games, but it's not acceptable to show the act of sex, or even a woman's frontal, naked body. So graphic violence is acceptable, but the most natural thing to all mammalian life forms on this planet, sex, is not. I could write volumes about this alone, but it's not the main point of this article. It is however, an important point in the dots I'd like to connect – a point that extends well beyond this one write-up.
Aroused by her own reflection
Sometimes when looking at herself in the mirror, my wife can be very playful in how she poses, admires her body, and even touches herself. Although she'll do this in the nude, more frequently it is when she's dressed sexy. There are times when she'll get all dressed up sexy simply to enjoy looking at her reflection. The experience is often very arousing (to her) and can lead to other things.
She masturbates fully clothed
My wife and I enjoy an active and healthy sex life. Even so, both of us still masturbate from time to time. With some exceptions, most humans do, regardless of how often they have sex. Perhaps the most interesting thing about how my wife prefers to masturbate is that she'll usually do so when fully dressed in sexy clothes. The process begins when she gets all dressed up (including hair and makeup) and seductively poses in front of the mirror. I'm not going to get into all of the details, but the act of masturbation itself is usually done without removing any items of clothing.
Women are attracted to feminine beauty
Admiration and attraction to her own sexy form in the mirror is not unique to my wife. I've observed this behavior in other women, although to a lesser extent. Previous girlfriends exhibited similar conduct, admiring their own beauty and playfully posing in front of a mirror, before going out on a formal date. When accompanying my wife to clothing stores, I sometimes observe other women admiring themselves in mirrors near the fitting rooms, in ways that (seem to) go beyond simply identifying if something fits well. In personal conversation, a few other men I know have reported similar behavior in their wives – the specifics vary, but the self-arousal theme is present. It is pretty clear that my wife is not the only one essentially turned on by her own sexy reflection in the mirror from time to time. Although it may be uncommon, I highly doubt she is the only woman who masturbates fully clothed, either.
Sexual repression and behavior
Around the house, Mrs. H. is pretty uninhibited when it comes to her own body. Because of society's general level of sexual repression, some women will probably never consider the idea of admiring themselves in the mirror on a sexual level. They may feel it is silly, abnormal, sinful, or otherwise somehow wrong. The percentage of women who (sexually) admire themselves in the privacy of their own homes vs. those who do not is something I can only guess at, in addition to the numerous factors that come into play with each.
The point
When my wife dresses sexy, she does so simply because she likes the way she looks and feels good about her appearance. The fact that she can become aroused by her own reflection and sometimes masturbate while dressed sexy does not mean she dresses sexy as some kind of "weird sexual fetish". A number of women are in fact attracted to their own image. The fact that is it not often discussed does not make it abnormal or unnatural. It's just a sign of our sexually repressed society.
Where does crossdressing come into play?
If you're a crossdresser, you probably understand why I'd bring this up. If not, it may seem like a bit of an odd topic. My hope is that this article makes an interesting read when it comes to the sexual repression of our society (mainly American) and a form of autoerotic stimulus that is rarely discussed. It is also necessary to have this write-up available for reference before publishing the yet to be completed Crossdressing Myth #7 (which I will link to from here after its publication).