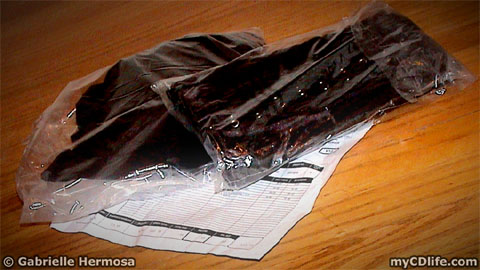 Yesterday my latest package of mail-order clothing arrived. After arriving home from a long day at work, I quickly got out of my man-clothes and tried everything on. One garment at a time, my disappointment grew as I discovered nothing fit me. My lovely wife, on the other hand, ended up with a new elegant yet sexy little black dress and attractive bell sleeve top. She looks mighty fine in them, too, I must say. Finding female clothing items in my style and in my size often seems like a cruel exercise in futility.

Of the four items ordered, two have ended up in my wife's already bursting closet, and two were shipped back to the online retailer. As for me, the one who desperately needs flattering tops that fit well and hide my not so feminine shoulders and arms – I get to pay more shipping fees and end up with nothing for my troubles.
It's always a gamble buying clothes online… or at least it has been for me. I have yet to order a single item of clothing that actually fits. My upper-body is the problem area. Tops never seem to fit my broad shoulders and they're always too short… or end up being too big all around, depending on size ordered.
I'm pretty choosy when it comes to clothing style. There are only a few general styles that I really enjoy – both on myself and to see other women wearing. Unfortunately, with the ever changing fashions each season, my preferred (generally form-fitting) clothing styles are not always in style and therefore not available in local women's clothing stores. Even when things are purchased from local stores, they often don't fit when I get home and try them on.
If you're thinking my shoulders and arms don't seem disproportionately large (for a lady) in my photos, that is because I've taken steps to minimize their appearance – both in the way I pose for photos and also the lighting utilized. In person, I look a little more like Gabrielle the pro-wrestler… at least in the few tops I currently have that fit semi-decently. Sleeveless tops fit best, but they also expose my well toned, somewhat muscular arms – not very flattering for a lady and nothing I'd be comfortable wearing outside the house.
My wife and I have been trying to find styles that are form-fitting, and yet would also minimize the appearance of my shoulders and arms. In our searches, we've come across some attractive clothing items in styles we both like, but nothing ever seems to fit. Sweaters are the exception, but it's summertime and rather warm outside in my area.
There are several locally owned, less mainstream stores that I haven't looked into yet. Because they're not big chain stores, the clothes are more expensive and their return policy a bit more strict. Even so, perhaps I'll have better luck in one of them.
It's not easy being a crossdresser. I know I limit myself in the styles that I want to wear vs. what is available, but I can't help it. I like what I like. My style may not always be in vogue, but it's always my style.