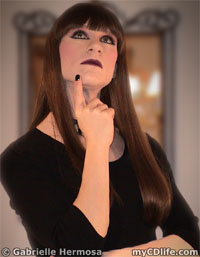 For some time now, I've pondered the idea of offering an advice column. Not about fashion or makeup tips, but rather for crossdressers and their loved ones who are dealing with confusing feelings and would like some guidance on the mental health front.
Most of my life has been spent analyzing and trying to figure out what this all means. Confusion, guilt, low self-esteem and depression used to be the status quo for me. It's been a long, difficult journey to self-acceptance and inner-peace, one that I almost didn't survive, but I made it and learned a wealth of knowledge along the way.
This website was started with the intent to educate people about the realities of crossdressing and dispel the negative cliches and myths. I try also to offer insight and guidance for crossdressers who are dealing with their own issues and generally don't feel good about themselves because of this aspect of their lives. Publishing an advice column seems the next logical step. It will allow the opportunity for an additional level interaction and communication with visitors.
A Dear Gabi link has been added to the navigation bar up at the top. Questions can be submitted using the form on that page. The content of the submission page may go through updates as things get ironed out, but it's a good starting point. I encourage you to take a look.

Many people believe that everything in life happens for a reason. I can't say that I believe the hardships suffered in my life happened for any particular reason – they just happened. Rather than feel sorry for myself in reflection of my past, I've chosen to make use of the knowledge acquired during my struggles.
Some of my best writing is the result of answering specific questions people have asked either via e-mail or in online message forums. It forces me to look deep within my own thoughts, understanding of life, and personal experiences to extract knowledge that I might not have otherwise gone looking for on my own.
Several weeks ago, I tested the water for this idea with a question sent to me by a visitor (with her permission). This post is in essence, my first published Dear Gabi Advice Column.
How often the advice column will be published depends on the number of requests received and the amount of time I can devote to properly addressing them. I don't have all the answers – no one does, but I can offer compassion, understanding and direction to those who find their way here.