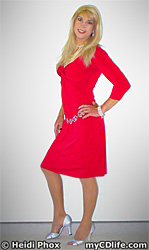 Today is tax day for everyone in the U.S. – something many of us dread. If Uncle Sam just cleaned out your piggy bank, perhaps we might offer you a pleasant distraction from your woes in the form of the beautiful, the lovely Heidi Phox.
Heidi is our latest babe and for good reason. The camera just loves this phoxy t-girl as you can see in the numerous photos available on her flickr and MySpace accounts. She looks absolutely stunning! Her playful, creative side really shows through in various poses across a variety locations. Fashion sense? Oh yeah – she's got that in abundance!
Heidi is a gorgeous 39 year old straight male to female crossdresser who lives in Salt Lake City, Utah. Active in her church, she puts family first and loves spending time with her wife and kids. She's a big NFL fan, and also enjoys going hiking and camping. Having taken up running to stay slim, she now has a few marathons under her (garter) belt.
Beautiful as she is, Heidi's life goes far deeper than just her outer appearance, and I'm not just talking about the crossdressing aspect. Growing up transgendered is anything but easy to deal with and understand – especially within the confines of our generally unaccepting society. Heidi talks about her crossdressing with us:

Continue reading Babe of the Week – Heidi Phox →