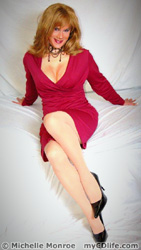 Meet Michelle Monroe. She's got style, class, elegance, great looks, and she's a total babe! In her MySpace photo album you will find dozens of photos that show off a variety of different looks and styles this from this gorgeous t-girl. Blond bombshell, playful cheerleader, French maid, and some awesome "old school" looks are among the assortment of stunning images to be found.
Michelle is an eye-catching 41 year old male to female crossdresser who lives in Manchester, Connecticut with her wife and kids. She's a career girl and currently works in sales.
Fashion, pretty dresses, glamorous gowns, and short skirts are some of the things Michelle really enjoys. Most of all, she enjoys sexy shoes. She has a shoe fetish, with a special love for classic stiletto pumps. For her, there's nothing sexier and she has them in every color imaginable.
Michelle has a lot of fashion sense and experiments with different styles in her many looks. We asked her how long ago she started crossdressing and she told us:
 

I've been crossdressing as long as I can remember. As a small boy I remember sneaking into my moms closet and slipping into my first pair of pumps. The rest is history.
Michelle isn't all about looking sexy looks and styles though. She's an avid sports fan as well:
 
I also luv playing and watching sports. Football, baseball, basketball and golf are my fav's. I'm a 15 handicap if anyone wants to know… lol
As is the case with many crossdressers, Michelle's wife isn't highly supportive of her girly side:
 
My wife knows I like to dress but chooses not to participate. She has a don't ask don't tell policy. She doesn't ask and I don't tell.
We're sorry to hear that, Michelle, but you're not alone. Most of the crossdressers that we've had the pleasure to meet are in the same boat. This is just one of many things we hope will change in time.
When asked about any additional thoughts Michelle would like to share she added:
 
Life is not a dress rehearsal so you need to live each day to the fullest.
We tend to agree. Live life, enjoy all it has to offer, and by all means, look gorgeous while doing so!
Show Michelle some love. Visit her links and leave a kind message or two:
Be respectful to Michelle, say hi and show some love, but please do not hit on her. She's quite happy in her marriage and is not seeking romance.
Thanks for being our Babe of the Week, Michelle! :)