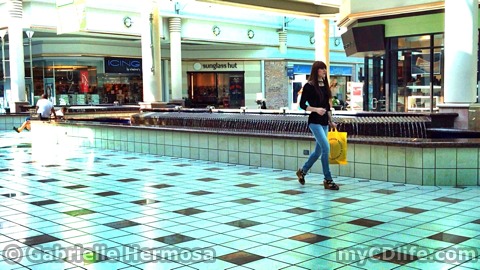 Passing without passing
The photo above shows me walking through a local mall carrying my bag of goods. That's how I look to most people – just another random woman shopping in the mall. Until, that is, someone looks directly at me from 20 meters or closer. Contrary to the carefully chosen photos I post publicly, I don't pass – not in person. Most people read me as trans without missing a beat. More importantly, most people treat me very well.
The right attitude goes a long way
Years ago, when venturing out into public I'd get laughed at every time. Getting laughed at, disparaged, and called names by homophobic/transphobic cowards made me self-conscious and fearful of going out. In retrospect, I understand the difficulties I used to experience.
Other trans women frequently told me, "It's more about attitude than passing." How can attitude affect how one is viewed by others? It took me a few years to figure out. Having the right attitude in public can be the difference between having an amazingly positive and enjoyable experience, or not. It's a little like a magic trick, but it's not magic. There's something more powerful at work, and it's not just attitude, either.
Continue reading Being a Successful Trans Woman in Public without Passing →