Dear Gabi,
I've just recently discovered your website and wish I would have earlier in my exploration of crossdressing. ;) I'm 18 now and have accepted who I am, been dressing up since I was young, 5 or 6. I've come to terms with a lot of stuff, and I'm no longer ashamed of who I am. I have a loving girlfriend for almost a year now who knows everything as well, she is very accepting and supportive =)
My problem deals with my sexual orientation, I know I'm attracted to girls, thus my girlfriend, but while dressed, I find I'm always craving guys, so for a while I just thought I was bisexual, until when I was 16 had my first relationship and sexual experience with a guy. Now he was a full time crossdresser, even during high school, I think that was the main attraction. I was so turned on being with him, and kissing him. Anything to do with touching or seeing his genitals didn't turn me off, but didn't turn me on. I love the feeling of anal sex (from a male), turns me on immensely.
So basically I'm kind of confused, I look at a normal guy and I'm not turned on, but I always find myself thinking about having sex with a male and strap-ons with my girlfriend just doesn't feel the same. I know it's a vague question as well, I'm still young and exploring and advice would be amazing :)
Angel
---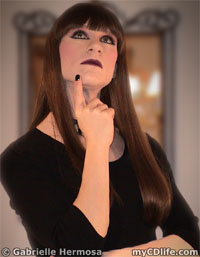 Dear Angel,
Being a teenager is tough, period. When social taboos and sexual orientation uncertainty comes into play, it can make life that much more confusing and stressful.
Social "norms" vs. reality
In terms of your sexual orientation, your confusion is probably the result of feeling out of sync with the "social norms" that have been etched into your brain since birth. Your feelings are in conflict with that which you have been taught is "normal" and/or "acceptable" within society, hence the uncertainty.
Sexual preferences
You've expressed being attracted to both men and women. The definition of "bisexuality" (taken from Wikipedia) is sexual behavior or an orientation involving physical or romantic attraction to both males and females.
In terms of being attracted to woman as a man (not crossdressed) and being attracted to and/or fantasizing about men when you're dressed as a female (crossdressed) – I've read many accounts of this kind of sexual preference expressed by other crossdressers. Categorically, it still falls under bisexuality. Exactly "how it works", applicable terminology and semantics are often discussed to great length in transgender communities and message forums. There is a rather complex array of attraction preferences that may be explored and debated. My assessment and opinion is based on the context expressed in your letter.
It certainly sounds to me like you're bisexual. Maybe pause for a moment and ponder that reality for a bit. There are literally millions of bisexual people, a percentage of which are crossdressers, too. You're not alone in how you feel about men and women, sexually. People like what they like. Being bisexual is nothing to worry about or stress over. It's just a very common (even if not always popular) personal trait, shared by many people.
Regardless of how or when you prefer romance with a female or male companion, perhaps what is most important is simply being with someone you love, enjoy, and are compatible with, who feels the same about you. It sounds like your current girlfriend is a pretty awesome gal, based on the little you've written. I hope you appreciate her and let her know how much she means to you.
Sexual curiosity, fantasy and monogamy
Whether you are involved romantically with a man or a woman, many partners tend to prefer a monogamous relationship. If your girlfriend (or future lover, be it girl or boy) is expecting an exclusive/faithful relationship, then it really doesn't matter if you prefer women sometimes, and men other times, because you're already taken. Even for straight couples, the question of "I'm with this person, but I really like that person, too. What should I do…" often pops up. It doesn't matter if you're attracted to another woman or a man. Cheating is just that – cheating. Unless you're in an open relationship (as in you both agree that seeing other people is acceptable), feel free to look around and fantasize, but you'd best remain physically and emotionally loyal to your girlfriend (or current partner).
It sounds like you're pretty happy with your girlfriend, even though you have a craving for men at times. Straight, gay, or bi, very few people ever have the opportunity to experience every sexual fantasy they desire. I've fantasized about many, many women over the years – far too many to count or even remember. Being married, I still look at and admire other women (and always will), but my wife and I enjoy a monogamous marriage. Point is, everyone fantasizes. You just happen to fantasize about women and men, but again, that is just how it works with bisexual people, trans or not.
Fear of the unknown
If you find yourself wondering "Where is this all leading?", be it your sexual preference, gender identity, or anything related – try not to worry about it. Perhaps easier said than done, but it's good advice, nonetheless. Remove sexuality and gender from the equation, and understand that most people still wonder where things are going in their lives. There are a zillion things we all sometimes feel very uncertain about. That's not unique to trans folk, bisexuals, or any other segment of the population. It is common for people to make a bigger deal out of things when gender identity and sexual preference come into play, but that's mainly due to those things being (generally considered) outside social "norms".
Plan for the future, but live in today
Here you are today – not necessarily a physical location, but rather simply your place in life as it stands at this point in time. Did you have a good day? Was there something (hopefully many things) that made you smile? Did you make anyone else smile? Who knows what the future holds for any of us: trans, straight, gay, bi, or anything else. Life is a journey – one that is very unique for each of us. Try to enjoy each little pit stop along your journey and don't stress over where your path leads. Enjoy the happy moments that each day holds. We all have bad days and hard times, but try to concentrate on the good times. Don't loose any sleep over social "norms" or exactly what category [whatever] happens fall in to. Just be yourself and be a good person. You may experience changes in how you feel about or view things over time. That's a part of the growth and evolution process we all experience, regardless of orientation or gender.
Teen life is a strange, strange place to be, so try not to let thoughts of being "outside the norm" get the best of you. In a few more years, you'll realize that you are, in fact, very normal… or that no one is truly normal… or probably both.
Good luck!
Relax and make the best of things as they are. There's nothing wrong with you. Seriously! Not based on anything you've written. Take things one day at a time and enjoy being young.
 
Related content: