Dear Gabi,
Three years ago, I hooked up with my (yes, this is a cliche) High School SWEETHEART. We're both in our late 40's… divorced… kids… yawn yawn blah blah. He came out to me about 9 months after we re-initiated our relationship. He's a cross dresser. Her name is Kelly. I am all for it. No problem. Be what makes you happy. Life is short. But it doesn't always make him/her happy. He thinks he's a freak. His ex never knew this about him. He's known his whole life. What can I do to convince him that all is good… I love "them" the way they are. It's now been 3 years. I moved from California to Michigan during an American financial crisis for "f" sake. I love him. Have since I was 14. I come from the land of fruits and nuts. I refuse to judge anyone… EVER!! Living in this closed minded world I have found Michigan to be is not an easy transition, so I understand his trepidation. HELP!! The people here have stunted his mental growth! He fights with me. When he's Kelly… all is good until something (ie the door bell rings) sets him off. He becomes paranoid and rips away Kelly faster than you can sneeze. Then proceeds to be depressed for days! I have his back! He's not alone anymore. What more can I do??
Lori
---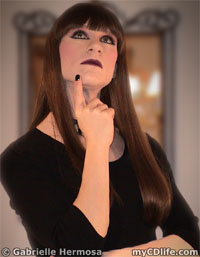 Dear Lori,
I understand you're "crossdressing honey's" troubles all too well. The debilitating insecurity and overwhelming fear of being "discovered" is something I struggled with for most of my life. I, too, once felt like a "freak" for being a crossdresser – but not anymore.
The feeling of being wrong in who I am, and intense fear of being discovered, was rooted in the very false premise that it is "wrong" to be that which is not widely understood or accepted by society on the whole. For the most part, we all grow up "learning" (the fallacy) that it is some kind of mental illness or perversion for a man to exhibit feminine traits. It lead to a strong sense of insecurity and self-hatred tied to this aspect of my life.
It took many years, but I finally came to my senses and realized that the real problem was not in me, but rather with how mainstream society views and treats differences in people. The root of my own misconceptions about myself (and that which makes life difficult for many people within the wide transgender spectrum) is the social taboo element. Remove the social taboo and terrible stigma associated, and I'm certain that about 99% of all "paranoid" crossdressers would suddenly become very NOT paranoid and begin experiencing a much more relaxed and gratifying experience in life.
I must express my respect and admiration for your take on things. Whether or not you fully understand how crossdressing works in Kelly, it is clear that you love her (and him) for being the good person she is – without judging or looking negatively upon personal traits that are not in line with what many consider to be "normal" (note the quotes). If only more people were willing to accept and respect people for who they are, the world would be a MUCH happier place. But you know the deal – misery just loves company!
Find the underlying cause
Question Kelly's feeling of being a "freak". Does she truly think of herself as a freak? Does she wish she was not a "freak"? If there was a magic pill that could remove the trans aspect from her array of personal traits forever, would she take it? Even if this has been discussed in depth already, get into it with her again. Be sure to ask these specific questions and take the time to explore all of associated feelings in depth.
After discussing the feeling of being a "freak", begin exploring the reasoning behind it. Does Kelly feel like a freak simply for being trans, or is it more a matter of "fear of what others may think" if they found out? In my experience, it usually turns out to be the latter.
One good way to explore this is by discussing an alternate reality in which society has no problems with the vast differences in others. The argument that such a society "will never exist in our lifetime" is not relevant in this context. It is about exploring existence, albeit a fictional one, in a world that does NOT look down upon or treat people poorly for simply being different than the majority. The purpose of the exercise is to reveal the underlying thoughts and emotions associated with being trans without the negative social stigma coming into play.
The feeling of being a "freak" is often tied directly to the fear of what others might think and the potential for being treated poorly as a result. The reality is, Kelly has a beautiful gift. I do not state that in the way people often refer to those with mental retardation as being "special". The term "special" to describe those with mental retardation is more of a politically correct motivated attempt at lessening the negativity associated with it. Consequently, many people (usually younger, immature) often use the word "special" to make fun of others, equating it with the general undesirability associated with "mental retardation". I assure you that my use of the word "gift" to describe Kelly's feminine side is offered in the truest and most sincere sense of the word.
Another gift mistaken for a curse
In my early grade-school years, my classmates picked up on the fact that I was more advanced (in terms of jumping ahead of lessons) than many of them. For this, I was often picked on, made fun of, and even pushed around (literally) for being "smarter" and favored by teachers. In my naive younger years, I really disliked being advanced for my age and being placed in the "smart kids" classes. I disliked it because of the negative social stigma attached by my peers. My level of advanced intelligence was, at no point, ever really a negative personal trait. Yet I was ridiculed for it and and had a difficult time dealing with all the negative attention from others. I hated being, you guessed it – DIFFERENT.
Popular misconception does not dictate true reality
It's no secret that we live in a society that openly ridicules and punishes (in various ways) men for having the gift of femininity or not being "man enough". Although it is true that a small minority of crossdressers do put forth a negative image and openly behave poorly (which is sadly what mainstream society often locks onto and remembers), the same also goes for any group of people. It was not long ago that black people were almost always presented in a negative light by the media and white society in general. The smaller minority of blacks who behaved poorly and committed crime took prescience in people's minds over the vast majority of black people who lived as good-natured, law-abiding citizens. Why is that? Because in the 1950's, much of mainstream (white) society wrongfully regarded the African race as inferior beings with little more to offer than poor behavior and menacing qualities. Did the fact that mainstream (white) society once truly believed, wholeheartedly, this unfair assessment ever make it true?
Thinking about things correctly
You've "got Kelly's back" and that is so very important. You probably feel quite frustrated and helpless at times as Kelly's personal insecurities do a terrible number on her ability to be happy and diminishes quality of life for the both of you.
The good news is that this can indeed be overcome, or at the very least, be managed better in time. The key that changes how Kelly feels, lies within Kelly herself. It is up to her, to make the necessary changes in how she thinks about this aspect of her being. All you can really do is work with her, much like you've been doing, and remain focused on (Kelly's) thinking correctly.
Personal growth
In the past, my own insecurities related to being trans were so overwhelming and difficult to deal with – it almost destroyed me, quite literally. I went to great lengths to hide this from everyone I knew, including the therapist I saw for many years and even my own wife… until just a few years ago. The difficult process of correcting how I thought about things and unprogramming all of the lies that society filled my head with over the years was a journey I took alone. If I can do it all by myself, I am certain that you and Kelly can successfully work through things together. With persistence and continued (and frequent) attention spent on exploring the realities of being trans and acknowledging that the only real problem is in how mainstream society (incorrectly) views it, knowledge and reality will prevail over insecurity and idiotic social taboos.
Moving forward
I don't have all the answers, Lori. Truth be told, no one does – no matter level of education or time spent studying any aspect of human psychology. We are a long ways away from fully understanding the complexities of human nature and emotions. We are each more than capable of making life changes and evolving though.
When you have a good block of time that can be devoted to quality discussion, please direct Kelly's attention here. Sit with her and read through this together. If you have time before hand, perhaps browse through this site for a while and pick out some writing that seems most relevant to the troubles Kelly faces. I would suggest the Crossdressing Myths series as a starting point.
After quality time spent reading and discussing, ask Kelly if she thinks that I, too, am a "freak". I am every bit the "freak" she is… or more accurately, like myself, SHE is every bit NOT a freak. I'd like to address directly now.
Dear Kelly
Life is short, Kelly. Do not waste it with the lies and misconceptions that your head has been filled with. Do not waste another minute being upset and depressed because of small-minded fallacies and the naive people who perpetuate such terrible ideas about crossdressers. We all must take a certain level of precaution to ensure our safety. Even though it should not be so, there are sometimes greater dangers abroad to those of us who are different. This is nothing new. Every once-oppressed group of people have had to overcome these obstacles in life. Live smart and take precautions, but try to ease up a little on the paranoia. I was once a total wreck. If I can come this far, then so can you.
It ain't the end of the world
If you end up being discovered (or eventually decide to come out), it's definitely not the end of the world. When I came out to much of my high school class at last year's class reunion, the sun still rose the next morning – birds were chirping, flowers blooming, bills needed paying, and life went on after my little "secret" was well out of the bag. Life continues to go on with dozens (hundreds?) of people knowing exactly who I am – and many of them laughing to each other about it. Good for them, though. They're the fools, not I. They pretty much dictated how I lived my life in the past because I let them. They have no bearing on my life today, and I wish them well.
A tough, but rewarding journey
There really is no such thing as reaching that "final destination" in terms of personal growth. So long as we live, we also experience, learn, grow, evolve, and (hopefully) make improvements in our lives along the way. We will always face hurdles that need to be overcome, but that is not unique to transgender folk. Everyone has their troubles. Everyone deals with insecurities. Everyone gets depressed. Everyone CAN make changes in their lives. So long as you have a pulse, you're still in the game. You can choose to make life a more gratifying experience… or you can live in fear, allowing others dictate how you can/should live your life. That's really up to you and I'll not sugar-coat it.
Live your life according to who you are, and you just might achieve a real peace and happiness before your days are through. Live your life as others would "allow", and you will forever exist in misery – much like those who would give you a hard time for being the person you are.
Do not loose sight of the fact that the pain you experience also causes pain in those who love and care for you. Lori obviously loves you very deeply. How deep does your love for her run? Don't tell me about it – SHOW her. It all starts with a shift in thinking. That shift in thinking begins now.
Good luck
I wish you both all the best. Difficulties and struggles lie ahead, but the rewards for conquering them will be well worth the trouble. I promise you that.
Please offer your thoughts and experiences
I know many of you reading this can identify with the troubles Kelly is dealing with. What helped you work through your own insecurities? Is there any advice you can offer? Please take a few minutes to offer your thoughts to Kelly and Lori.
 
Related content: