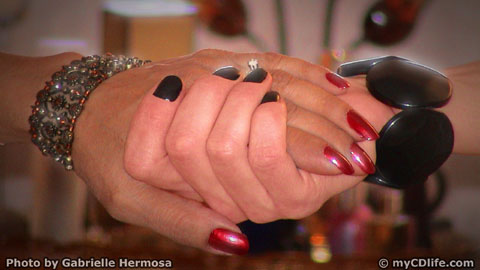 One of the questions I'm often asked by other crossdressers is how did I come out to my wife. I enjoy a very happy marriage and my wife is an active participant in my crossdressing. She helped me learn how to apply makeup, shops for female clothing with me, and is supportive of my need to be myself.
So how did I do it? Why is it that the Fabulous Mrs. H. loves her crossdressing spouse, Gabrielle, when other crossdressers run into giant road blocks with their wives/girlfriends? I wish I could tell other crossdressers that it was how I came out to her, but the fact is how I came out had little to do with her acceptance of me.
Like many crossdressers, I got married without first telling my wife about this aspect of my life. At the time, I was very ashamed of it and feared she would reject me if she knew. The seeds of her acceptance however, were sewn long before we got married. Even so, I still greatly feared rejection from the woman I love more than anything.

In many ways, I guess you could say that I got very lucky when it comes to my wife. She's a very open-minded woman and always has been. Unlike much of society, adhering to accepted social behaviors and standards has never been her way. Instead, she's always just chosen to be who she is and live her life as she chooses. It really blew my mind as I got to know her better – just how open-minded she really was (and is). It was very refreshing and just what I needed in my life.
An Interesting Request
I clearly remember one particular request she made of me one day long ago. At the time, we had not been dating very long. The two of us were enjoying some time together at my place. With a playful smile, she asked if I would wear one of her miniskirts for her. She had extra clothes with her having spent the night. Being a crossdresser she didn't need to twist my arm! Even so, I was very shy about this. At the time, I was still very ashamed about this aspect of my life… but what if she's into this kind of thing? With an odd mix of reluctance and excitement, I put on her black, form-fitting miniskirt. That was all I wore on this day – no other women's clothes at this time. Under the skirt, I wore men's bikini underwear. She absolutely loved it and was smiling ear to ear. It was at this moment that I realized the potential to someday truly be myself around the woman I love… but that day would not come for many years.
Mixed Signals
Fast forward to our married years. On occasion, my wife asked me to dress up fully in women's clothes (no makeup). It was kind of a kinky sex thing that she enjoyed. She'd pick out some of her clothes for me and I was always happy to wear them for her. This was not a frequent happening however, and she was always in control of when. Several times over the years I attempted to initiate some dress-up time with her, but she almost always shot it down, (unintentionally) making me feel very bad about myself in the process. She had no clue I was a crossdresser – she just thought I was a loving husband who was willing to do things with her that most men would not.
It seemed that only she could initiate feminine dress-up time and was turned off by my own requests to do so. Therefore I kept the truth about my crossdressing a carefully guarded secret for more than a decade (after getting married).
As the years went by, I secretly dressed up when alone in the house. Like most closeted crossdressers, I acquired many female clothing items over the years and kept a hidden stash. Keeping this big secret wore on me over time though. I needed to be me more than just when my wife was out of the house, or on the somewhat rare occasion she asked me to dress up for her.
Last year (2008), there was an increase in my wife's requests for me to dress up. By this time, I also had some of my own female clothes donated to me by my wife, BUT also told that I was only to wear them around her and only when asked to.
The Game Plan
Here's where the process of coming out of the closet began. Over the course of the year, I made it a point to initiate conversations about her kinky desires to see me in women's clothes. A conscious effort was put forth to keep this in her mind as much as possible – get her talking about it, thinking about it, and offering new ideas on how to take this further and make it more enjoyable. It slowly worked. She began asking me to dress up more frequently and we were both having a great time with it. Little by little, more clothing items were added to my wife-donated women's wardrobe. She even began purchasing items specifically for me to wear for her, rather than just giving me things from her own closet.
I kept at it – constantly jumping any opportunity to engage her in conversation about this subject, while carefully not going overboard with it. It wasn't just about getting more dress-up time with my wife though. Each time, I made sure to fill in a little more of the puzzle for her. I carefully began to paint the picture of who I really am. Just little bits at a time though, carefully monitoring how she felt and where her mind was with things along each step of the way.
It was about half way through the year that I explained to her my desire to see myself fully dressed as a woman, complete with hair, makeup, nails, and the works. She liked the idea, but also displayed some uncertainty. I continued working on her and by August, the date was on the calendar. Because of a hectic and busy life (and needing to keep it a secret outside of us), being fully made up with nails, etc. is rather tricky. A small window of opportunity was present in December 2008 and we planned around it.
As the date drew nearer, I continued explaining more about myself with each dress-up session and in general conversations about it. It was working nicely. Slowly she was getting the picture about me. Slowly I was sharing myself with my wife… completely.
A Road Block
When the time came to be fully dressed up head to toe in full makeup, nails, etc., my wife got her period. She wasn't feeling well and sex was pretty much out of the question. She wanted me to wait (to be made up fully in makeup) until another time… which would have been several months later. This is when I really connected the dots for her. This is when she finally started to understand that it's not just about sex to me – it is, in fact, who I am and how I would choose to be if society didn't force strict gender rules upon us.
She Finally Understood
Although very disappointed that she would be unable to engage in some amazing and wild sex with me fully dressed up, she really started to understand. She knew the terminology, what I desired, and how I felt. She fully understood my sexuality (100% straight). She understood that although sex-while-dressed is a mind-blowing experience for both of us… my crossdressing went well beyond just that aspect.
After waiting my entire life, I finally got to meet "Gabrielle" face to face, thanks to my loving wife and her open-minded understanding. I was finally out to my wife. She knew, she accepted, and she enjoyed seeing me completely dressed up in full makeup, nails painted, and looking mighty fine as Gabrielle Hermosa. That first time, she told me that she had never seen me smile so much in my entire life. It made her happy just to see me so happy.
Success
Dressing up was no longer limited to my wife's requests and no longer limited to a sexual activity. The days of secretly dressing up when my wife was out of the house were finally over. I found a new freedom in my life and with it, a new sense of peace and happiness.
Since fully coming out, our marriage has only gotten better. It was very good before, but even better after. My wife is very much in love with the new t-girl in her life: Gabrielle. Now she enjoys the best of both worlds – her devoted, loving husband and her (also devoted) sexy, loving girlfriend.
My Wife's Sexual Preference
Mrs. H. is not into genetic women in any romantic sense. I've tried to open her mind to that possibility only to get chewed out and told how much the idea turns her off. Not even mildly bi-curious on her part. She is fascinated with the idea of a man transforming himself in to the appearance of a beautiful woman though. This much, I've known for some time. She's always been drawn to TV shows and films that feature some kind of crossdressing in them. As I was ashamed about my crossdressing for many years, she was also somewhat ashamed of (mainly just shy about) her desire to see a man dressed up like a woman. Neither one of us are ashamed any more though. We're too busy being happy and enjoying each other… all three of us, if you will.
A Happy Ending
There you have it. A very successful coming out and happy ending. Honestly, it wasn't a happy ending but rather a very happy new beginning. Our marriage ain't perfect by any means, but like I said – it is a very happy one filled with lots of love, devotion, respect, support, understanding… and some amazing experiences that most married couples will never know. A marriage without (open) crossdressing seems so one-dimensional to me now.
Thank God the two of us found each other. It seems that so many crossdressers end up getting married to women who are anything BUT open-minded or accepting. Every woman is not going to enjoy being with a crossdressing husband, and that's understandable. Different strokes for different folks. It seems like such a waste to me though: living with a woman who will never accept her husband for who he really is. I got lucky that my wife not only accepts my crossdressing, but also happens to enjoy it very much. Had things worked out differently, I'm certain my marriage would have failed. I got to the point where I needed to be me and couldn't keep it inside anymore. If things did not work out well with my wife on the acceptance front, it would have marked the beginning of the end. As much as I love her, the need to be who I am is stronger than any force in my life. Thank you God, for sending this woman into my life!
The Future
Today, I'm out only to my wife… and therapist, but that doesn't really count. I'm active the online crossdressing community, but I'm only known as my feminine side, Gabrielle, online. My wife knows, loves, and enjoys both Gabe and Gabrielle. Perhaps in time, I will just be out, period. Unfortunately, finding acceptance in society will not be as easy as finding it in my wife. Somehow I'll make things work for me though. One day at a time. :)