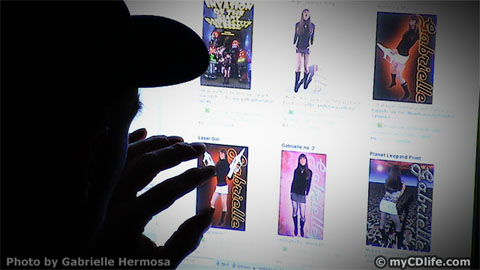 Before venturing online as Gabrielle for the first time, I mentally prepared myself for the possibility of getting hit on by men or other crossdressers. Being a straight male to female crossdresser, I really don't have any interest in being with or having intimate relations with another man or even another crossdresser – no matter how beautiful her female appearance is. Regardless, I'm married to a great woman, very happily, and our marriage is a 100% monogamous one.

It didn't take long before I got hit on for the first time. It happened on my flickr account. The message wasn't vulgar or anything. A man (not a cd) on flickr found my photos very attractive and expressed interest in "getting to know me better". A quick look at his profile revealed that he was looking to meet sexy t-girls. It was a little weird that first time getting hit on, but not too bad. Honestly, I took it as a compliment. He found me attractive enough to want to "get to know me better". Every girl (or t-girl) wants to know she's attractive.
Even though I clearly spell out in my flickr and facebook profiles that I'm happily married and monogamous, I still get hit on from time to time. I guess they're either not reading my profile or just don't care. Either way, I'm ok with it. I appreciate the compliment and boost to my female ego.
A man hit on me today via my (rarely used) facebook account, which prompted this post about the subject. He's not a crossdresser or even interested in t-girls as far as I could tell. The limited access of his profile revealed that he was interested in women, which I understood to mean he's straight. He asked to see my pictures (they always do) and blew me a kiss. On facebook, full profiles are only available to "friends", or at least my profile is set that way. He probably found my avatar image because we have a mutual "friend" or something. I decided to go ahead and send him a link to my flickr photos and also a link to my flickr profile which clearly states exactly who and what I am. I advised him to read my profile before looking at my photos. The rest is up to him.
I honestly don't care if some guys happen to be lusting over my photos. That's not why I put them out there, nor are they risqué in nature, but if anyone wants to look at my photos while doing whatever, that's just fine with me. I just don't want to know about it.
I know some straight crossdressers who get really freaked when hit on by men or other crossdressers. I think it gives them a homophobic moment or something. Not me. I prefer not to get hit on, but it's really no big deal when I do. I'm not a homophobe and take no offense at all to being found attractive. I'm rather flattered that some guys/t-girls/crossdressers do find me attractive enough to want to "get to know me better". It just ain't gonna happen.
For the record, I don't mind chatting with guys who find me attractive. So long as the conversation is just friendly and not about "what are you wearing" or "can I see more photos of you" (I really hate that), I'll pretty much chat with anyone, if only for a few brief minutes. Just don't get confused about who you're chatting with. I'm a male to female crossdresser and not seeking romance or "the time of my life". If you're looking for "the t-girl of your dreams", you won't find her in me. Sorry. But thanks for the compliment.