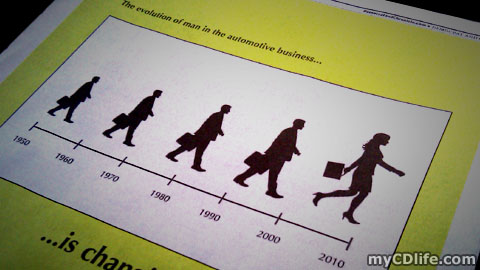 I came across this in a local paper. It has not been doctored up. This is exactly how it appears in the full page ad. It clearly illustrates the evolution of man is, in fact, crossdressing… or so it is in the automotive business. Hey – it's a start, right?

As crossdressing grows in popularity in the automotive business, it will also soon spread to other industries. The business world can be pretty cut throat, with a growing emphasis on the word "pretty". It's about time crossdressing entered the mix.
Suit-up, folks… er, make that, skirt-up if you want to climb that corporate ladder. The old school businessman in a suit and tie is going the way of the dinosaur. As they die-off and fall out of power, they're quickly being replaced by smarter, more innovative people with much better taste in clothes. Make way for a new era of smart, sexy, stylish and powerful corporate leaders known as the businesstrans.
Of course, the ad in the paper refers not to crossdressing, but rather the rise of women in positions of power. Perhaps in time, the 'businesstrans" will replace the businessman though. Many crossdressers already own their own business. I've been in touch with several personally. Of the ones I know, it is the man-side that takes care of the business end of things. Personal appearance still holds a lot of weight in the business world, and today, the prettier side of things is still less attractive in the eyes of many would-be clients. That will change in time though.
For those of you who fall under the category of "businesstrans", do you take care of (face-to-face) business in guy-mode, or en femme? Where do you see the "evolution of man" going in the business world? I know where I'd my own (business) evolution to go. Whether or not I'm smart enough to pull it off has yet to be determined. What's in your business future when it comes to gender expression or just feminine fashion?