Dear Gabi,
My wife just found out I am a cross dresser (I have been as long as I can remember…), and reacted very badly. I don't know where else to turn… none of my friends would understand, and I still think most of them would not speak to me again if I told them…
My beautiful, brilliant wife, the love of my life, and the only person I would ever want to spend my life with, has told me she would have stopped dating me if she knew I was a crossdresser, and has told me she will never be able to deal with me being a crossdresser… she has done the research, she understands I am hetero, and not gender confused, but she says she just cannot deal with me being a crossdresser… she has told me that one of us has to move out, that she will not change her mind, and that she will never be okay with this…
I have a beautiful family, and I don't want my son and daughters growing up in a broken home! But I don't know what to do, I don't know what to say to make it better, to make her understand I am still the same person!
You have already been so much more help than I could ever have expected, and I don't even know what I am asking you for… There is no magic word or phrase that will make this all okay, I know that… I guess it just hurts so much and I needed to vent and I just don't have any other place to go… This is just so hard, and I don't know what to do…
Nora

 
---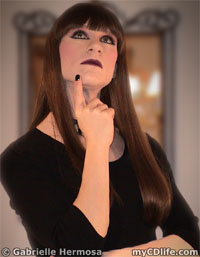 Dear Nora,
I am sorry to hear about your troublesome situation. My heart goes out to you.
It is not uncommon for wives to react badly at the discovery of their husband being a crossdresser. Sometimes couples can work things out and reach a mutually agreed upon understanding. Sometimes marriages fail, families are broken, and life goes on.
Secrets are generally bad
As much as it pains me to hear about your story, and those who share a similar tale, I think it is important to keep in mind a rather important mistake that was made. We all keep secrets – it's part of our nature to maintain a certain level of personal privacy. The difference between a harmless secret and potentially harmful one can vary from one situation to the next. Sometimes that difference is learned the hard way.
Like many crossdressers, you chose to keep this aspect of your life a secret from your wife. The reason for doing so is completely understandable. Confusion, embarrassment, the fear of being rejected and everything in-between can act as powerful motivation to keep this a carefully guarded secret.
Regardless of motivation and the seemingly justifiable reasons, intentionally keeping a secret from one's wife-to-be, presumably out of fear that she may decide to beak up if she knew of it, is not a good move. It's also not fair to an unknowing partner. The same would be true if a woman kept a deal-breaking secret from her husband-to-be.
All marriages experience troubles
This is still fairly new to your wife. It may be possible that her initial reaction of "I can't deal with this" and "never being ok with it" is something that will become less a matter of "never" and more "I need to think about this" as time passes. This kind of thing can require some time to fully digest for many people. It is not something that much of the population truly understands, though they may be aware. Even if your wife does comprehend some key aspects, her mind may still be filled with misconceptions and the abundance of popular negative cliches.
Not all marriages are doomed to fail when one party expresses the need to live apart from the other. This can sometimes help put things in perspective by allowing time and privacy to sort things out alone. It can lead to a new beginning and rediscovery of each other. Although it can sometimes be the first step down the road to divorce, try to focus potential positives until there is clear reason not to.
Some women enjoy it, some are indifferent, and others are repulsed
One key factor in determining where things might lead is to figure out why your wife feels the way she does about crossdressing. Some women express an extreme dislike (or even hatred) for crossdressing essentially because of the the negative social stigma attached. They fear what others may think if they find out, and do not want to be ridiculed for having (what they may feel is) anything less than 100% man for a husband. If her "never accepting" your crossdressing is based on her fear of what others may think, more than anything else, that may be a good thing. Her fears might be put at ease over time, leaving the possibility for acceptance.
Even if your wife never fully warms up to the idea of you being a crossdresser, she may eventually be ok with things to some extent so long as you keep it private and out of her sight and mind. I know of several crossdressers who's wives are aware of, but do not participate in their crossdressing activities at all. They each enjoy a happy marriage by agreeing that crossdressing is kept separate from and does not involve their wives. Not all married couples share all of their personal time together, nor personal activities of interest. In that regard, this is no different. While it may not be an optimal situation, it can be manageable and the marriage can go on with love, understanding, and happiness intact.
Some women are just plain repulsed by the idea of any femininity in their man, and there's nothing wrong with that. It has little to do with social taboos and fear of what others think, and everything to do with their personal preference in men. Everyone is allowed their preferences. The very thought of a man being feminine may be a complete and absolute turn off, sexually and beyond. There is little that can be done to change what people's personal preferences are, nor should one try to.
Family first
It is understandable to not want one's children growing up in a broken home. This particular concern is a good point to bring up with your wife. Is she willing to set aside her dislike of your feminine side and consider the needs of your kids first? This point should not be used to twist anyone's arm, but is valid discussion material when the possibility of not being able to live together has been communicated. The discussion should be centered around what is best for the children. They are not possessions or bargaining chips to manipulate emotions with, but rather young people who's future is at stake.
If this cannot be resolved in the initial conversation, agree (to each other) to sleep on it, even if it be in separate rooms for now. While your wife is taking the time to consider the effect of a broken home on your children, she may also cool down to some extent about your crossdressing. How she feels in the end is greatly dependent on whether her dislike of it is rooted in the negative social stigma, or the fact that she simply is not romantically interested in a man with a feminine side, period. The latter, of course, carries with it heavier complications.
Nothing has changed, but everything is different
Even though you're the same person she fell in love with way back when, your wife's perception of you has probably been damaged by the thought of you having a feminine side. If she needs her man to be 100% masculine, there is little you can do to change how she feels. Even if you "successfully" gave up crossdressing (at least in the physical sense), it would be similar to treating a life threatening wound with a temporary bandage. In time, your need to essentially be yourself will take a toll on your emotional state, should you try to repress it. The personal conflict and misery it causes within you will manifest itself in various negative ways and only create more trouble later on. Any sense of "this is the right thing to do to save your marriage/family" you may feel in purging will probably be short lived in the grander scheme of things. Keep in mind that one should not need or attempt to change who they are when there is nothing wrong in the first place.
You and your wife both deserve to be happy. True happiness cannot be built on the idea of changing who someone is – either your wife's dislike of a man being feminine, or your need to explore your feminine side. If it cannot be with each other, at least allow yourself to consider the idea that happiness can and will be achieved apart, each with new love interests.
Divorce isn't the end of the world
I certainly hope that you and your wife can patch things up and keep the whole family together under one roof. If by chance, the marriage is not salvageable, there is a silver lining amidst the pain and suffering. In time, you will indeed meet a new love – one that truly loves you for who you are, completely, and not just a part of you.
According to statistics, about 50% of marriages end in divorce. I'm not sure what percentage is due to the discovery of crossdressing, but it is sometimes a factor. Most marriages come to an end due to incompatibility issues, regardless of what they may be.
If it is not possible to patch things up
If divorce ends up being the final chapter in your marriage, do not feel that your crossdressing is to blame, or that it should paint you in a bad light in the eyes of the law. Your withholding this information prior to marriage may have played a significant role in the split, but do not allow anyone to ever suggest anything more than that. Being a crossdresser does not make one unfit to be a responsible, loving parent. Being a crossdresser does not necessitate that you should be the one to move out of the house by default. Simply being a crossdresser does not equate to you being a bad person in any way, shape, or form.
This aspect of your life may come out during divorce proceedings. It is something to prepare for rather than worry about. Find a therapist who has experience in transgender issues (and is held in high regard within the profession – do your homework before choosing). Get evaluated and have documentation ready to show the court that you are in no way a threat to your children, or unfit to be a parent because of this.
Be prepared for the possibility of your friends finding out. In worst case scenarios, some wives try to bully their soon to be ex-husband into submission with the threat of outting them to their friends and family. Give a bully an inch, and they'll wring you for all that you have. Some of your friends and family may disassociate themselves from you. You will gain new friends in time – friends who love and accept you as you are, and not just for some facade they're comfortable seeing. Don't forget that some friend/family may react poorly at first, and have a change of heart after things settle in. They will discover that you're still the same good person they've always known and loved.
Tough times ahead
Whatever the outcome, keep in mind that the pain and suffering you are experiencing now is only temporary. It may not feel that way today, but it will indeed pass. However things go, you will emerge from this as a stronger, wiser, and better person.
What is important is weathering the storm, and reclaiming your life. You can and will do just that. It may not be easy, but it is absolutely attainable. Be it with your wife, or with a new love in the future, you will experience happiness once again.
Good luck
Hang in there and don't loose hope. I wish you and your family all the best.
Offer your input to help a struggling family
I would ask those of you who have been where Nora is now to please offer your input. If you were able to work things out, what seemed to help the most? If things didn't work out, can you share any insight or important lessons learned? How did you ensure the best possible arrangement for your kids if there was a divorce? What advice can you offer up that you wish someone could have suggested to you?
 
Related content: