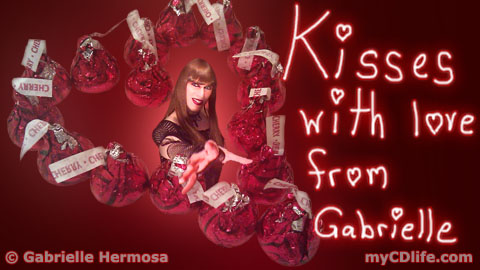 Happy Valentine's day, folks! I hope you're all enjoying some quality time with a special someone.
I took my wife, the fabulous Mrs. H. out to a nice dinner yesterday. We thought we were being smart going out to dinner a day early and beating the Valentine's Day crowd. We even went out for an early dinner, just in case. Early or not, it was still quite packed. It was still a smart move, though. Our waitress explained to us that Valentine's Day is their busiest day of the year, right up there with Mother's Day. Packed as it was, the wait to be seated was a whole lot longer for those poor folks who were just arriving when we left. Kind, courteous, and attentive, our waitress did a great job given the stress load she was under, and earned herself a good tip from yours truly.

On this day last year, Mrs. H. bought matching lingerie for her and I. It was the first Valentine's Day we enjoyed together after coming out to her, and probably the coolest related present I've ever gotten from her. Sorry, folks. No photos of us in our lingerie together.
Valentine's Day is the biggest holiday for flower vendors and candy makers – it is their Christmas, but I am a little puzzled by something. On Christmas, the biggest holiday for buying tech-related gifts for people, the price of big screen TV's, cameras, laptops, and the latest gadgetry usually drops. Why is it that on Valentine's Day, and leading up to it, that the price of flowers doubles and even triples depending on the source? I'm not really puzzled, by the way. In economics, it's called supply and demand, but it seems like the "day of love" is just another good excuse for suppliers to get grrrrrrreedy (yes, I said that like a pirate). Perhaps because of their love of the "green" (or whatever color your currency is depending on location).
For those who are single today, I'm sorry… or congratulations – whichever you feel is most applicable. It can be a lonely holiday for single folks, but it is also a LOT less expensive. ;) If you're lonely – just keep your mind on that silver lining. I'm not lonely… but my pocketbook feels a lot lighter right now. Then again, all the money in the world would not bring an ounce of happiness in my life without my lovely wife to share it with.
How did/will you spend Valentine's Day this year? What was the coolest gift you either gave and/or received from your spouse?