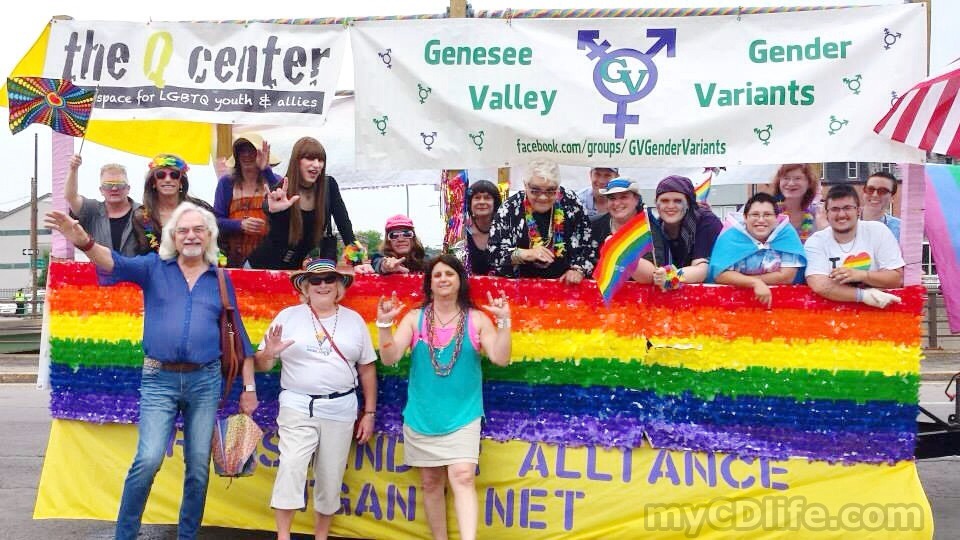 Image credit: unknown
Friday, July 18 through Sunday, July 20, I experienced my first (ever) Pride festival and parade. For three days, I was high on life, low on sleep, and filled with love, gratitude, and an emotional bliss I'm not sure how to describe. It was beautiful, just beautiful!
The photo above was taken on Saturday, July 19. That's me in the top row, 4th from the left, flashing "I love you" in sign language. Not only did I attend my first Pride Parade, but I was also in it, riding on the first ever official transgender float to grace the RocPride Parade. Represented were several trans organizations, including: The Q Center (Syracuse, NY), Genesee Valley Gender Variants (Rochester, NY), Trans* Alliance of Greater Rochester (TAGR), and the Transgender Alliance of Central New York.
I'm trans and proud! So how is it that I attended my first Pride event at the age of 43? In a nutshell, I'm a late bloomer. It took quite some time to fully figure out who and what I Am. Better late than never. Let's face it – many people never do truly figure themselves out, regardless of gender identity. I very much wanted to attend RocPride in 2013, but…
Continue reading Rochester Pride 2014 Parade & Festival, from Fear to Cheer →