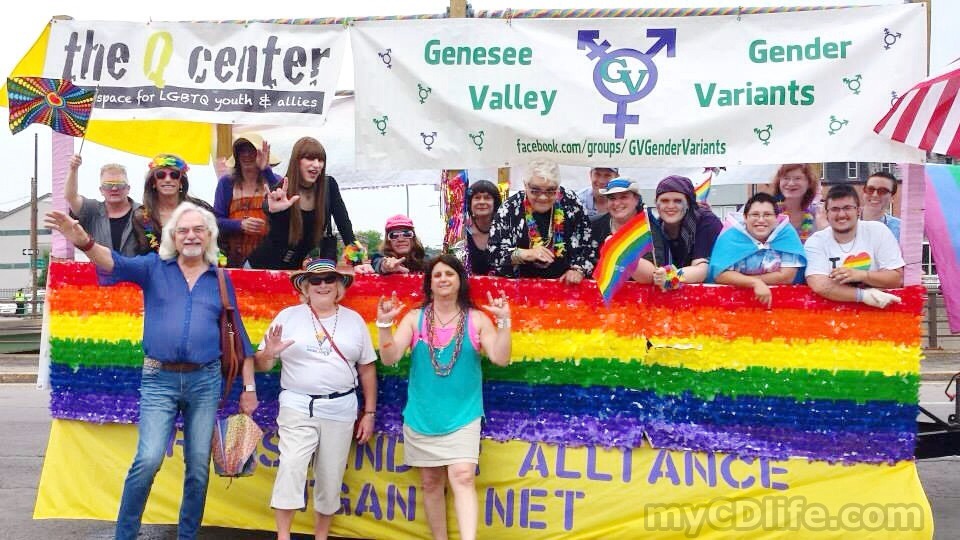 Image credit: unknown
Friday, July 18 through Sunday, July 20, I experienced my first (ever) Pride festival and parade. For three days, I was high on life, low on sleep, and filled with love, gratitude, and an emotional bliss I'm not sure how to describe. It was beautiful, just beautiful!
The photo above was taken on Saturday, July 19. That's me in the top row, 4th from the left, flashing "I love you" in sign language. Not only did I attend my first Pride Parade, but I was also in it, riding on the first ever official transgender float to grace the RocPride Parade. Represented were several trans organizations, including: The Q Center (Syracuse, NY), Genesee Valley Gender Variants (Rochester, NY), Trans* Alliance of Greater Rochester (TAGR), and the Transgender Alliance of Central New York.
I'm trans and proud! So how is it that I attended my first Pride event at the age of 43? In a nutshell, I'm a late bloomer. It took quite some time to fully figure out who and what I Am. Better late than never. Let's face it – many people never do truly figure themselves out, regardless of gender identity. I very much wanted to attend RocPride in 2013, but…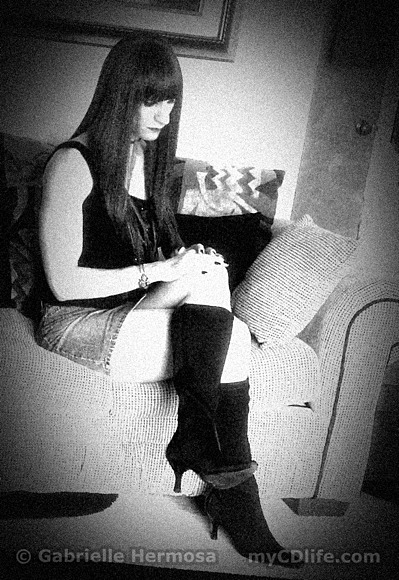 All dressed up and not quite ready to go
In the summer of 2013, I felt ready to do Pride. I couldn't wait to get out, meet people and make new friends as my true self. After getting dressed up and working hard to get my makeup just right, it was time to head out.
Some neighbors were having a gathering in their front yard. At the time, I had never left the house during daylight while neighbors were outside. My mind gremlins began to spin tales of gloom and doom. Terrified about what might happen if people were to learn that I'm trans, I sat on a couch and watched time go by, waiting for the coast to be clear. To complicate matters, I didn't know anyone going to, or already at, the festival, so I had to go alone. What if I was harassed or somehow found myself in harm's way as I made my way from the parking lot to the festival area? Conquered and devoured by the phantom beast called "fear", I stayed home.
The black and white photo to the right was taken on Saturday, July 20, 2013, day of the Rochester Pride parade and festival. Paralyzed by fear, I attempted to capture the feeling in an artistic photo. It was a small, creative silver lining in an otherwise depressing day.
It's time to move forward!
Tired of being held captive by fear, I reached out to people of the Transgender Alliance of CNY via their website/social network. A few weeks later, I met up with them in Syracuse during one of their gatherings. I left the house nervous and scared… and returned home later that evening feeling amazing, liberated, empowered, on top of the world. It was the first time I had met other openly trans folk in person. Mallory Livingston, founder of the group (right-most person on the bottom row in the above photo) explained what she knew about the Rochester trans groups. It was so helpful to have first-hand information about local trans groups – much more so than what I had read online from time to time since my first failed attempt to make contact in 2010.
Genesee Valley Gender Variants and the Trans* Alliance of Greater Rochester
With a better understanding of what to expect in Rochester, I got out and hooked up with trans folk a little closer to home. One great experience lead to another. I was meeting people, trans and cisgender (not-trans), making new friends, having the time of my life, feeling stronger and more empowered with each experience.
2013 was an amazing year of personal growth, evolution, and expansion that continued with increasing momentum into 2014. What a difference a year makes!
Rochester Pride 2014
On Friday, July 18, 2014, RocPride started off with the official flag raising downtown. The fear that once crippled me was but a distant memory. Going out in public (as myself) had long since become normal, enjoyable, and always a trouble-free, positive experience.
During the 2014 Pride Flag raising ceremony, the audience was offered an opportunity to stand at the podium and share what "pride" meant to them. I felt compelled to come forward and speak.
"Hi. I'm Gabrielle. I'm 43 years old and this is my first time attending Pride…" Before I could say another word, dozens of people yelled out, "Welcome, Gabrielle", clapping for me. I was filled with love, and gratitude, sporting a smile that felt bigger than my whole face. "Thank you! I love you!", I spoke into the microphone as they clapped and cheered. Wow. Just wow. So many beautiful people. So much love!
"I'm a late bloomer and pretty early in my transition. I missed Pride last year because I was too overcome with fear. I promised myself I would not miss it in 2014, took charge of my life and now it is my honor to be here before you today."
A few friends in the audience called out to me: "We love you, Gabrielle!".
"What does Pride mean to me? Pride is how you feel about yourself and your community. Being part of a community that you can take pride in, knowing everyone is there to lift each other up, NOT tear anyone down. Pride is about loving people for who they are and being proud to be who you are. Pride isn't just an event or time of year – it's about people coming together, working together to make communities stronger and better for everyone. It's about making a positive difference in the lives of others and being the best YOU, you can be. Pride means believing in yourself, living to your fullest potential in life, and sharing your beautiful talents and gifts with the world."
I spoke for about 3 or 4 minutes and don't recall everything I said. It was all very in the moment. I concluded by saying, "Thank you so much for the honor of being here among you. I love every one of you, and would very much like to hug you all!" The applause and cheering that followed was very moving. I don't have words to explain how grateful I felt to be among such amazing, supportive people, energizing the whole place with love and positive vibes. Stepping away from the podium, I proceeded to hug everyone within the immediate presentation area.
It's a small world
Following the formal flag raising ceremony, several people approached to express how much they enjoyed and resonated with what I shared. Of course, I hugged each one of them! One man approached and asked, "Do you have a website?" He recognized me from having visited my website a few years ago. He was feeling confused about aspects of his life, and wanted to let me know how much my writing helped bring some clarity and peace. We spoke for a while. He shared more of his story and I offered some insight in an effort to help "debug" the system, so to speak.
The Pride Parade and Festival on Saturday
Unfortunately the weather was cloudy and rainy on Saturday. Even though nature literally "rained on our parade" (sprinkled, mostly), it didn't bother me. The parade was an amazing experience for everyone! Riding on the trans-float, I waived, blew kisses, flashed the "I love you" hand-sign, and made a heart shape with my hands together, trying to bring out a smile in spectators. From time to time, I also made the Vulcan solute "Live long and prosper" hand-sign, the way Spok did on Star Trek. There was a good number of Star Trek fans who made the hand gesture back at me, laughing and smiling.
The drizzle turned into full-out rain as the festival got into swing later in the afternoon. It rained and poured, but I was too filled with sunshine in my heart to care. With a borrowed umbrella, I remained relatively dry(ish) and walked around the festival grounds chatting with friends and strangers, making new friends along the way.
Sunday Pride Picnic
The weather offered sunshine and mostly blue skies for the Pride Picnic on Sunday. Feeling super-charged with love, I walked around introducing myself to strangers, getting to know them, making friends, and hugging everyone I met! On a few occasions, people walked by saying, "You weren't kidding when you said you were gonna hug everyone!", having been heard me talk at the flag raising two days prior. Nope, wasn't kidding!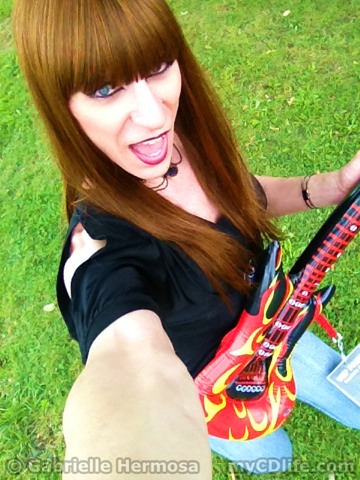 Low on sleep, high on life and playing air guitar
A friend and I were enjoying live music performed by a local band at the festival. I don't dance very well but I was moving to the beat anyway, as best I could. As the band wrapped up their set, a man came over and handed us inflatable guitars.
What am I supposed to do with an inflatable guitar? AIR GUITAR of course! After grabbing a quick selfie, my friend said, "You're weird." I looked her in the eye and said, "You think I care what anyone thinks about me?" To be clear, her statement wasn't a dig. She seemed rather taken by how animated and free I was: introducing myself to and asking for hugs from strangers, dancing, playing air guitar like a dork (and LOVING it), and encouraging her to join in.
The whole world should be like a Pride festival!
Comfortable as I am out in public these days, I don't walk up to strangers, introduce myself and ask for a hug. That probably wouldn't work so well outside of a Pride event. But why not? What's wrong with the idea of a world where you can just walk up to a stranger, introduce yourself, and just get to know each other?
My three beautiful, love-filled days of RocPride 2014 felt like the way life should always be, everywhere, all the time. It felt good. It felt natural. In many ways, the Pride festival was like a bubble of love, filled with people just being who they are – all getting along, all having an amazing time. I believe that in the future, this kind of openness and outward flowing of love won't be confined to a relatively small bubble called "Pride", but rather become the norm. In the future, there will be small pockets of "not love", where people continue to be judgmental, fearful, and attempt to perpetuate idiotic, oppressive "social norms" that prevent people from living happy lives, free and to the fullest.
Yes, I'm a dreamer. I'm also a BELIEVER! I believe in humanity. The world is slowly starting to wake up and see the light. With greater frequency, I have the honor of meeting other enlightened spirits who also see a brighter, better, love-filled future. It won't be some kind of fairytale utopia, but it will be a much healthier, happier world, on the whole. It's not just something I believe in – it's also something I actively work toward, and I'm not alone. We're all in this thing called life together so it only makes sense to help one another out, lift each other up, and work together to make life better for everyone. All boats are lifted by a raising tide. Don't let anyone convince you otherwise.
RocPride in the news
Video journalist and reporter Natasha S. Alford was covering Rochester's Pride Picnic on Sunday. Here's a link to the 2-minute video she produced about the picnic: Rochester's annual Pride Picnic reflects changing attitudes.
Natasha recently landed a job with WROC Channel 8 in Rochester, NY. Congratulations, Natasha! You bring a touch of class to the local news with your fine work and talent for covering interesting stories that engage and enlighten.
What does Pride mean to you?
Were you once fearful of getting out and being yourself in public like I used to be? Were you at Rochester Pride this year? Did you attend another Pride event elsewhere? Please share your experiences and what Pride means to you, in the comments. Thank you. :)
Namaste