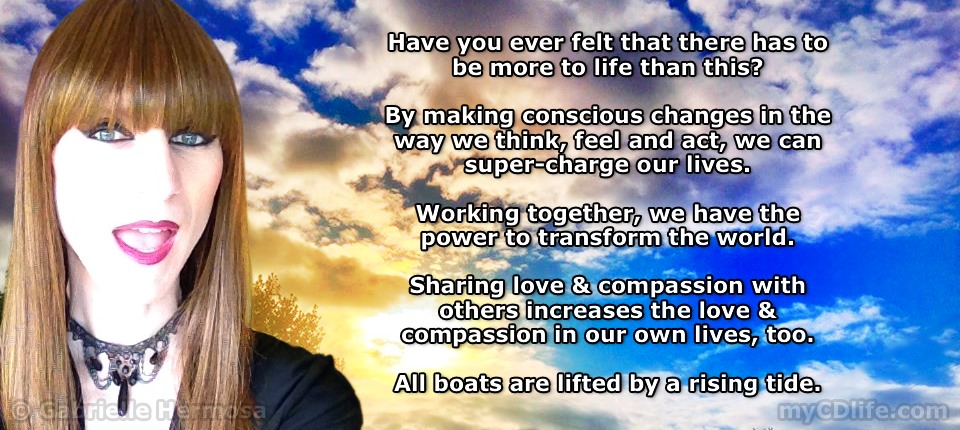 Rising to Your Greatness, Sharing Your Journey and Transforming the World
A Community Discussion with Gabrielle Hermosa on Saturday, September 20, 2014 @ 6:30 PM.
About the event
Life can seem hectic, stressful and unfair. Social inequalities, separatism and disparities have many of us feeling helpless, lost, alone and without options.
But we're NOT alone. We're all in this world together. By making changes in the way we think, feel and act, we can turn things around and super-charge our lives. Working together we can build strong, uplifting, supportive communities. By rising to our greatness, sharing our gifts, passions and journeys, we have the power to transform the world and make it a better place for everyone.

We all deal with troubles, difficulties and hardships in life. These challenges offer growth opportunities that shape and strengthen us.
Please join me for a discussion about putting things into perspective, rising to the challenge, realizing the beauty and talents we each have, and sharing them with the world.
Discussion points:
Life's challenges aren't roadblocks – they're growth opportunities
The importance of being authentic to oneself
Why leadership of self is healthier than being lead by others
The difference between just existing and truly living life
Overcoming fear: fear is *always* a lie, and we'll explore why
Why expectation and comparison lead to unhappiness
Dealing with negative thoughts and debugging the system
How to counsel oneself by means of time-shifting
The importance of choosing the right "frame" for life's moments
Why love opens doors (opportunities) and fear closes them
The power of talking *with* people instead of complaining *about* them
Discovering where your passion intersects with opportunity
Rising to your greatness not only enhances your life, but also the lives of others
This event is free and open to the public. Beverages and snacks will be available following the discussion.
Location:
Open Arms Metropolitan Community Church of Western New York
Address:
707 E. Main Street Rochester, NY 14605
Date and Time:
Saturday, September 20, 2014
6:30 PM to 8:00 PM (Eastern time)
It's about humanity
Much of the information on this site is an exploration trans related issues and realities. Although I will be discussing some trans-specific issues, it will be in the context of how it made life more challenging, offered unique growth opportunities, and ultimately deepened my understanding of humanity and strengthened me in the process. Most of the discussion will not be specific to any group or segment of the population. It's not about the LGBTQ – it's about the H, humans – that's ALL of us!
Questions?
If you have any specific questions about the open event, please contact me here: Gabrielle Hermosa
I look forward to seeing you there. :)
Namaste