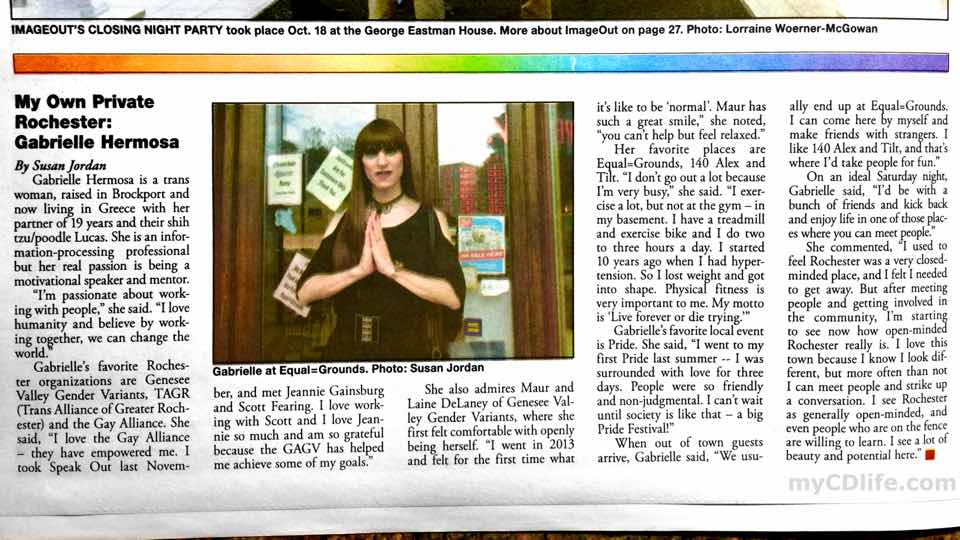 The Empty Closet is New York State's oldest "gay newspaper". I prefer to think of it as an LGBTQ focused publication, which it very much is. It's published monthly by the Gay Alliance in Rochester, NY. Don't let the name "Gay Alliance" fool you, either. They're tapped into the whole alphabet soup of the LGBTQIA… not just the "G". In my opinion, it's more about the "H" than anything. The H is for human being, which is what we ALL are, regardless of how many of the other letters apply (or don't apply).
Editor and photographer Susan Jordan reached out and asked if I'd be interested in being featured in the "My Own Private Rochester" column for November, 2014. I was honored by the request and pushed the "let's do this" button without hesitation.
Why me?
Susan learned of me through my work with the Gay Alliance as an active member of their Speaker's Bureau. To date (as of making this post), I've talked publicly about LGBTQ issues and realities on more than 30 occasions. This includes LGBTQ panels, SafeZone training, transgender-specific and general diversity presentations.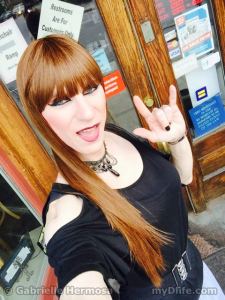 Making a new friend at my favorite coffee house
Susan and I met at Equal Grounds Coffee House for the interview. It was a lot of fun chatting and watching her attempt to keep up with me and take hand-written notes as I enthusiastically rambled on without coming up for air. Susan was a total sweetheart and the "interview" felt a lot more like an enjoyable conversation with a new friend.
Photogenic
My photo in the newspaper itself turned out a little blurry due to a slight vertical misalignment of the colors during printing. Just to be clear, I'm not praying in the photo. That's my namaste expression – a show of honor, appreciation and gratitude. The photo to the right is a quick selfie I took just after Susan snapped a few photos of me for the interview. If you're unfamiliar with the hand gesture I'm making, it's sign for "I love you". I Am Love.
The interview
If you'd like to read the interview, click on the photo at the top of this post for a larger view (or just zoom in if you're on a mobile device). You'll find at least a few things I've never shared on my site before. Based on the length of the article, you'd never know I talked Susan's ear off for more than 40 minutes. She did a good job of cutting out all the fat and organizing it into a short, reader-friendly article.
The Empty Closet
If you live in or will be visiting the Rochester, NY area, check out The Empty Closet. There's plenty of great information, interviews, places to visit, upcoming events, personal stories, and LGBTQ related articles. I can't stress it enough – there's far more in The Empty Closet about Rochester humanity than just the LGBTQ slice there of.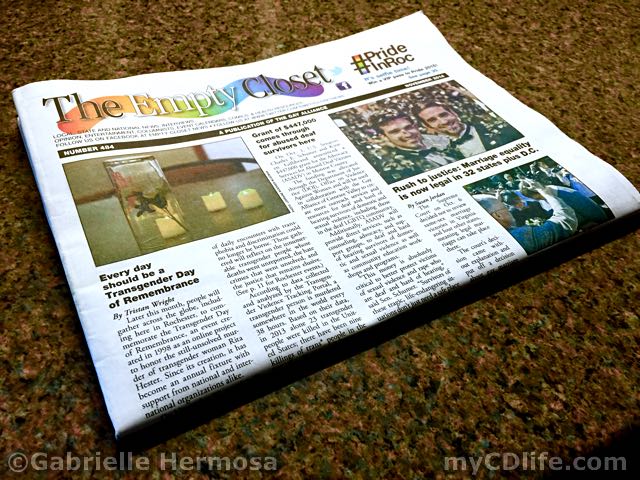 If you've read The Empty Closet (regularly, or just once or twice), please chime in and share what you enjoyed most about the experience. :)
Upcoming outreach events
This Thursday I'll be conducting a 3-hour SafeZone training at LeMoyne College in Syracuse. Next Thursday I'll be a co-presenting a 2-hour SafeZone training at West Irondequoit High School. I'm so very grateful for these opportunities and love getting to work with and meet amazing people!
Things I'd like to write about if/when I can find the time…
My life has been growing increasingly busy. It's a good busy, mostly. Over the past year, I've been very involved in getting out and speaking out publicly about LGBTQ issues and realities in Rochester, NY and surrounding communities. This work has opened up some cool and interesting opportunities.
The following is a short list of a few things that I'd like to write about, and lack the time to do so.
I took part in a "Cultural Intelligence" Q&A panel with the Rochester Women's Network.
Before attending her talk at the University of Rochester, I had the opportunity to meet and have my photo taken with Laverne Cox.
In almost every public speaking opportunity, there have been things worthy of sharing. Most people are very open minded, receptive, grateful and want to learn more. Some people have remained resistant, rejecting what we have to share, and haven't been shy about letting us know.
I sure could use a TARDIS!
I really wish there were more hours in the day and more days in the week. There are so many uplifting things worthy of sharing. It's unfortunate that time keeps passing by so quickly, and these experiences seem to never make it father than short, quick entries in my personal journal. The world is changing fast and yet we remain in this strange state in which basic human rights are withheld from many, and it's socially acceptable to exclude, ridicule, harass, and disparage groups of people, simply because they're different than the "socially accepted norm". It is getting better, though.
It's an honor to be a part of educational outreach programs, sharing, speaking publicly opening hearts and minds, and winning people over. So many positive things are taking place. The more people learn about humanity (as a whole), the better the world becomes for everyone – we ALL win.
One of my goals is to make this my livelihood – being a public speaker, mentoring, counseling, writing, and being in service of others. When I'm no longer split between working long hours at a day job (working for the man) and my passion in life: working with people in an educational, uplifting, and empowering capacity, then maybe there will be a little more sharing taking place. I look forward to that time. In the meantime, I have so much to work to do in my personal life to transform my goals into reality.
Thank you so much for taking a few minutes of your day to spend here with me. :)
Namaste