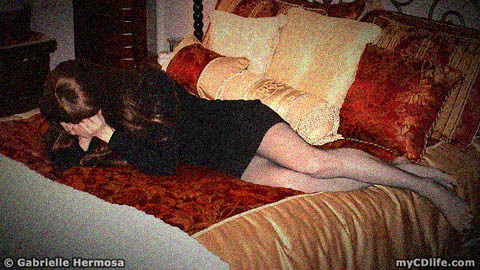 It seems like a million years ago and just yesterday at the same time. I was 12 years old and it was undoubtedly the single most traumatic event of my youth. The devastating emotional impact lasted for many years after.
I first realized my desire to dress in women's clothes at about the age of 3 or 4. I didn't know what it all meant, but I knew enough to keep it a secret. It's interesting that even at such a young age, the social taboo of crossdressing was already heavily cemented in my mind. It seems like from the time I was born, I was taught of the need to fit in to the socially accepted norm of the "male gender role" because of my genitals. How else would a 4 year old know to guard this little secret as if his life depended on it?

Unfortunately, I did not guard my secret well enough. One evening, while my parents were out, I took advantage of the opportunity to try on one of my mother's skirts. I had done this in secret several times throughout my short life. I don't know how my mother entered the house, walked up the stairs, and opened the door to her bedroom without me hearing a sound. I just remember hearing her voice out of nowhere saying, "What are you doing?" Stunned and terrified, I looked up to find her standing in the doorway just a few feet away.
"I just wanted to see what it felt like to wear a dress.", I replied. It was really a skirt, but I used the two terms somewhat interchangeably then. With a stern angry look on her face, she told me, "Get it off.", and then gave me a brief moment of privacy to change.
My parents weren't supposed to be home for some time yet. There should have been some kind of noise when they entered the house. No, this didn't just happen… My mind was racing with terrible thoughts while trying to process the reality of the situation and figure out what would take place next. I'm some kind of terrible freak, committed a sin sure to land me in hell, and my mother was probably about to send me there herself.
She came up to my room to talk with me a short while later. I was asked a lot of questions, one of which was had I ever done that before. I lied and told her it was the first time. I pretended to just be curious about what it felt like to wear a skirt and how to sit properly while wearing one, etc. I begged her not to tell my father. I'm not sure if she did or not, but he never mentioned it. I don't remember the whole conversation we had, but it really made me feel bad about who I was.
I was terribly embarrassed by the incident. I wasn't sure if she bought my explanation of simple curiosity. I knew what I was… or at least that I liked dressing like a girl. Everything in my world told me that it was wrong to have desires like that. Now my mother knew as well, or so I believed she did after getting busted.
This incident in my life marked the beginning of my downward spiral into the madness, depression, self-loathing and confusion that became my teen years. This was the day I began to really hate myself. I put on women's clothes, liked it, and my mother witnessed. I believed that the only thing worse than dressing like a girl was the fact that I actually wanted to dress like one. What was wrong with me?
Society has pretty strict rules about this kind of thing. Men/boys have to be masculine, period. Being a "girly-man" is something one should be ashamed of. I wanted to be feminine and pretty, but everything around me indicated that was wrong and that I was a sick person for being this way.
I didn't know how to deal with the intense embarrassment of getting caught and scolded by my mother. I couldn't have felt worse about myself. There was no one I could turn to. I didn't understand why I was this way. I couldn't erase what happened. I wanted to die. Death was far preferable to living as some kind of terrible, worthless freak that people would surely laugh at, ridicule, and maybe even harm if they knew.
In my later teens I made multiple attempts to kill myself, getting a little closer to success with each try. It landed me in the hospital on a couple of occasions. I almost succeeded that last time. Being a crossdresser, and feeling terrible about it, was at the heart of my own insecurities, low self-esteem, and deep self-hatred. I couldn't tell anyone though.
It is interesting that as I think back to this time in my life, the memory is still very painful and intense. It causes me to tear up if I recollect for too long. I will forever bear the scares of my suicidal stupidity – reminders of my dark past and how far I've come.
My story has a happy ending though. It took a little more than three and a half decades to figure out, but I finally learned how to accept myself as a crossdresser. There is nothing wrong with who I am – the problem lies within the social stigma of being a crossdresser and the way much of society treats us.
It is not a sickness, addiction, compulsion, disorder, or something that requires treatment to overcome. It is, in fact, simply who I am. Just as some people are born left-handed, some men are born with a strong feminine side. Ask any trained psychiatric professional and they will confirm. For whatever reason, society frowns heavily on such things.
When I accepted who and what I am, I stopped hating myself. I even learned how to love myself. I cannot properly describe the beautiful feeling – truly loving who I am. It is something I once believed to be never achievable. I now love being a crossdresser. I'm a girly-man and don't feel bad about it at all. It is simply who I am and I love being me. I still have to hide my feminine side from most of the world in order to hold down a job, etc. but I'm not ashamed of who I am anymore. God made me this way and I thank Him for it. The dark beast within turned out to be a beautiful gift. I now cherish and celebrate it.
Since embracing who I am, people who know me have noticed that I'm happier and a lot more easy going than I used to be. It surprised me that people noticed the difference and actually mentioned it.
If you're a crossdresser and currently hate yourself as I once did, I share my personal struggles to let you know there is hope. You'll never be cured of your desire to crossdress because there is nothing that can cure you of who you are. You can however, be cured of your self-hatred. There is nothing wrong with you or your desire to express yourself and how you feel by crossdressing. The only problem is with anyone who would try to change you or "fix" you and have you become someone that you are not.
If I learned how to accept who I am, then believe me – so can you… when you're ready. I just hope you don't take as long as I did to figure it all out. You've got a gift. Try to embrace and enjoy it. Anyone who says you're crazy or would try to change you – they're the one with the serious problem, not you. There is nothing healthy about trying to change who someone is when there is nothing wrong with them in the first place.
If you're not a crossdresser, I hope this has somehow opened your eyes to what many of us go through. There is no reason to treat us poorly. We're not freaks or terrible people. We feel pain just like anyone else. I hope you won't look down up on me or anyone like me because we choose to be ourselves and embrace life as we are. Try to be open minded. If you know a transgendered person, please try to make them feel welcome in this world. Everyone needs to feel accepted for who they are.
It all seems so senseless to me now. There was no need for me to ever feel so bad about who I was. Why are gender differences treated like some mental disease by most of society? Why aren't we taught the truth about this when we are young? Why is it such a big secret? Why is being a crossdresser something to make fun of? Who the hell began this way of thinking? Why are kids today still "protected" from such knowledge or taught that it is wrong it is to be this way? What purpose does all of this negative treatment of transgendered people serve?
Perhaps the most important question is how much longer will this continue? Sadly, the world is full of crossdressers who still hate themselves, and needlessly so. How many of them will succeed in their suicide attempts? How much longer will they live a life of personal torment? No one should ever have to suppress who they are in order to be accepted and respected. If someone is an ax murderer, then yes – repression is good. But simply being a crossdresser – what's the problem, here?