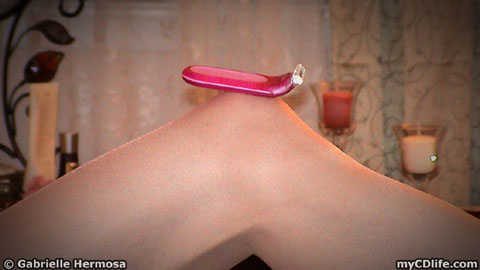 You're a married crossdresser (or living with a significant other), but not out of the closet yet and not quite ready to come out. How can you shave your legs without explaining why? Honestly, you should really just come clean and tell your love interest the truth. That is the best thing to do, although it may not be the easiest. However if you are simply not ready for whatever reason, have no fear. There are ways to have nice, clean, smoothly shaved legs while remaining in the closet and without having to offer the difficult truth as to why.

I started shaving my legs in the spring of 2006. At the time, I was not yet out to my wife, however I did get her approval to shave my legs with the help of a little plan I worked out. You might try something similar with your wife or significant other. With some patience, planning, and convincing acting skills, you'll soon enjoy having nice, smooth legs.
Like many crossdressers, I got to the point where I just couldn't take it anymore – I needed to have silky, smooth legs. I was tired of being Sasquatch in a skirt. My legs were rather hairy. To complicate things, my wife happened to love my hairy legs. She thought they were sexy and enjoyed running her fingers through them… which was actually very soothing and enjoyable.
I was up against some pretty difficult odds, but I came up with a good plan. Any guy with hairy legs knows how itchy they can be. Mine were itchy, although not to the point of constant irritation or anything. However, I decided to start behaving as if they were a whole lot itchier.
This plan was a long-term one. I knew that from the start. If you go this route, I suggest you be patient and careful not to over do it.
Each night when my wife and I were going to bed, I made it a point to itch my legs so that she was aware of it. At first, I just itched them for a while as we lay in bed talking or just after turning out the light. After a while, I began throwing in comments about how badly they itched and irritated me sometimes. I came up with stories about having to itch my legs while driving to work and during long meetings at the office, etc.
It was also important to be caught itching my legs here and there. If I was watching TV and heard my wife coming toward the living room, I'd start itching my legs. The point was to get her used to seeing me itch my legs.
It is very important not to take this too far though. Don't make obvious comments or complain too often. Don't pretend as if they're driving you insane. They're just irritating and annoying – that's all. Draw attention to it, but not too much attention and not all the time.
After a while, my wife picked up on my itchy legs. She surprised me at one point and said, "Why don't you try shaving them if they're bothering you that much."
This was too good to be true – she actually suggested it to me. I made sure she was not joking and would not be bothered my shaved legs. After all, she rather liked them hairy. She honestly seemed more concerned with how I felt about having shaved legs. Inside I was elated, but I just pretended that it might feel or look weird for a while, and hopefully it would help my constant itching.
It took a few months, but the plan worked beautifully. I could now shave my legs, have a perfect excuse to do so, and remain safely in the closet about the true reason.
It doesn't stop here though. As the hair starts to grow back, they do become rather itchy (as any real woman will tell you). Perhaps more so at first, until you get used to them being shaved. It's probably a good idea to hide this fact and try not to let your significant other see you itching your shaved legs. If you shaved them under the guise of itching relief, you need to show that you are indeed feeling relieved and no longer as itchy. A little itching is ok, she'll understand that. Too much and she might say, "Why not just grow it back if it's more itchy this way."
Another important point is that your wife will probably feel your legs against her legs while the two of you are in bed. If you don't properly maintain a close shave, they'll get stubbly and start to feel like a bunch of needles up against her legs. She probably won't like this and may ask you to let the hair grow back or maintain them better. You'll need to figure out how long you can go between shavings before your legs irritate your wife. Because it takes me at least a half hour to shave my legs fully, I cannot shave them daily. There just isn't enough time. They also break out if I shave them too often with a bladed razor.
You may consider shaving them with a bladed razor once a week, and then with an electric razor ever other day in between (or whatever optimal increment works best for you and your wife).
I used a similar tactic to get my wife's approval to shave my chest and stomach (the "happy trail" area). By the time I was shaving my arms and hands, I was already starting to come out to her, so she understood my true reasons to shave.
I hope this works for you. Again, this is kind of a long-term approach, but it worked great for me and may work well for you too. What is another couple of months in the grander scheme of things, anyway?
For the record, my wife, the fabulous Mr.s H., took that photo of my right leg with the razor on it for this write-up. She loves my shaved legs and I keep no more secrets from her.
Good luck, and happy shaving. :)