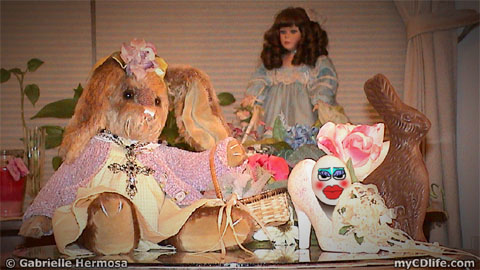 Happy Easter! I hope everyone has a beautiful day and enjoys the company of family, friends, loved ones, and chocolate Easter bunnies.
Take a close look at this photo. I don't recall how many cartons of eggs I had to go through, but I finally found a crossdressing egg. They're not too hard to spot, really. They wear a lot more eye shadow than the other eggs and always seem to over do it with the blush. So there you have it – an Easter t-egg. :)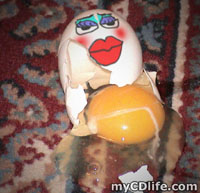 Sadly, this t-egg did not last long. You see, I forgot to boil her and… well, I'm kind of clumsy. When I was moving things around, I bumped our little t-egg and she fell out of the decorative high heel Easter shoe, onto the table, then rolled off of that and hit the floor. The oriental rug did not effectively break her fall. All the king's horses and all the king's men could not put our t-egg together again. Poor thing. She looked so darn cute, too.
Mrs. H. was not pleased with spilled t-egg guts on the rug. Sorry, honey. I'll be sure to boil the egg first for next years photo. Some toast and bacon would seem in order right about now. Wonder if I can scrape this thing off the rug and get it into the frying pan without too much carpet fuzz sticking to it…