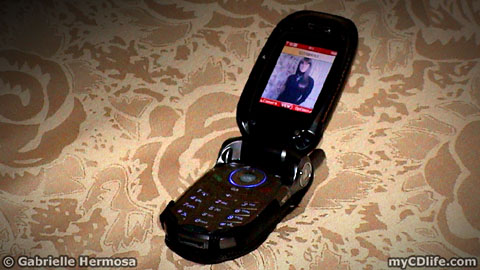 Earlier this week while I was at work, "Edmund" (not his real name) stopped by to visit my wife. I know Edmund fairly well. We didn't always get along, but as he grew up and matured, things lightened up between us. He's really not a bad guy, but he offered a little reminder and rather cold dose of reality before his visit was through.

There was a phone number Mrs. H. needed from Edmund so she handed over the phone asking him to add it to her contacts. Being the curious type, he ended up browsing through some of the photos on her phone in the process. Some of my early makeup photos as Gabrielle are on my wife's phone. I'm sure you see where this is going.
"That's a dude, ain't he!", Edmund called out to my wife. Mrs. H. immediately knew he stumbled upon my photos as Gabrielle. There are about four of them on there, none of which are very flattering. She asked how he could tell. He said he could just tell and proceeded to ask, "Is that one of your faggot friends?" Those are his exact words as quoted by my wife, which is consistent with what I know about his speech patterns.
My wife has had several gay friends over the years, as have I. Some of her gay friends were also crossdressers. I don't know if Edmund has ever met any of them, but he is aware that Mrs. H. has friends of all types. I also don't know if the picture shown above is the exact one he landed on when making his rather degrading remark. He could have very well viewed each of the photos.
Edmund's candid statement was a bit jarring to me. I really shouldn't be shocked because I know exactly how the majority of people feel about crossdressers and confuse us with gay men… who are sadly held in equally poor regard.
I felt it necessary not to show any emotion as my wife told me about Edmund's reaction to my photos. I kind of chuckled to mask how it really made me feel. That is how I tend to behave in guy-mode anyway. In reality it hurt more than usual, perhaps because it hit pretty close to home this time. These crude, dehumanizing words made some disturbing realities settle in clearer than ever. The fact that they were spoken in direct reference to me had greater impact coming from Edmund, who is in fact my stepson.
He didn't recognize the photos as me, but he may eventually put two and two together. We're not exactly close and don't see much of each other so not much would change as a result. I'm sure he'd find it very amusing and perhaps a bit "gross" to find out the truth about me. Even so, he's not a trouble maker and understands that I deeply love and take very good care of his mother. It may offer me the opportunity to educate him on the realities about people like me… if he were at all interested in learning the truth. My gut feeling is that this conversation topic might make him uncomfortable because of the tough, macho-type he hangs with. There would probably be no real discussion, but rather some squirming, laughter and something along the line of "Ok, ok – whatever makes you happy. I don't need to hear about it." I can see this going either way, really.
Regardless, I'm not ashamed of who I am and certainly not about to stop being myself or crawl back into my shell. There's nothing wrong with me, at least not on this level. It is society that needs to crawl out of the endless abyss of ignorance in which it currently festers and clings to like a frightened child to a mother's leg.
On a side note, I often equate the word "macho" with the word "coward". Think about how that works for a moment. This association is not absolute – it is context dependent, but that is a topic for another day.