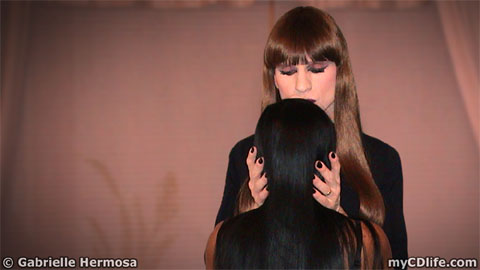 When I arrived home from work the other day, my wife was peaking out of the door smiling at me as I parked the car. I greeted her with a hug and kiss. She gave me a big smile and said, "Thank you for coming out to me." It made me happy to hear, although I was a bit surprised she brought it up out of the blue.

"What makes you say that right now?", I asked. She replied, "I'm just very happy that you love me, trust me enough to tell me your deepest secrets, and can be completely open with me." We took a walk in our back yard, hand-in-hand, and enjoyed each others company while chatting about our day.
I came out to her only last year, after more than a decade of marriage. I wish I had come out years ago. She's been very accepting of my crossdressing and helpful in making it possible. Mrs. H. treats me well and puts up with a lot from me (I'm not exactly an easy person to live with). Regardless of my quirks and faults, she loves me as I am. For the record, I do not consider crossdressing to be a "quirk" or a "fault", but rather a personal trait.
The love I share with my wife runs deep and she fills my life with with happiness and joy. It was only after coming out to her that I truly realized the full extent of her love. She even told me how "interesting" she thought I was. In other words, she's happier to have a husband (and part time t-girl) who's not just another average guy.
Understandably, a lot of crossdressers are still hiding this part of their lives from their spouses. Many have have come out to their wives, only to be told things like "I don't want any part of it" or "Either you stop, or I'm leaving you and you'll never see your kids again…" It breaks my heart that so many people like me end up with a woman who does not fully love and accept them. It almost seems wrong choosing to stay with such a person, although I understand there are strong feelings of attachment and need involved.
No one (man or woman) should settle for less than a spouse who truly loves them completely. Whether you're a crossdresser or not, if your significant other does not wholly love you as you are, that ought to tell you something. My marriage is far from perfect and has its share of turbulence, but my wife and I have learned to communicate pretty well. We make a good effort to work out our differences and try to understand how each other feels.
I count my blessings and don't take Mrs. H. for granted. She's stood by my side through some very difficult times. When we hear the song "I'll Stand by You" by The Pretenders, it reminds us of our relationship. It almost seems to be written from the perspective of my wife, to me. I get choked up listening to it sometimes.
Thank you for standing by me, my loving wife. Thank you for understanding and being there for me. I'll be there for you too, always.