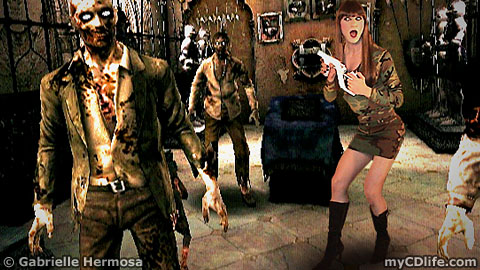 What happens when a t-girl does battle with the T-Virus in Resident Evil: The Umbrella Chronicles? Unfortunately, this t-girl gets reminded that she needs a bit more target practice. Zombies and other mutated creatures have been getting the best of me, but not before I take a bunch of them out with my black nail polished trigger-happy finger of punishment!

I picked up this game three weeks ago today, but have only logged about 3 hours of total game play in it so far. With the exception of going bowling with Mrs. H. once or twice, my Wii has been little more than a dust collector for more than six months. I used to be an avid gamer, but there's not much time for it anymore.
In order to keep up with this website and maintain a presence in online transgendered communities, something had to give so I pretty much gave up gaming. Somehow, trying to make a difference in the world seemd a little more important than indulging in a trip through the digital wonderland of a video game. Even so, a brief escape from reality is a welcome break from my hectic and often stressful life. I do miss getting lost in a good virtual adventure.
I may only be able to squeeze in an hour or two of game-time on weekends, but at least it's something. Gabrielle Hermosa, The Crossdressing Gamer is back… even if only in a limited capacity. Horror survival games are my genre of preference right now. Resident Evil 1 and 4 (especially 4) kept me glued for quite some time… when I used to have time.
Resident Evil: The Umbrella Chronicles is a rather simple game – aim, shoot, aim, shoot more, and keep shooting until all those zombies, mutated creatures, and everything else that moves is dead, dead, DEAD! Simple or not, I'm really enjoying it. The Wii remote's aim lag is annoying, but I'm making the best of it. Somehow Resident Evil 4 seemed to have more responsive aim, but maybe only because there weren't as many parasite infected townspeople attacking at once so it wasn't as noticeable.
There are a few other shoot-em up horror games on my wish list. I'm also very curious about the recently released first person shooter: The Conduit. The level of graphic detail and number of moving objects on screen is impressive, considering the Wii's underpowered hardware. I can see myself getting lost in that one for hours, if it does for me what Perfect Dark and No One Lives Forever did in the past. Note that both Perfect Dark and NOLF offer the opportunity for some digital crossdressing as you control female character in each. The Conduit will need to wait until I have some time off from work though. I've penciled it in for Christmas break later this year… assuming nothing of greater importance takes precedence.
I've always enjoyed games that much more when the game character is a tough, beautiful, gun-toting babe. Hellooooooo Lara Croft! Do you enjoy playing as the female character in games more than as a male? Have you had to cut back on your gaming time because your life got busy, too? Are you working your way through a good game you think I might enjoy? Tell me about it.