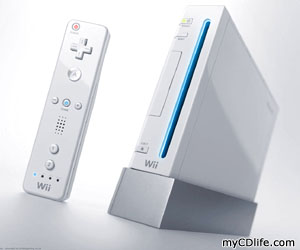 I was initially planning on sitting this generation of gaming consoles out, but late last November (2008), I broke down and bought a Nintendo Wii. Although not impressed with the system itself or the direction Nintendo has taken in recent years, I just had to play Resident Evil 4 with the Wii remote's aim-and-shoot capabilities. I also decided to have at Metroid Prime 3 after having played through the first two on my GameCube.
I bought a Wii (Sports Edition), an extra controller (with nunchuck), Resident Evil 4, Metroid Prime 3, and Wii Play. The extra controller was for my wife. I hoped to get her into some of the Wii Sports and Wii Play games. She's not really into gaming, but we've enjoyed some old school games together in the past.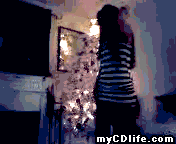 Wii Sports. I heard so many good things about this, I had to see what all the hoopla was about. It didn't take long for me to get bored with it though. My wife and I enjoyed some quality bowling together over a couple of weekends, but even so, very little time was spent playing Wii Sports.
I'm glad we only bowled at home, by the way. Mrs. H. gets just a little bit excited when she scores a strike or spare. The kind of excitement that the neighbors way down at the end of the street can hear, I'm sure. Yeah – I don't think I'll ask if she wants to go to a real bowling alley any time soon. She's a trip to watch, but a little hard on the ears. Check out her STRIKE victory dance! lol Sorry about the poor video quality.
Resident Evil 4 on the Wii was, as I expected, even more enjoyable than it was on the GameCube. Having precise aim via the Wii remote's motion tracking abilities really added to the fun of the horror adventure. I played through the game a couple of times. Being a crossdresser, it was a blast playing as Ada Wong in the bonus Separate Ways game and repeatedly in The Mercenaries sub-game. She's one sexy, dangerous babe with a gun!
Metroid Prime 3. There was such a good buzz about this game that I expected to quickly find myself addicted to it. That did not happen. After just a handful of hours spent in the game, I had my fill. The whole game is one giant puzzle wrapped up in a Metroid package. While puzzles have always been a part of Metroid games, this was too much. Unlike most of the gaming population, I just don't like puzzle games. This will be the first Metroid (TV console) game I'll never finish. I really didn't enjoy it at all and lost the desire to ever play it again.
Wii Play. Well, that one is still in the wrapper. It came bundled with another controller which my wife used for our brief bowling run, but the container holding the disc itself still has the shrink wrap on it.
What happened? Did I make a Wii bit of a mistake in deciding upon Nintendo's console over the others? It sure failed to hold my interest. Of all the games currently available for it, I'm only somewhat interested in two zombie shooter games. That's it. Obviously I haven't been interested enough to buy them as of yet.
Over the weekend, I powered-up my Wii for the first time since January 10th. I know this because I looked at the last activity shown in the Wii's calendar. That's more than 3 months of dust-collecting with its circuits cold and lifeless. My total active period on this gaming console was just under a month and a half.
Now my Wii is nothing more than an expensive dust collector. I actually put a dust cover on it months ago so that it would not accumulate too much dust. I'd probably dip in to those zombie shooter games if I had more time on my hands. Spread thin as I am, the Wii offers nothing appealing enough for me to shelf something else in my life to spend time on it.
Ironic that the most expensive gaming console I've owned to date, would be the least enjoyed. My $40 Atari Flashback 2 saw more action and over a much longer active-use period.
Do you still enjoy gaming on your Wii? Did you buy a Wii and regret that decision later wishing you had invested your money in one of the other current systems? If you're a multi-console owner, does your Wii still appear on the active gaming duty roster? Am I out of my mind for not enjoying my own Wii more than I did? Do you still think "Wii" is a dumb name for a console? I honestly had to reword a few areas because it sounded naughty otherwise. lol