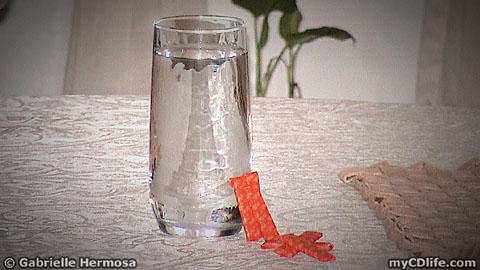 Staying fit and trim is an important part of my life. My strict exercise regimen and minimal diet allow me to stay slim, maintain a good figure, and look attractive. In addition to the visual benefits, I'm also less likely to get sick and will age more gracefully than if I did not exercise and eat right. Some people are naturally slim. That is not the case for me so I have to work hard at it.
My own thin profile & flat stomach (seen below) is proof positive of a strict exercise regimen, diet and the benefits of sticking to it. If you'd like to loose some weight and get into better shape yourself, keep reading. I've worked out some very useful methods of cutting down calorie intake while burning off more at the same time. It requires discipline and long-term devotion, but it may not be as difficult as you think.

Before continuing, please understand that I am not a professional dietitian or fitness instructor. I'm sharing some things that have worked well for me, but I strongly recommend that you consult a health care professional before attempting any of my methods.
As we get older, our body's metabolism gradually slows down but our appetite remains the same. Because our bodies don't require as many calories, it becomes necessary to reduce our food intake accordingly. Otherwise, the extra calories end up getting stored as cellulite and that is not only unsightly, it can also be very unhealthy. I've discovered a neat trick to help deal with my own hearty appetite.
To reduce my hunger between meals, I drink a lot of filtered water and frequently chew sugarless gum. When I say a lot of water, I do mean a lot of water. On any given day, I'll drink 90 to 130 oz. of water, usually about 12 oz. at a time. After pounding water, I'll pop in some sugarless gum. The water helps reduce the empty (hungry) feeling in the stomach. The sugarless gum offers some flavor and gives the mouth something to do chew on, literally. It's not magic and doesn't offer a perfect "full" feeling, but for me, the two greatly minimize the feeling of hunger and reduce the desire to snack. I drink water at room temperature so that it does not super-chill my throat on the way down. It allows me to drink more water, faster.
It's important to eat less during mealtime as well. The secret to feeling full on less food is to pound water before and during meal consumption. I drink about 12 oz. prior to eating. After a few bites of food, I'll drink another 12 oz. of water. As I continue eating, I'll drink a few more oz. of water every few bites (amounting to an additional 12 oz. or more). Drinking a lot of water is the key to feeling full while having consumed less food. Following a meal, I'll pop in a piece of sugarless gum rather than grab a fattening dessert.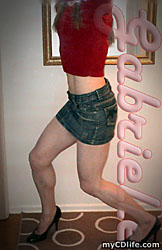 Again, this isn't magic. You probably won't feel as full using the water trick as if you had eaten more food, but it really does help. With some discipline and the desire to be fit and trim, this may work for you. You can see my flat stomach to the right. It is the result of eating less and doing a lot of crunches. The well-sculpted legs come from my daily treadmill exercise.
There are additional health benefits to drinking lots of water. The more water you drink, the more fluids get flushed through your kidneys. More bad elements end up getting filtered out of your system faster as a result. The down side is you'll have to pee frequently. The health benefits are worth it in my opinion.
In addition to consuming fewer calories, it's important to exercise. Exercising daily burns off calories and increases metabolism naturally. My exercise regimen currently consists of daily treadmill sessions and an upper body work-out that I do 4 times a week. I put in 2 to 3 miles on the treadmill (depending on day) and do a series of push-ups, curls and crunches for my upper-body work out. The crunches help to sculpt and maintain a nice flat stomach. I'll get into the exercise specifics another time though.
Let me know if filling up on water and chewing sugarless gum works for you. If you've come up with a good calorie-cutting plan of your own, please take a moment to share your method. I'd love to hear how you stay slim and I'm sure others would as well.