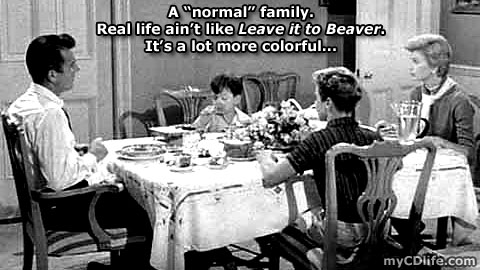 What exactly is normal? Being a crossdresser, most of society would consider me to be anything but normal. Sadly, that assessment is entirely based on my preferred choice of outward appearance. Compared to the Cleaver family of 1950's sitcom "everyday normal family" fame, do I really look so terrible?
We live in a society that preaches "don't judge a book by its cover" and tells us diversity is a good thing, but there are widely accepted limits to both. I'm not sure exactly where the line is drawn, but it falls well short of accepting someone like me as "normal".

The title of this post is not directed toward mainstream society, but rather to my sisters in the transgendered community. You may be thinking: of course they think I'm normal. After all, they're "freaks" too, right? (note the quotes)
Truth be told, there are indeed plenty of transgendered freaks out there. I think their numbers pale in comparison to non-transgendered freaks, but I don't have the statistics on that. We know they're out there because they're easy to find: people who are all too happy to show you their exposed body parts and exactly what they do with them. Some of these genitalia-showing photo-freaks even happen to be crossdressers. You didn't think I was talking about crossdressers alone, did you? Funny how only the crossdressing freaks seem to leave a lasting negative impression on people. If a "regular" non-crossdressing man shows off his manhood on the internet, people don't usually label all non-crossdressing men as freaks, do they?
For the record, I don't have a problem if people want to show off their body parts in a sexually explicit manner. I sure as hell don't want to see it, but people should be free to do as they choose in terms of self-expression in pictorial and video form (with some obvious exceptions).
Here I am though, sharing myself with the world through my website, writing, photos, videos, participation in online transgendered communities and even in an occasional "normal" community. I'm not afraid of what people are going to think of me and I never lie about who I am when presenting myself in feminine form online.
I'm pretty normal even though I wear women's clothes, makeup, and act feminine at times. I understand that completely negates any normality about who I am in the eyes of many people. My intelligence and creative talents don't mean squat because I break the "gender rules" as a crossdresser. The help and understanding I offer people is all bogus because I'm a part time t-girl. My very happy and successful marriage is a crock because I often dress the same as my wife. I should probably be fired from my job because of how I look off-hours too, right?
Maybe I'm not very normal. I do have some issues that need working on – things that have nothing to do with my crossdressing. Doesn't everyone though? Who doesn't have room for improvement?
To those who have thanked me for being "normal" and for sharing all that I do on my website and in online communities – I want to thank you in return. Thank you for choosing to be yourself and embrace your feminine side as I do. It is very normal to be yourself. It is not normal to live a lie and trying to constantly suppress who you are. This society often seems more concerned with how we're dressed rather than the good people we are, which is very sad. Thank you for being true to yourselves given all that is stacked against you (against all of us). Show society that you are indeed normal, too. Maybe then we can get out of the Leave it to Beaver facade of normality that so many people still cling to.