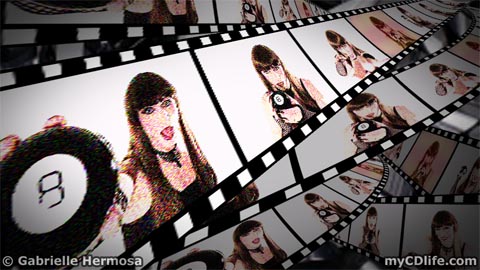 I produced a short Magic 8 Ball promotional video and uploaded it to YouTube a few days ago. Unlike my previous videos, this one was not captured on my phone, but rather a standard video camera and features musically synchronized editing. Check it out below.

The video started out as an accompanying bit for my previous Magic 8 Ball post: Thou Shalt Not Make Magic 8 Ball Videos, but I wasn't able to finish it in time. It morphed into more of a playful, generic Magic 8 Ball video in postproduction.
Although I received a couple of questions that might be fun to ask the glossy all-knowing sphere-o-answers, the jury is still out on whether or not to expect any Magic 8 Ball reading videos. Funny that shortly after the "Thou Shalt Not Make Magic 8 Ball Videos" write-up, appears this post featuring a Magic 8 Ball video. That's pretty ironic… or perhaps just poor planning on my part. lol Either way, I'm oddly amused.
And now for the feature presentation. Please refrain from talking, texting and tweeting while the show is in progress. If you have to go to the bathroom before it's over, just cross your legs – it's only 53 seconds long!
I had fun making it. Some of the rock music videos of the late 80's utilized an over exposed, grainy film look and I wanted to give that a try myself. My wife thought it just looked "staticy" rather than artistic though. Oh well. So much for stylization. In retrospect, maybe it should have been left it unaltered in terms of image clarity.
Was it cool? Was it too "staticy"? Did it make you smile? Are you dying to know what question I actually whispered to the Magic 8 Ball? lol Seriously – let me know what you liked and what you didn't like about it. Your feedback will be helpful should I produce more videos in the future (Magic 8 Ball or other).
On a side note, a video section has been added to myCDlife.com (see the top nav links). For now, it's mainly just a link to my YouTube channel. How often new videos will be added is uncertain. I enjoy making them, but production videos can be time consuming. Phone videos are quick and easy, but low-quality and limited in presentation options. Even so, they're getting more daily hits than my single production video according to my YouTube stats. Sometimes, quick and easy makes for more enjoyable content.