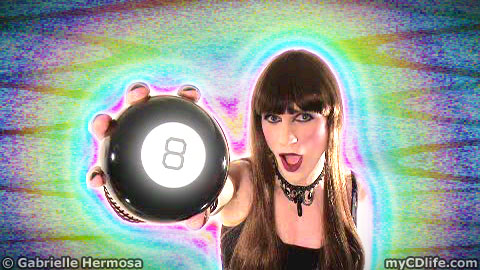 Last Friday, I pitched the idea for video Magic 8 Ball readings offered by yours truly. My wife, the fabulous Mrs. H., rolled her eyes when I explained my seemingly amusing idea to her. When I asked my brand spanking new Magic 8 Ball, it reassured me that it is certain to be a "cool and fun" idea. Website visitors told me…

Unfortunately, website visitors didn't tell me much of anything on the subject. Ok, point taken. The score is Mrs. H.: 1, Magic 8 Ball: 0. Perhaps mine isn't working right because it needs new batteries or something. Wait a minute…
Maybe it's a good thing that the Magic 8 Ball video idea didn't fly. The one part of the equation I had trouble working out was how to properly display the 8 Ball's answers to the camera without having to cut and edit video clips together (after repositioning the camera), thus destroying the continuity between asking a question and displaying the (recorded) live answer to it.
Before realizing the idea was a flop, a short Magic 8 Ball promotional video was already in the works. I've decided to finish the video as a simple, playful stand-alone bit (it's not finished yet).
One of my regular visitors did offer a few questions for a reading, however I thought they borderlined on the serious side. The point being I felt that Magic 8 Ball video readings should only be associated with things that are trivial, lighthearted, or purely entertaining in nature.
Because myCDlife.com deals with some very serious subject matter, human rights, and social issues, I felt it was important that anything entertainment oriented should not cross over too far into into that territory. The last thing I need is for some idiot to proclaim that I'm offering (real) advice to people based on a fortune telling toy. Silly, fun, and entertaining can co-exist on a website that deals with serious social issues, but I'm hesitant to blur the line between them too much for obvious reasons.
What's your take? Do you feel that a website that tackles serious subject matter, such as being a crossdresser trying to gain acceptance and respect in society, can also have a fair amount of playful, humorous, and entertaining content as well? If so, how far can the two overlap? To date, I don't think I've done anything to diminish the main purpose of this website, but rather taken an intelligent and unique approach to things… even if my ideas for fun and entertainment sometimes fall a bit short of brilliant. Just throwing stuff at the digital wall and seeing what sticks. :)