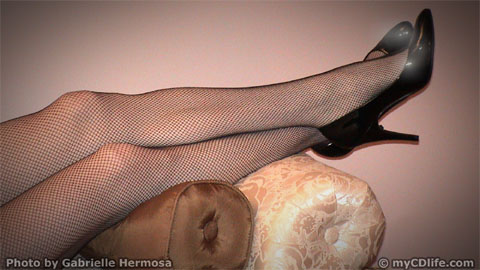 Why exactly is crossdressing such a great stress reliever? I often hear this question posed by other crossdressers. Most seem to agree that it is very relaxing and stress relieving, but many seem confused as to why it works for them. Does it really matter why?
Whether or not the same emotions come in to play with every other crossdresser, I can't say, but I'll share how it works with me.

I currently have to live my day-to-day life as a man (in guy-mode) and only get to dress up when time allows. In my busy life, personal time is an elusive beast and so I don't get to dress up often.
Because I'm forced to spend most of my life in a masculine form that does not feel natural to me, it runs me down over time. I'm sure everyone has worn something that seems uncomfortable or unnatural. Wearing a suit to work, or shirt and tie daily may not be the most desirable way to dress oneself for any non-crossdresser. Take that feeling and multiply it for me.
Add to that my "man-act". Much of my guy-mode personality and mannerisms are rehearsed and executed with conscious effort. Society expects me to look a certain way and also behave a certain way. Men are, of course, expected to act and behave like "men". The way I have to act often feels as unnatural as the way in which I must appear. I'm not sure that my natural personality and mannerisms are really feminine, but people told me repeatedly growing up that I was not manly enough.
Most of my time is spent being forced into a role that doesn't feel like me and requires some good effort to pull off. In addition to the regular stresses of life that we all face, I'm also expending additional energies behaving as expected and appearing in a form I would not choose if it were up to me.
Everyone must behave a certain way in their day-job. It's called being professional. It requires a certain amount of effort on anyone's part. However I must concentrate on behaving professional and manly on top of it. The same goes for work attire. Most people would choose to not dress in their private lives as they must in their professional lives. Again, not only am I dressed in my day-job attire all day long, but also as a guy in day-job attire. It's two-fold.
When the time comes that I can finally take off my man-suit and no longer have to visibly act manly, I start to feel some relief. When I can go farther and dress up in female clothing of my choosing, then I really begin to feel at peace. It completes the feminine feeling I long for, and I rather like the reflection in the mirror as well. We all want to look good, right? What looks good differs from person to person, but I think the old saying is true: when you look good, you feel good too.
Life's troubles slip away. All that stress of work and deadlines and traffic jams and mounting bills and government bailouts and having to look and behave manly subsides. It's hard to feel stressed out when I'm busy looking and feeling good in a short skirt, heels, and lipstick.
I don't know if I would choose to dress up and look feminine 100% of the time if I had my way, but it would certainly be nice to do so a lot more often than is currently possible.
Some people jog and exercise to de-stress. Others turn to alcohol or other drugs. I transform (crossdress). If it works, why question it? Just enjoy and be thankful. :)