This is entry #5 in my vlog series. Hard to believe it's been over a YEAR since posting my previous video! It honestly doesn't feel like that long.
There's been a lot going on in my life, which is why I haven't been able to keep new content rolling out on a regular basis. I was however, able to take a little time and make this short video. I hope you'll share a minute or two of your day with me to watch and comment. Video running time: 1 minute, 21 seconds
About the video
The video was shot on May 29, 2011 with my iPad 2, and later edited on it (mostly). The main reason for making it, besides the fact that it's been so long since my last, was to put something out there and let people know I'm alive and well and… well, still me. Over a period of time, several people wrote to me and asked if/when I might publish another video.

For the record, if this ends up being the last video I publish, ever, please understand that I'll ALWAYS be me (as in Gabrielle). Do not mistake my lack of time to write/share, as being anything other than a lack of time to share. Time permitting, I'd like to make more videos (and content in general) to explore and discuss various things in the future.
A picture in a picture in a picture in a picture…
The video was intentionally framed to show my back side in the mirror behind me. Not to show off my literal "back side", but rather to offer another view of me actually holding up the iPad while talking into it. If you look carefully, you can see the iPad screen in the reflection, and in that screen, another reflection with another screen, etc. – kind of like holding two mirrors up to each other.
Gabrielle the musician(ish)
The background music is a custom arrangement by yours truly! I've always enjoyed experimenting with sound and music, though I'm far from being a real musician. The music track was made in a music composing application by dropping individual instrument "loops" (short audio clips) onto a timeline to form the final composition. The final result is a unique creation and I'm happy with how it turned out. If you're a musician or just like to experiment like I do, tell me about it!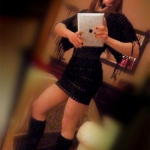 The first published self-photo snapped with my iPad 2 (May 28, 2011)My first published iPad 2-taken photo!
The iPad 2 is an amazingly cool and versatile device. If you have one, you're probably aware of the less-than-amazing quality of the cameras it sports. In good lighting, the image quality is pretty decent, but the lighting fairly dim where I took the photo shown here (also featured in the opening and closing of the video – click it to enlarge). I don't think the photo turned out too bad… aside from it being grainy with blotchy color. I tweaked it a little (also on the iPad). Sorry about the blah pose – it wasn't easy trying to take a decent self-photo in a mirror, in a small, confined space, while awkwardly holding and aiming the iPad 2 to capture the image.
If you've done any iPad 2 photography, chime in and let me know about your experiences.
Talk to me!
Please take a minute or two to answer the questions I posed in the video. Although I directly asked about "YouTube subscribers", the broader intention was simply: What do you like about my video offerings? What, in particular, would you like to see in future videos? Tell me what's on your mind – leave a comment or shoot me a private message if you prefer (using the contact link up top).
Thanks for watching (and reading), and have a beautiful weekend!
Related content: