Dear Gabi,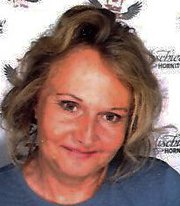 I am a straight SWF and actress. Can you explain why some dressers are straight, some are bi, and some are gay? Do they find dressing sexual at all? Do they have a special id with their mothers or sisters? Does each prefer specific items of clothing, or soft, silky fabric? Is the attraction to the clothing, or the idea of being a sexually appealing or soft female? Would they be more attracted to a more feminine or masculine looking and acting woman?
I have encountered many cross-dressers in Las Vegas, in and out of the entertainment industry. Most are very shy about revealing their preferences. Most surprising is that most focus on one specific garment ie shoes, lingerie, mini-skirts, that is associated with female sexuality. That is why I was trying to understand the psychology behind it.
Thanks for your response. Many girls are just curious.
Davida-Rochelle
---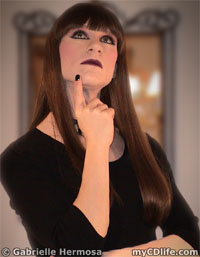 Dear Davida-Rochelle,
I appreciate your curiosity and am glad you've taken the time to do a little research on the topic of crossdressing.  It is often quite the mystery to non-trans folk.  It can be a pretty big mystery, and rather confusing for crossdressers, too.  At least at first. I am not shy about this aspect of my life though, and happy to provide some insight.
The questions are often the same, but the answers are not
So why are some crossdressers straight, some bi, and others gay?  Perhaps it might put things in perspective to ponder the question: why are some non-crossdressers straight, bi, or gay?  The short answer to all of these questions is that crossdressers are as varied and different as non-crossdressers.  There's really no way to easily sum up the choices and differences for all non-crossdressers.  The same applies for crossdressers.
Crossdressing is a mystery… but not really
The reason crossdressing seems pretty mysterious to many is simply the result of lack of knowledge, social intolerance, the taboo factor, and the fact that crossdressing is often seen as some kind of abnormality, sickness, perversion, confusion, etc.  Being trans is no more abnormal than being left-handed or having artistic tendencies or preferring the color green over blue.  Crossdressing is simply unpopular (in the mainstream), and unpopular things are often shunned.
The answer to the rest of your questions are yes or no, depending on the crossdresser being assessed.  I'd love to be able to give you a straight answer (no pun intended), but it doesn't work like that.  Additionally, whether the answer to the questions are yes or no, it doesn't necessarily mean that the "yes" or "no" has any direct connection to the motivation for crossdressing.
Lack of knowledge leads to incorrect conclusions
Because of the general lack of knowledge (about crossdressing) among non-trans folk, many people tend to fill in the blanks with reasoning that seems logical to them.  I would compare it to a young child watching television at an early age.  Not understanding the technology at work and having only a very limited comprehension of the world around them, it is common for young children to logically deduce that the people they see on the screen are somehow actually *inside* the device itself.
I commend you for choosing to research this topic rather than write it off as some kind of inexplicable oddity.  Perhaps the best thing you can do to understand what drives (genetically male) trans-folk to exhibit a preference toward a female appearance/expression is to forget all the cliches and misconceptions you've heard to this point in your life.  Keep in mind that being trans is (sadly) just unpopular and not some kind of separate off-shoot form of the human condition.  We're all different individuals – trans and non.  Trying to figure out why someone crossdresses is a bit like trying to figure out why one of your girlfriends likes a certain type of guy, or prefers to dress in one style over another.  Why does anyone prefer what they do? Preferences are simply preferences, whether it be style, food, gender expression, or anything else, everyone has their own.
Here's how it works for me
If it may help, I will directly answer your questions as they pertain to me.  My preferences do not reflect those of all crossdressers any more than the preferences/choices of any one non-crossdresser can represent all non-crossdressers.  I've interacted with many trans-folk and discovered more differences than similarities. The major similarity is the most basic element: genetic males expressing feminine tendencies, mainly in appearance and choice of self-presentation.
What is my sexual preference?
All I can say is that I love women, period.  I've always admired, been attracted to, and even jealous of beautiful women.  The thought of being with a male in any romantic capacity is repulsive to me.  As a tgirl, I guess I'm kind of a lipstick lesbian.  As a man, I'm just another straight guy.
Do I find dressing (in women's clothes) sexual?
It used to be very sexually arousing to wear women's clothing.  Over the years, the arousal (tied to dressing) has faded away. It has become more comfortable and natural feeling to dress up like and express a female presentation.  It reduces my stress, makes life more enjoyable, and in a nutshell, simply makes me feel more alive, period.
Do I have a special id/connection to my mother?
No, not in the slightest.  I love my mother, but never found her particularly attractive, nor was I particularly close to her.  I do not identify with her at all, in terms of my feminine expression.
Do I prefer soft, silky clothing?
Sometimes.  Don't most genetic women?  I prefer that which makes me feel most feminine.  Soft, silky and comfortable are preferable, but I have a strong preference for certain styles and colors (noticeable in my photos). The feel of clothing is not as much a factor as how I look in them.
Am I attracted to female clothing…
I am more attracted to a woman dressed in a manner that I consider to be desirable (presentation, style, etc.).  I look at some women's clothing and have a strong desire to wear them, and also see my wife wearing them, too, but I can't say I'm attracted to the clothing itself.
…or the idea of being sexually appealing?
I do very much like the idea of being attractive in my feminine form.  Don't most genetic women want to be seen as attractive or "sexually appealing"?  Not all do, but I think you understand my meaning. My style-preference is toward more sexy looks and I exercise daily and work hard to shape my body so that I can pull off those looks.
I think it is important to mention
My feminine form is far preferable to my male, but even in guy-mode, I put more emphasis on, and take the time to look good as a man, than most do. In the 90's, when I was still in self-denial about being trans, I pumped iron, bulking up to achieve a muscular physique in an effort to appear attractive and "sexually appealing" in a masculine form. It's important to keep things in perspective – the desire to be attractive and sexually appealing is pretty universal, and is not unique to transgender folk, or even genetic women. It's common for people to view transgenderism, in its many forms, as if it is a unique category with its own separate reasoning and psychology. The reality is, most humans share very similar psychological reasoning, in terms of the desire to feel attractive and be seen as attractive by others.
Am I attracted more to a feminine or masculine woman?
Feminine, definitely.  I've always been highly attracted to ultra-feminine women – those who have longer, well maintained hair, put great care into their makeup, have painted nails, wear form-fitting clothes, have nice curves, and an overall highly feminine presence.  I'm not against women not wearing makeup or not choosing to appear highly "feminine", but it isn't sexually appealing to me (not being highly feminine).
Self-attaction
It wasn't mentioned directly, but I think it may have been the goal, at least in part, of the "the idea of being a sexually appealing or soft female" question. Self-attraction is a pretty lengthy discussion point in itself. Like crossdressing, it is also often viewed as some kind of strange, deviant behavior. Without delving too much into actual topic of how self-attraction works and the fact that it is fairly common (among genetic women, not just crossdressers), I'm not shy about addressing it.
Am I attracted to myself? Most certainly not in my male form. In my feminine form; as a tgirl however, yes I am… sometimes, anyway. There are times when I look at myself in the mirror, or in photos, and think I look very attractive, and also experience a sense of attraction to my own image. Once again, it is important to keep things in perspective here. I've written about how my wife is attracted to herself sometimes, too. It's not too uncommon among genetic women. As it becomes less taboo (mainly among the younger generation) for "straight" women to exhibit bisexual behavior, engaging in sexual acts with other women, the self-attraction aspect is also becoming less "weird & unmentionable" and more accepted as normal.
Replacing mystery with understanding
I hope this helps put things more in perspective and provide a little more understanding. Believe it or not, this is the "short response" to the very complex array of answers and reasoning required to properly address these questions. I could write a rather lengthy book on the complexities involved, however I currently lack the time to devote to such an undertaking.
Publishers (or any financial backer) interested in putting out a book on this topic, written by an author who truly understands the subject and has the ability to explain the vast "mysteries" with logical, comprehensive analysis – please contact me.
Got more questions?
If you (or anyone else) have more questions, please feel free to ask. One of the main objectives here has always been to provide education about the realities of crossdressing and reduce misinformation and misunderstanding. I recommend first reading through the "Crossdressing Myths" series as they will have many of the answers already spelled out.
Crossdressers: how would YOU answer these questions?
Like I said, my own preferences are not representative of all crossdressers. I invite and encourage my trans-sisters to address these questions. This is a perfect opportunity to share our similarities and differences, to learn more about ourselves and each other, and allow non-trans folk some real-world insight about the realities of things.
Related content: