Dear Gabi,
How best to handle it with my wife is my biggest concern. In the past I had felt that crossdressing was wrong and therefore had purged my collection several times. Now for me personally, I am comfortable with it. I had been trying to decide how to talk with my wife about it when she discovered.
Since then she has expressed the viewpoint/belief that (A) per the Bible and society crossdressing is bad and wrong. Absolutely no wavering on this so far. (B) She also believes that it is something that if you try hard enough you can stop doing it.. She has also stated from watching Jerry Springer show that all crossdressers will become gay at first and then that leads to all getting a sex change operation. For the most part she presents to me as these being absolutes.
She has also remarked that now all she can think of me as is Georgette whether it is just kissing or anything else. She also feels that if she would of given me sex more often then I would not want to cross dress. I have/had a web blog where I was journaling/logging my experiences. She wants me to get rid of that to. Currently I am doing that.
In addition to all this, I feel like she wants me to make all these changes and stop dressing and because she says it is wrong.
Yet at the same she does not what to consider or accept any offers for compromise.
Thank you,
Georgette

 
---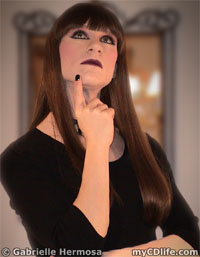 Dear Georgette,
I am sorry to have misinterpreted your request for advice in the previous letter. An unaccepting wife, unwilling to compromise, is a tough pill to swallow. It will be a long-term investment, but there are options to consider in working things out.
The arguments your wife makes against crossdressing are almost text-book for many in this situation. Some wives have also thrown in a rather unpleasant ultimatum: either stop crossdressing or the marriage is over (sometimes accompanied by a threat of public humiliation and/or financial ruin). I've read countless accounts very similar to yours. Some of them have ended badly and others have managed to work things out. In some cases, the marriage has even grown stronger as the wife learns more about the realities of crossdressing (vs. the misconceptions) and gets the chance to fully know her husband.
Basic psychology behind this reaction to crossdressing
The way in which a wife reacts to the realization that her husband is a crossdresser varies greatly. Some women feel very threatened by the prospect of their husband exhibiting a feminine side. The less that is known about crossdressing realities, the greater potential threat perceived. Many women simply prefer a man to be all-masculine, all the time.
Based on the information in your letter, your wife probably falls into the category of women who want their man to be all-masculine, all the time. It's a matter of personal preference, and everyone is entitled to their own. Her reaction to your crossdressing is an expression of fear over "loosing the man she fell in love with" and what others might think if they found out. The idea of you being feminine may also be damaging to your sex appeal in her eyes.
Before we get into the specifics of your wife's arguments; very common misconceptions and concerns that are brought up by many unaccepting wives, it is important to keep in mind that she is probably filled with fears and uncertainty over this issue. Even if she may not be doing the same for you right now, try to be patient and understanding as she works through her own set of complicated emotions.
Addressing her concerns
Crossdressing and society
Today's society is, on the whole, pretty uncomfortable with the idea of crossdressing, and consequently, not very accepting of it. Even so, simply being uncomfortable with something does not make it "wrong" or "bad". Society has been uncomfortable with all kinds of things in past years – things that are perfectly acceptable and regarded as normal today. Several times, I've brought up how mainstream society in the 1950's (made up of mostly whites) was not very accepting of blacks. It was just "common knowledge" that blacks were inferior to whites, lacked intelligence, and often regarded as a menace to society. As ridiculous as that sounds today, mainstream society was very comfortable with that notion decades ago. Did the fact that this was a widely accepted popular belief ever make it true?
What the Bible says about crossdressing
One of many misconceptions about crossdressing is that the Bible says it is sinful and wrong. This is not true, but there is a passage in the Bible that is often misinterpreted as such, depending on the translation.
It states in Deuteronomy 22:5, "A woman shall not wear a man's garment, nor shall a man put on a woman's cloak, for whoever does these things is an abomination to the LORD your God." (quoted from the "English Standard Version" translation, see link) Taken in a literal sense, it seems pretty damning to crossdressing men… and all women. The intended meaning behind the words is debatable, and there is much debate about it. Perhaps taking a look at another Bible verse might help put things in perspective:
Leviticus 19:27, "You shall not round off the hair on your temples or mar the edges of your beard." 19:28 "You shall not make any cuts on your body for the dead or tattoo yourselves." Apparently barbers, hairdressers, and tattoo studios have been damning us all for quite some time now. Oddly, not many people have a problem with other aspects of one's appearance that seem to be in conflict with the teachings in the Bible.
Giving up crossdressing is not necessary
I covered this to some extent in Crossdressing Myth #5 (though not specifically in this context). It may be unpopular to the masses, but that does not make it immoral, sinful or wrong. There is no need to give up something based on societal popularity – especially at the cost one's own personal happiness and contentment in life.
The Jerry Springer Show
There is very little, if any, real educational value to The Jerry Springer Show. The show is not designed to educate, but rather to entertain. Whether or not it is actually entertaining is up to the viewer to decide. It should be known that Jerry Springer himself has gone on record stating: "I would never watch my show. I'm not interested in it. It's not aimed towards me. This is just a silly show." (source: BBC News) Using The Jerry Springer Show as a serious source of information for anything is usually a sign of desperacy on behalf of the person citing it as reference.
Crossdressing, sexual orientation, and SRS
This is covered in Crossdressing Myth #1 and Crossdressing Myth #2. In short, straight people do not "turn" gay, nor do gay people turn straight, regardless of crossdressing. Crossdressers generally tend not to be good candidates for sex reassignment surgery, either.
An active sex life does not prevent crossdressing
The most active sex life in the world will not prevent or "cure" crossdressing. Lack of a sex life is not the cause of crossdressing, either. Whether crossdressing is an act of feminine self-expression, a sexual fetish, or somewhere in-between (as it varies from one to the next), it is a personal trait on the genetic level (like being left or right-handed) and not the result of outside stimulus, or lack there of. Outside stimulus will influence one's crossdressing style/preference, but not the existence there of within an individual.
Working things out
What is at stake
All marriages have their ups and downs. A marriage can fail for any number of reasons. I think it's safe to say that the vast majority of divorce cases do not involve crossdressing among reasons listed. The main reasons for failed marriages are lack of communication, and irreconcilable differences (such as serious incompatibility issues). If either party ends up sacrificing their own personal happiness in order to maintain "peace" in the marriage, it usually leads to pent up anger and resentment that will manifest itself in various negative ways. It may not necessarily end the marriage, but it certainly does not make for a very happy one. You and your wife will need to come to an agreement that is acceptable to both, and that is feasible over the long-term.
Patience and understanding
You may feel like the one under attack, but it's important to not loose sight of your wife's feelings during all of this. Be patient and understanding of your wife's fears and worries. Try to avoid the topic of crossdressing for a while if it is upsetting to her. Divert her attention to things that bring both of you joy together. The understanding and patience you show to your wife now may be returned from her to you in time.
Bothered by the thought of a feminine husband
Some women have a need for their male romantic interest to be only masculine, period. Whether this preference is at the very root of their personal being or the result of living in a society that teaches teaches and rewards such thinking, they do not want to think about their man in any way other than completely masculine. The same can be said for most men only wanting to see their female love interest in a feminine light, only. To each, his/her own.
After debunking the initial arguments your wife has presented against crossdressing, she may just find new ones to complain about. If her intent is to simply "make it go away, period", she will continue to discourage your crossdresing in other ways until she succeeds in driving it away… or driving you away in the process.
Assert yourself
You have the right to be yourself. There is nothing wrong with who you are, at least not because of crossdressing. If it bothers her too much to think about you in a feminine light, consider keeping this aspect of your life to yourself.
It is always more rewarding when this can be shared and enjoyed between two people, but its not for everyone and not much can be done about that. There are plenty of happily married couples in which the wife is aware of, but not an active participant in her husband's crossdressing. Every couple has their separate interests in addition to the common/shared. Not everything need be shared together actively – especially the things that are undesirable to the other. For instance, many women do not share in their husband's love of sports and do not take part in the frequent gatherings centered around them. Being a hard core sports enthusiast is a different animal than crossdressing, but the relevant point is an example of an activity that is often not shared between husband and wife.
Sorting out and sharing thoughts publicly
If keeping an online journal is helpful and/or therapeutic to you, then you shouldn't give it up. Your wife might be concerned about your identity being discovered as a result of your journal. Take proper measures to minimize that possibility if that is the case. Involve her in the process of ensuring anonymity so that she feels more comfortable with it.
Her main issue might not be the prospect of you being discovered, but rather that she simply does not want you exploring this aspect of your life, period. Try to identify the root of her concerns and work on them accordingly.
Compromise, communication, and feelings
Reaching a compromise that you can both be happy with in the long run is what needs to be focused on. Keep in mind that your wife is going to be working though her own fears and insecurities during this process and may not be ready for productive conversation in light of that. When there is too much disagreement and argument in a discussion, then it is time to defer for another time. Nothing positive will result from a shouting match.
Marriage/couples counseling
Consider seeking professional help from a trained, licensed marriage counselor. Working on things together under the supervision of a trained professional has helped many couples better understand each other and improve the quality of their marriage. Be sure to do your homework before deciding on a therapist. Just because someone has a title and license does not mean they're any good at what they do. Make sure that your therapist has experience in transgender issues, and look into their track record.
Good luck
There is no magic solution to this dilemma. I hope that the two of you can work things out together and come to an understanding that is acceptable to both. At the very least, I hope that the two of you can the find happiness that you each deserve, even if it is not with each other.
Offer your input to help a struggling marriage
I would ask those of you who have been where Georgette is now to please offer your input. If you were able to work things out, what seemed to help the most? Even if things didn't work out, can you share any insight or important lessons learned? Perhaps you're the wife of a crossdresser who has experienced similar concerns. What advice can you offer Georgette (or anyone in her situation) that you wish someone could have offered you?
 
Related content: