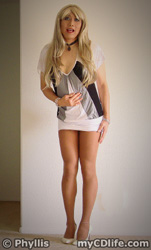 It may be April 1st, but this is no joke. When you take a look at Phyllis, the word "babe" comes to mind and for good reason. Not only is she a hottie with amazing legs, she's got style, a playful spirit, and a beauty that the camera captures very nicely as seen in her flickr photos.
Phyllis is an eye-catching t-girl living in California. She enjoys a variety of activities including hiking, gardening, making spicy pizzas from fresh dough, oil painting, and listening to awesome pop and classical music to name a few.
Currently in a serious relationship, she's a straight male to female crossdresser with a fun sense of humor. Her motto is "celebrate feminity forever" and if her pictures are any indication, she does this with passion and an obvious love of life.
Phyllis shared with us that she was a member of a rock band years ago. She's still making music and plays the guitar, piano and synthesizer.
Of course, Phyllis isn't just about good looks and pretty pictures. Like many of us in the transgendered community, she grew up having to hide her feminine side from the world in order to fit into a society that is generally unnaccepting of differences in people.
 

I felt my trapped female self like since I was 4 years old. I've kept my real self suppressed to live in this society but occasionally I free myself, gasping for air and feeling happy for brief periods. My Flickr pics are some of my "wow" moments, cocoons in frozen time and I love to look at them and bring out the memories, the …… mmmmmmm …..smells of nature and the eager excitement like that of a child waking up to the first snow fall outside.
When asked about the phrase "celebrate feminity forever", Phyllis told us:
 
You can find that phrase elsewhere by other people so I added "forever" to it to make it similar to BFF best friends forever. Feminity or femininity is gentle, kind, soft, sweet, nurturing, forgiving, creative, love hugs and in harmony with nature. You are feminity in spirit my sisters. Celebrate feminity forever.
One important message that Phyllis would like to share with the world is:
 
To those who are so unkind to us, know this, we are people too!!!
We couldn't have said it better ourselves, Phyllis. We're not sure why much of society has such a problem with our differences, but hopefully we can educate and open some hearts and minds together.
Show some love. Check out her beautiful photos and take the time to leave her a kind comment or two:
Remember, she is currently in a happy, serious relationship so show her some love and say hi, but please don't hit on her. We're told that her significant other is the jealous type. Probably not a smart idea to go upsetting her. ;)
Thank you for sharing and celebrating your feminity with us, Phyllis. :)